Massive Cyclone Phailin Could Spell Disaster for India
A possible humanitarian disaster awaits 4 million people in the path of the Category 5 storm that's making land this weekend. Continue reading →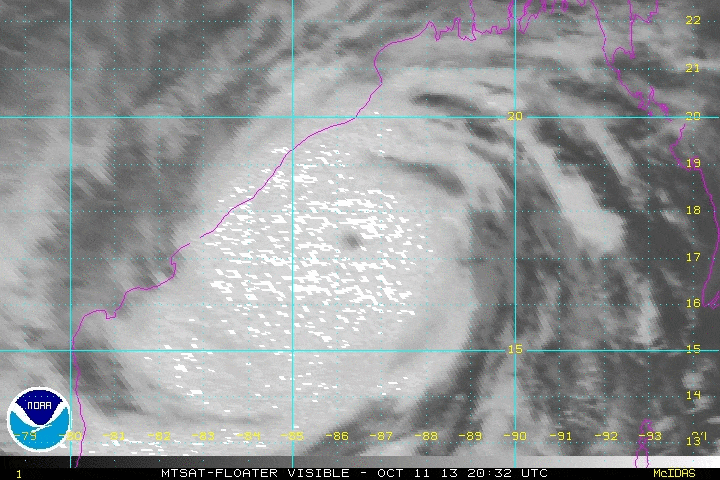 A dangerous tropical cyclone rivaling Hurricane Katrina has hit northeast India, a densely populated region where at least 1.6 million people are in direct path of the storm.
Cyclone Phailin is being called "very severe" by the Indian Meterological Department (IMD). The storm is expected to reach Category 5 status on Saturday evening, with wind speeds reaching at least 166 miles per hour, according to The Joint Research Center of the European Commission (JRC). The IMD has predicted an average of 130 miles per hour in its 1 p.m. bulletin.
The IMD estimates that the oceans will surge by 3.0 to 3.5 meters (10 feet to 11.5 feet), enough to inundate the low-lying areas on the east coast of India.
If it is as bad as meteorologists currently expect, the storm could be a humanitarian disaster. Some 4 million people will be exposed to cyclonic winds before the storm dies down on Oct. 14, and 1.6 million of them will be exposed to the Category 5 storm, according to the JRC. Google has released a map of the storm track.
The IMD has warned fishermen who ply the Bengal coast to stay out of the waters. About half a million people have been evacuated by state governments from coastal areas and some rail and road traffic have been suspended near the coast, according to local media reports. It has also issued a broader warning to all residents to stay indoors.
The last storm of this magnitude in India was the Odissa Cyclone in 1999, which killed 9,658 people. The storm then lashed the Orissa coastline, which is among the longest in India at 341 miles. The Bay of Bengal surged above the astronomical tide, reaching 5.9 meters (19 feet), scientists at the IMD later determined. The surge alone killed 7,000 people.
Some basic mud houses topped by metallic RCC sheet roofs amazingly withstood the attack, but even so, six villages, 1.9 million houses, electrical lines, railway tracks and agricultural fields were wiped out that day, together with people's livelihoods and any semblance of normalcy for years to come.
Observations from previous cyclones and storms have made some weather experts question whether the IMD's current prediction of 10 to 11.5 feet storm surges is on the low side. Louisiana State University's "Hurricane" Hal F. Needham writes in his blog that storms with similar windspeeds that have hit the U.S. Gulf Coast have been accompanied by storm surges of at least 6 meters (19 feet).
Image: animated GIF of tropical storm Phailin from Oct. 11. Credit: NASA