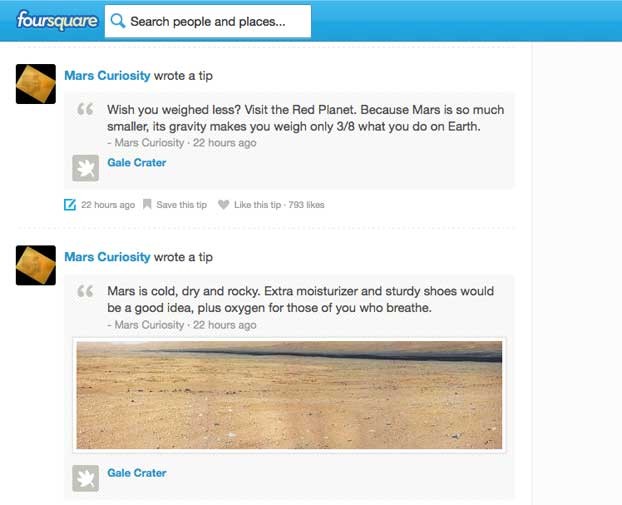 Everyone's favorite Mars rover has achieved a lot of firsts over the past few months, so let's add another to the list: First Foursquare check-in on another planet.
Curiosity is using the popular check-in app to mark key locations on Mars that it visits. After checking in, the rover posts photos and tips about the area (Mars is cold, dry and rocky. Extra moisturizer would be a good idea). NASA is using Foursquare to share the rover's travels in a way that everyone can access and be excited about. David Weaver, associate administrator for communications at NASA said, "This will help to involve the public with the mission and give them a sense of the rover's travels through Gale Crater."
Even though this is the first time a check-in has happened on another planet, it's not the first time NASA has used the social media platform. In 2010, astronaut Doug Wheelock checked in from the International Space Station. By partnering with Foursqaure, NASA hopes to pique the interest of space exploration in the minds of people all over the country.
While Curiosity explores the Red Planet and collects soil, rocks and other data, those of us watching from Earth can collect Curiosity-themed badges by visiting science centers, museums and other places where science takes center stage. That badge will be available later this year.
Credit: Screen grab, Foursquare