Map Charts Widespread Nature of School Shootings
No geographical pattern emerges for the violence, but plot points underscore scope of the problem.
Everytown for Gun Safety/Mark Gongloff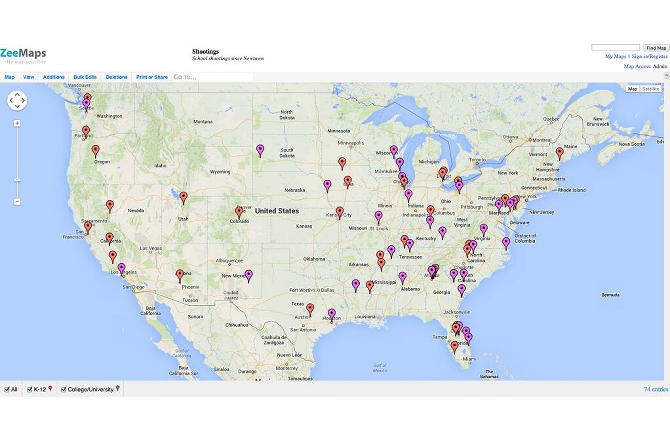 A map plotting all of the school shootings in the United States since the Sandy Hook Elementary School shooting on December 14, 2012.Everytown for Gun Safety/Mark Gongloff
The June 10, 2014 shooting at Reynolds High School in Troutdale, Ore., which left one student dead along with the shooter, increased to 74 the number of school shootings since the December 14, 2012 Sandy Hook Elementary School massacre.
Using data from a gun control advocacy group called Everytown for Gun Safety, the map above was created and sent out on Twitter by Mark Gongloff, editor of the Huffington Post. It plots all school shootings since the Sandy Hook tragedy. Colleges and universities are colored purple; K-12 schools are shaded red.
While the map suggests no discernible geographic pattern for the shootings, its markings capably illustrate, in sheer numbers, the widespread nature of the problem. In 2014, there have been 37 school shootings, about half of which included fatalities.
The infamous Sandy Hook shooting, in Newtown, Conn., saw 20-year-old Adam Lanza take the lives of 20 children and six adult school staff, before taking his own life.
Why have U.S. schools become so dangerous? There's obviously no single answer, but DNews has explored different explanations, from the vulnerable nature of the teen brain (see article and video) to whether guns make killing others easier and less personal (see article) to how rage can alter the brain (see article) to asking whether our whole nation is mentally unstable (see article).
Related school shooting links:
Teen Brain Wired to Take Risks

VIDEO: The Teen Brain Under Construction

Is the United States Mentally Unstable?

Knife vs. Gun: What a Weapon Reveals

The Teen Brain on Rage: How It's Different

Crimefeed: Crime By The Numbers

Crimeline: U.S. School Shootings