Man Wrestles Shark, Loses Job
A Welsh man grabs a shark, makes headlines, is hailed a hero -- and is then fired from his job. ->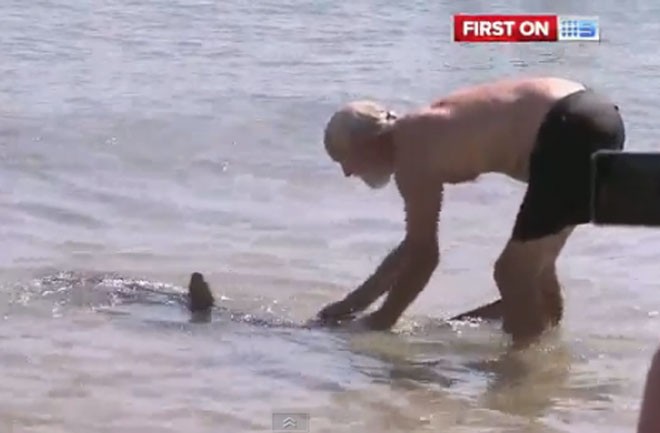 Paul Marshallsea, 62, was vacationing in Australia when a six-foot-long dusky shark appeared in the water near where children were playing. Marshallsea and two other men waded into the surf and grabbed the shark by the tail to shoo it away.
"It's shallow for about six yards where the shark was and a lot of babies and toddlers splash about there. It could have been very nasty," he said, according to the Mirror.
The charity worker, from Merthyr Tydfil, South Wales, claims he risked his life at the beach outside Brisbane in January to ensure other beachgoers' safety and his act was praised by lifeguards. It was also captured by news cameras and his story made headlines around the world.
NEWS: 2012 Ties Worst Year for US Shark Attacks
That was all well and good until his employers at the children's charity, Pant and Dowlais Boys & Girls Club, read the headlines and promptly sacked Marshallsea since he was supposedly on sick leave at the time of his heroic act.
Marshallsea received a letter from his bosses reading, "Whilst unfit to work you were well enough to travel to Australia and, according to recent news footage of yourself in Queensland, you allegedly grabbed a shark by the tail and narrowly missed being bitten by quickly jumping out of the way, the photographs and footage appearing in newspapers and television broadcasts."
A follow-up letter added: "The breakdown of the trustees' confidence and trust in you and your ability to perform the role is so great that we find that dismissal is the only course of action we can recommend."
Marshallsea has protested his firing since he claims his doctor had advised he take a holiday. He was on leave from his job due to work-related stress.
"What am I going to do now?" he said. "There's not much call for shark wrestlers in Merthyr Tydfil." — via Sky News.
Photo: Screengrab from SkyNews as Paul Marshallsea grabbed the shark.