Maker Faire NYC: Robots, Lightning, and the Ultimate Rube Goldberg Machine
Robots, lightning, singing fish, and a giant mousetrap might not usually have anything in common, but they do when it's Maker Faire, the tri-annual gathering of "makers" -- DIY hobbyists inspired by Make magazine -- in the California Bay Area, Detroit, and New York City. A cross between a craft market, a sideshow act, and [...]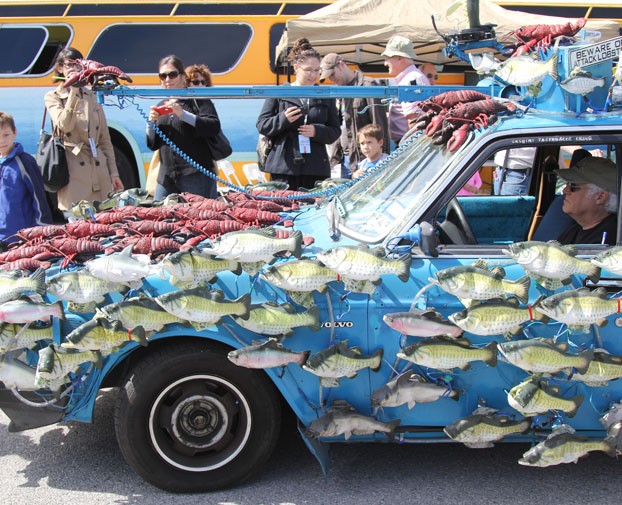 Photo: Erik R. Trinidad
Robots, lightning, singing fish, and a giant mousetrap might not usually have anything in common, but they do when it's Maker Faire, the tri-annual gathering of "makers" — DIY hobbyists inspired by Make magazine — in the California Bay Area, Detroit, and New York City. A cross between a craft market, a sideshow act, and a county science fair, Maker Faire brings artists, hobbyists, and amateur mad scientists together in a grand exhibition of creativity, technology, and the slightly absurd. It is foremost a celebration of nerds and geeks, who strut their transistors, computers, and robots in grand fashion.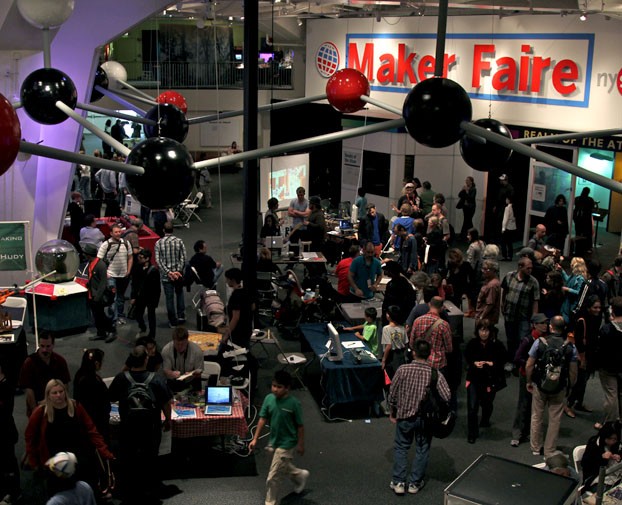 Photo: Erik R. Trinidad
I attended the New York Maker Faire at the New York Hall of Science this past weekend, located on the former site of the 1964 New York's World Fair — which was in itself a grand showcase of innovation. That inventive spirit lives on today at the dozens of booths in the museum and the surrounding grounds, with proud nerds showing off their talents and efforts in DIY engineering, robotics, urban farming, sustainability, and creativity to a family-oriented audience of like-minded people. Some booths showed off what can be done with: Arduino, a starter electronics kit that can be modified to make lights flash or motors run; solar panels, which P. Nosa uses to power a sewing machine that he draws with; or a 3D printer — like the Solidoodle or MakerBot's Thing-O-Matic (which seemed to be all the rage) — with many people making their 3D computer models a plastic reality. Others merely showed off the latest developments in an on-going project, like "illucia" by video game instrument designer Chris Novello, where "video games play other video games" by means of a modified router and patch cables.
Robots Are Getting Smarter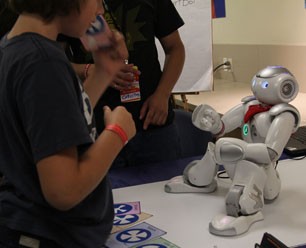 Photo: Erik R. Trinidad
Not surprisingly, robots were also in full force at the event, from cybernetic walking chairs of MIT's MITES group, to metal-slicing Battlebots. But it wasn't just about the brawn of robots; electrical engineer Carlos Asmat has been working on a project to make them smarter, by teaching existing robots how to play Rock, Paper, Scissors.
Small To Large
Tools at the Maker Faire varied in scale. On the smaller end, a whole pavilion was filled with people learning how to push the tiny pins in a padlock in a lockpicking demonstration by The Open Organization of Lockpickers (TOOOL). On the other end of the spectrum was ArcAttack, the Austin-based music group which performed in the Great Hall, using big tesla coils to generate lightning at specific frequencies in order to play melodies. (You might have seen them on America's Got Talent.)
Making Old-Fashioned New Again
It's not all high tech at Maker Faire; hydroponic kits were made of plastic and felt, bikes out of bamboo, and David Shuff's gimmicky History Eraser, a "device from a bygone era that erases history" was made of old electrical and wooden parts found in flea markets. But perhaps the grandest display of repurposed old-fashioned objects was the Life-Size Mousetrap by Mark Perez and his crew of sideshow-inspired misfits — the ultimate Rube Goldberg machine that takes a bowling ball up and down a scaled-up version of the vintage board game.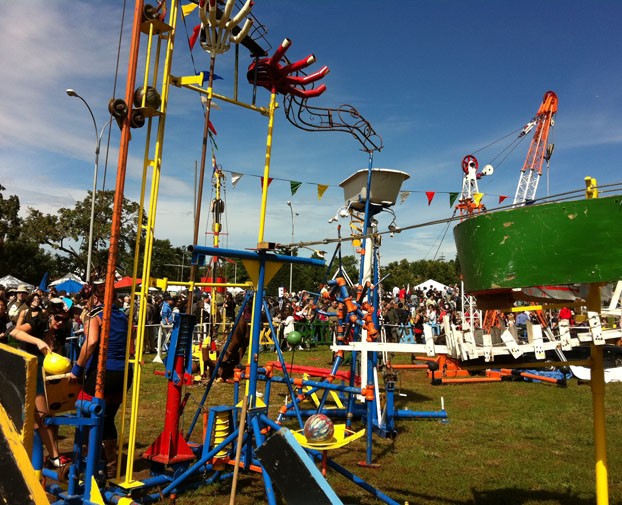 Photo: Erik R. Trinidad
Above anything else at Maker Faire, the one exhibition that people kept on visiting time and time again (including yours truly) was Richard Carter and John Schroeter's Sashimi Tabernacle Choir from Houston, TX, which you might have seen in similar fairs or on Good Morning America. It's an old Volvo mounted with 250 synchronized singing Billy Bass Fish and dancing Larry Lobsters, all performing via electronic switches to the melodies of popular songs:
Now, if that doesn't epitomize the fusion of creativity, technology, and a little absurdity, I don't know what does. What that will inspire for the next Maker Faire has yet to be determined, but I sure am curious to find out.