Luxury Wine Cooler Is Based On the Porsche 911
If you're going to spend a lot of money on a fancy bottle of champagne, it's a shame to hid the label behind an ordinary ice bucket. But even worse would be to let your Dom Perignon get warm. The only solution is to have a wine cooler as luxurious as the champagne it's holding, [...]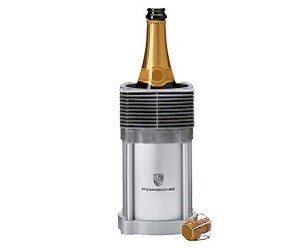 Image: Porsche
If you're going to spend a lot of money on a fancy bottle of champagne, it's a shame to hid the label behind an ordinary ice bucket. But even worse would be to let your Dom Perignon get warm.
The only solution is to have a wine cooler as luxurious as the champagne it's holding, and for that, you turn to Porsche.
The automaker's wine cooler is made with "an original ribbed cylinder from the early air-cooled 911 models." The base is made of anodised aluminum. Of course, the Porsche crest is laser engraved on the front.
The design sells for a cool $620 (cough up $50 more for a Porsche bottle stopper). That's nearly $600 more than the Corkcicle we featured recently, the plastic icicle you place inside the bottle to chill the wine. Which one you'll put on your holiday wish list will come down not just to the price difference, but to what kind of wine drinker you are: do you go for practicality, or revel in indulgence?