LulzSec Leave Retirement to Hack Murdoch's The Times
It appears LulzSec is out of retirement. When Gizmodo wrote about Rupert Murdoch's New Times getting hacked (featuring a dummy page pretending to be The Sun as well as a fake story about Murdoch's death), LulzSec, a supposedly disbanded hacking group, responded on Twitter with the following: Front page confirmation: http://t.co/v4C2YE3 but maybe that "Anonymous" [...]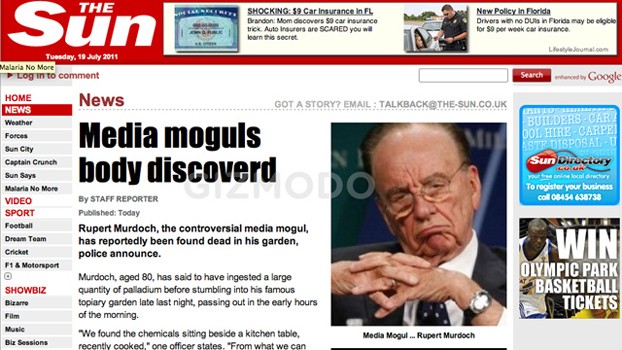 The Times' hacked page. Image: Gizmodo
It appears LulzSec is out of retirement.
When Gizmodo wrote about Rupert Murdoch's New Times getting hacked (featuring a dummy page pretending to be The Sun as well as a fake story about Murdoch's death), LulzSec, a supposedly disbanded hacking group, responded on Twitter with the following:
Front page confirmation: http://t.co/v4C2YE3 but maybe that "Anonymous" should be "LulzSec", Gizmodo friends.
That led Gizmodo to wonder:
So are you guys out of retirement, then?
Eventually, LulzSec followed up with this:
Thank you for the love tonight. I know we quit, but we couldn't sit by with our wine watching this walnut-faced Murdoch clowning around.
LulzSec announced its retirement last month after 50 days of "disrupting and exposing corporations, governments, often the general population itself, and quite possibly everything in between, just because we could," according to its press release. We're not sure if this is a one-off event or if LulzSec is here to stay.