Lizard Breath May Have Evolved Before Dinosaurs
When monitor lizards breathe, air flows into their lungs in a one-way loop -- a pattern known as one-way airflow.
Getty Images
Aren't these three meerkats cute? Oops, wait, we mean four! Look closely and you'll spot a baby peering out from under its mom in the cool 'kats enclosure at Bristol Zoo Garden in Bristol, England.
PHOTOS: Animals Rescuing Animals
Raimund Linke, Getty Images
These alpine marmots in Hohe Tauern National Park, Carinthia, Austria look an awful lot like they're plotting something, no? We can't possibly guess at their evil plan, but the one on the left looks to be the chief troublemaker, rubbing its hands in classic villain fashion. Planet of the Marmots?
First Human Ancestor Looked Like a Squirrel
bojan fatur
Is there a safer place for this cat to be than tucked under the giant, watchful head of its Bernese mountain dog buddy? (Of course the cat is probably thinking, "eh, sure, the dog can stay with me if it wants to.")
The Top 6 Dog Breeds to Bring on Your Adventures
Andrew Fox and Sam Cahir
Scientists have known for a century and a half that sharks get cancer (despite a popular misconception that they don't), but the disease had never been observed in a great white, until this one -- near the Neptune Islands, South Australia -- was spotted with a tumor on its lower jaw.
Great White Sharks Eat Far More Than Thought
iStockPhoto
A study published this week in the journal Current Biology took a listen to the "voice" of the koala bear, finding that the animal has a much lower register than it should, given it only weighs around 18 pounds. Instead, their vocal pitch is more in line with an elephant, and sounds a bit like a donkey braying or a frog croaking. The magic happens because koalas have an extra pair of vocal folds outside of the larynx that help them produce extremely low-pitched mating calls. This new fun fact is undoubtedly cool to ponder, but just as importantly it gives us a great excuse to show a cute koala bear picture.
University of Alberta
You're looking at vertebrate paleontology's latest rock star, a baby
Chasmosaurus
that's thought to be one of the best preserved dinosaurs in the world. It was about three years old when it died (from drowning, it's theorized) and is fully intact, with the exception of its arms.
Chasmosaurus
had horns, feasted on plants, and was a relative of
Triceratops
. It was found in the badlands of Alberta, Canada, in Dinosaur Provincial Park.
PHOTOS: Oldest Dinosaur Nursery Found
Brad Gemmell
You'd never guess it to look at them, but seahorses, such as this dwarf variation,
Hippocampus zosterae
, are highly efficient predators. That's all the more remarkable given the fact that they're some of the lousiest swimmers in the ocean. (In fairness, though, they weren't really built for speed -- you try zipping along without a dorsal fin.) One of the seahorse's chief meals, the shrimplike copepod, survives by evading predators with blinding speed and a keen sense of movement nearby. But the seahorse has cleverly evolved for itself a mouth at the end of a long, narrow snout. This lets them move through the water while creating very little disturbance, effectively sneaking up on its meal. The poor copepod, for all of its guile, never knows what hit it.
Courtney Morgans/University of New South Wales
Meet the Pacific leaping blenny, a very curious creature. It's legless but leaps, and spends its whole life on land but is still a fish. (It lives in splashy coastal rocks so it can remain moist and breathe through its skin and gills.) A new study published in the journal
Animal Behaviour
and authored by Terry Ord, an evolutionary biologist at the University of New South Wales, has discovered how this oddball fish-out-of-water survives: It uses camouflage to dodge its enemies, doing its level best to match the color of the rocks on which it lives.
AFP/Getty Images
The next time someone's talking to you, and the person's really chewing your ear off, just be glad you're not talking to a polar bear. Ever the literalists, they'll do it for real if you let them. Not so with each other though -- neither of these polar bears at the Berlin Zoo seems very nonplussed by all the ear-chewing.
Washington Post/Getty Images
It took 100 days (a special milestone marked in Chinese tradition), but this panda cub at Washington, D.C.'s National Zoo now has a name: Bao Bao, which in Chinese means "precious" or "treasure." For her part, Bao Bao seems more interested in rolling around in the leaves than in worrying about what the funny-looking bipeds call her.
PHOTOS: A Summer of Panda Pregnancies

Monitor lizards breathe by taking in air that flows through their lungs in a one-way loop -- a pattern of breathing that may have originated 270 million years ago in the ancestral group that gave rise to dinosaurs, and eventually alligators and birds, a new study finds.
Researchers at the University of Utah, in Salt Lake City, and Harvard University, in Cambridge, Mass., studied unidirectional breathing in monitor lizards, which can be found throughout Africa, China, India and other parts of Southeast Asia. Their findings suggest one-way airflow breathing may have evolved earlier than scientists had thought.
The researchers examined lungs from living and deceased monitor lizards, and found that when these large, often-colorful, carnivorous reptiles breathe, the airflow through their lungs is mostly one-way, unlike in humans and other mammals, which have a "tidal," or two-way, breathing pattern. Human lungs consist of a network of tubes that branch out into progressively smaller airways. Tidal breathing means air enters the lungs through these airways and then flows back out again the same way.
One-way airflow in birds was first suggested in the 1930s, said Colleen Farmer, an associate professor of biology at the University of Utah and senior author of the new study. [Images: Exotic Lizards Pop Out of the Ground in Florida]
"It was first noted in birds that were living in train stations in Europe," Farmer told LiveScience. "They were burning coal to power trains and noticed that only one part of the bird's lung was getting black with soot."
This method of breathing was thought to have evolved in birds to help them extract higher amounts of oxygen from their environment. Since air travels in only one direction through birds' lungs, more oxygen is transferred through their respiratory systems with each breath, which enables them to fly at high altitudes, where oxygen levels are low, without getting winded or passing out.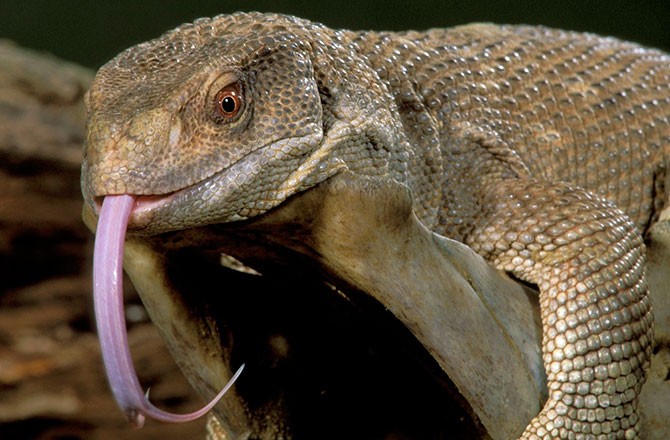 A monitor lizard hugs a branch. Cheryl A. Ertelt
Similarly, it was speculated that one-way airflow may have helped the ancestors of dinosaurs roam the Earth beginning roughly 251 million years ago, after the Permian-Triassic mass extinction that wiped out up to 70 percent of terrestrial vertebrate species. Following the devastating extinction event, which formed the boundary between the Permian and Triassic periods, the level of atmospheric oxygen was thought to be significantly lower than today's levels.
In 2010, Farmer published a study detailing similar unidirectional airflow in alligators, which suggests the breathing pattern likely evolved about 250 million years ago, when the ancestors of alligators and crocodiles split from the ancient archosaurs, the group that led to the evolution of dinosaurs, flying pterosaurs and eventually birds.
But now, the discovery of one-way airflow in monitor lizards indicates the breathing method may have evolved even earlier -- about 270 million years ago -- among cold-blooded diapsids, which were the common, cold-blooded ancestors of present-day lizards and snakes, Farmer said.
"We need to look at other animals in different ecological niches, but I would not be surprised to find that this is very common in other cold-blooded vertebrates," she said.
The detailed findings of the study were published online today (Dec. 11) in the journal Nature.
More From LiveScience:
Image Gallery: Acrobatic Tricks of Lizards and Robots

Top 10 Beasts and Dragons: How Reality Made Myth

6 Extinct Animals That Could Be Brought Back to Life
Copyright 2013 LiveScience, a TechMediaNetwork company. All rights reserved. This material may not be published, broadcast, rewritten or redistributed.