April 12, 2011 --
The popular use of photography during the Civil War led to the creation of an unprecedented archive of one of the most critical times in American history. Explore some of the lesser-known faces of the Civil War, from the children of soldiers to the African Americans who fought for their own freedom, in this slide show.
Library of Congress, National Museum of the A
The African American Soldier
These photos show two unidentified African American soldiers in uniform. According to the National Archives, approximately 10 percent of the Union Army was black: nearly 179,000 soldiers.
Library of Congress
The Families Left Behind
An unidentified girl in mourning dress holds a photograph of her father. The Hardee hat, sword and uniform identify the man as a cavalry soldier. More than 600,000 soldiers died in the Civil War, many from a lack of sanitary facilities, as modern medicine was still in its earliest stages.
Library of Congress
A Soldier's Family
This photo from the Library of Congress shows an unidentified African-American Union soldier with his wife and two daughters. Initially, black soldiers enlisted in the Union Army were paid less than white soldiers and often were treated worse when captured, if not killed outright, according to the National Archives. In 1863, the Lincoln administration issued this decree promising black soldiers equal pay and equal protections.
Smithsonian National Museum of American India
Native Americans
Native Americans played an interesting part in the American Civil War, oftentimes on the side of the Confederacy because of treaties signed at the beginning of the war, according to the Indiana Department of Education. About 3,600 Native Americans also served for the Union Army. The photo above shows Civil War veteran Joe Tasson.
Library of Congress
Humor in a Time of Horror
Two unidentified Union soldiers pose for a photograph holding cigars in each others' mouths. More photographs of Union soldiers exist than of Confederate soldiers, according to the Library of Congress. The North had more photographers and supplies during the war.

A tweet from William Christie, a member of the First Minnesota Light Artillery during the Civil War, recently popped up on Twitter: "Boys are already trying the new War songs. It's likely that we'll sing Bass many times at Vicksburg before we'll sing anywhere in the North."
The quote came via the Minnesota Historical Society, based on what the soldier might have tapped out on his smart phone, had one been available 150 years ago.
"There's a lot of technology out there changing the way we interact with the world, and, as historians, we owe it to ourselves to at least play with it," said Monica Rankin, assistant professor of Mexican and Latin American History at the University of Texas-Dallas. "Sometimes it doesn't work very well and sometimes it works really well."
Museums, historical societies, and universities have been experimenting with various ways of using the social media tools to educate and engage students and communities in history.
Both K-12 and college professors have been retweeting @MNCivilWar. Museums and historical societies have the resources to conduct long-term experiments with multiple characters that play out over several years over Twitter. Some educators favor blogs developed specifically for education or a more condensed approach on Facebook.
"The traditional way of interacting with history is reading something on a page and writing something on a page, and that doesn't work for everyone and it's a bit outmoded, considering what we have access to today," Rankin said.
"Today's social media version of a book or a documentary does essentially the same thing: recounts something in history, gives various perspectives, and analysis. There's no reason you can't do that on Twitter. Whatever format you choose to communicate historical all comes down to sources and responsible scholarship."
Case in point: The Minnesota Civil War project, which will play out over two years, draws from diaries, letters, census documents and newspaper accounts. Staff members and a volunteer then storybook the narrative on an Excel spreadsheet, and create tweets for the dozen or so characters involved in the story based on those primary sources.
"The important thing is to drive people back to the original source," said Wendy Jones, director of the Minnesota Historical Society's museum education, "and to use critical thinking skills to investigate original sources."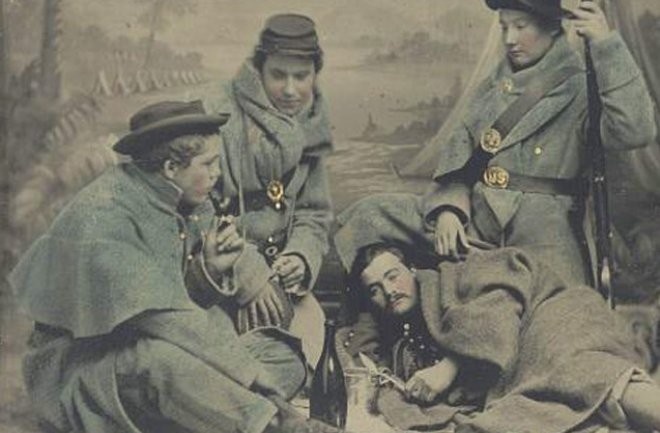 Library of Congress
Back in 2009, Rankin drew attention for using Twitter in the classroom, finding it an effective method to engage a large number of students in discussion in a lecture-style class.
She's also experimented with other platforms: In one class, students created avatars via Second Life and played out the Cuban Revolution in an historical re-enactment.
Although it's too early to tell exactly what kind of an impact social media plays in attracting new visitors or students, educators are optimistic.
"We were hoping it would attract people who are just curious," Jones said. "As an educator, I see it as another tool in engaging people. It's so soon that it's hard to tell, but we're very encouraged."
So far, @MNCivilWar has 1,060 followers ... and, Jones points out, January of 1863 was a quiet time during the Civil War.
"There will be a big flurry of tweeting coming up as battles start," Wendy said. "It will be interesting to see how that changes the public's engagement."
Similar projects by history museums include the anniversary of the Titanic sinking @TitanicRealTime by the UK's The History Press, which attracted 75,161 followers, and the ongoing RealTimeWWII, which has 269,532 followers. Recent tweets include "Mussolini now meeting Hitler- he's begging for German army's help in North Africa. Humiliating climbdown for il Duce."
Universities have developed 3D views of the pyramids, like this collaboration between Harvard University and Boston's Museum of Fine Arts; one of the most valuable pieces of social media is the ease of making worldwide connections and collaborations, educators said.
"You can assign students to do something and collaborate with other students in other parts of the country or world ... it makes history less abstract," said Kirsten Winkler, an education 2.0 blogger.
So will there be a rush of eager college students signing up for World History 101?
"I think for many kids it can at least help them sort of get that initial spark, and then of course you need an engaged," Winkler said.