'Life of Pi' Aside, Tigers Face Threat
A new movie features a bond between tiger and boy, but tigers are seriously threatened today by poaching.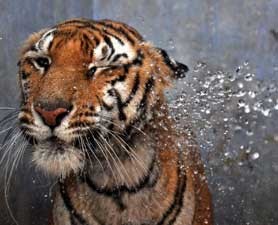 Oscar-winning director Ang Lee's new epic "Life of Pi" showcases the relationship between a teenage Indian boy and a Bengal tiger. But in reality, the predators are under increasing threat from humans.
Poaching remains a tremendous danger for the remaining feline population, with rising demand for tiger parts from East Asia, especially China where tiger bone is used in traditional medicines, experts say.
Rising man-animal conflict is also one of the leading causes of decline in tiger numbers.
Animal rights group PETA is hoping to use the popularity of the film to focus people's attention on the real-life plight of Bengal tigers.
"Life of Pi is a work of fiction, but in real life, there are threats to animals in their natural habitat that must be addressed," said Manilal Valliyate, director of veterinary affairs at PETA-India.
India is home to 1,706 tigers according to the latest census, almost half of the worldwide population. But that figure is a fraction of the 40,000 that roamed the country in 1947 at the time of the country's independence.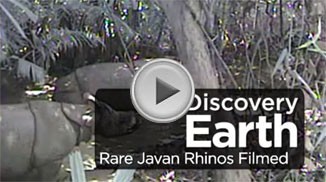 WATCH VIDEO: Rare Javan Rhinos Filmed
In one of numerous reported attacks on the endangered big cats, villagers near the Bangladesh-India border bludgeoned a tiger to death earlier this month after it strayed from the Sundarbans, the world's largest mangrove forest.
Armed with sticks and boat oars, the angry crowd set upon the animal which was suspected to have attacked a local fisherman.
Despite tiger numbers still falling and campaigns in India and Bangladesh to protect the animal, conflicts with humans often prove fatal for one of nature's most fabled beasts.
"The first instinct when a tiger is spotted is to just kill it," laments Gurmeet Sapal, a wildlife filmmaker based in New Delhi.
"The feeling of fear and retribution is so strong that it shuts out any other emotion. What we don't realise is that the tiger never attacks humans until it is forced to," Sapal said.
In Lee's movie, the protagonist Pi is forced to share a lifeboat with the tiger after a shipwreck kills his family after they set out for Canada from India, accompanied by animals from the zoo they ran.
Pi is initially nervous, but tries to train the cat in the hope it will not kill him as long as he keeps its hunger at bay.
The relationship that gradually develops between them over the 227 days they spend together on the lifeboat endears both the characters to the audience.
India has been struggling to halt the tiger's decline in the face of poachers, international smuggling networks and the loss of habitat which encourages the animals to leave the forest in search of food.
So far this year, 58 tiger deaths have been reported in the country, according to Tigernet, the official database of the National Tiger Conservation Authority.
"The tiger's prey base has been rapidly depleting because we have been eyeing his resources. The predator has to make a lot of effort to get its food," said Mayukh Chatterjee, a conservationist with Wildlife Trust of India.
"In such a scenario, livestock and human beings become easy prey for the tiger and lead inevitably to conflict," he said.
Filmmaker Sapal says it is only normal for people to think of the tiger as a dangerous animal, but its image as a voracious killer is misplaced.
"Tigers never kill for sport. They don't store meat in the deep-fridge. They kill their prey only when they are hungry," he said.
"If we can make people understand the importance of the tiger in our food chain and ecosystem, we would have won half the battle."
The other half — against poachers greedy for tiger parts — can only be won with constant monitoring and patrolling, says Belinda Wright, director of the non-profit Wildlife Protection Society of India.
"The tragedy is tigers are more valued dead than alive by wildlife criminals," Wright said.
"There no longer should be any compromise on our conservation efforts if we want these magnificent creatures to survive."