"Least-known Bird" Has Been Found
Researchers at the Wildlife Conservation Society (WCS) have found the breeding area of the elusive large-billed reed warbler. That's a big deal, because according to BirdLife International, the species is the world's "least-known bird." The distinction may sound ominous, but it's also impressive considering the amount of time that has gone between warbler sightings. After [...]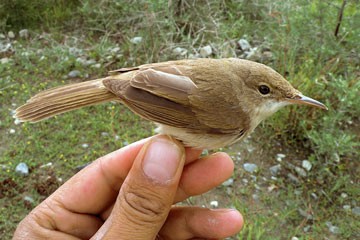 Researchers at the Wildlife Conservation Society (WCS) have found the breeding area of the elusive large-billed reed warbler. That's a big deal, because according to BirdLife International, the species is the world's "least-known bird."
The distinction may sound ominous, but it's also impressive considering the amount of time that has gone between warbler sightings. After the first specimen was discovered in India in 1867, it took well over a hundred years to find the second — another single bird found in Thailand in 2006.
With only two birds spotted in two centuries, you can imagine the thrill ornithologists got after stumbling upon a cache of almost 20 large-billed reed warblers last year in northeastern Afghanistan's Wakhan Corridor of the Pamir Mountains, a sparsely populated area of the country. According to ScienceDaily and Colin Poole, the executive director of the WCS's Asia Program, "the Wakhan Corridor still holds biological secrets and is critically important for future conservation efforts in Afghanistan."
The story behind how the identification process goes down is pretty interesting, too. WCS researcher Robert Timmins was initially conducting a survey of the Wakhan and Pamir Rivers' bird communities when he heard an unusual song. He taped the long-billed, olive-brown bird's call and later noticed similar looking birds in the area. Figuring that the birds were Blyth's reed warblers — not their elusive kin — he examined specimens kept in the Natural History Museum in Tring, United Kingdom. They weren't a match. By that point, Lars Svensson, a reed-warbler expert, realized what Timmins likely had: the first recording of mysterious large-billed reed warbler.
The identification process wasn't over yet though. A WCS team returned to the area the next summer to play the recorded song, lure the birds in and capture them for examination (before releasing them to the wild). They compared the collected data with that of museum specimens and bingo — same bird. The whole story epitomizes a remarkably elegant research process, complete with historical referencing and fact checking.
But warblers aside, the WCS's very presence in Afghanistan is notable. They're the only group performing "ongoing scientific conservation studies" in the country — studies which have been halted there for at least 30 years.