Last Titanic Survivor Dies at Age 97
Last Titanic survivor dies at age 97. Learn more about the last Titanic survivor dying at the age of 97 in this article.
AP Photo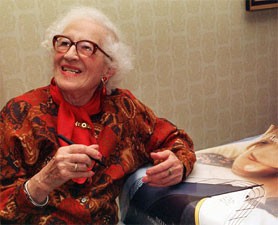 As a 2-month-old baby, Millvina Dean, above, was wrapped in a sack and lowered into a lifeboat from the deck of the sinking RMS Titanic. Dean died Sunday at a care home in England. She was 97. AP Photo
Millvina Dean, the last remaining survivor of the sinking of the Titanic in 1912, has died in England aged 97, the British Titanic Society announced.
Elizabeth Gladys Dean, known to friends as Millvina, was only nine weeks old when the liner hit an iceberg in the Atlantic Ocean on the night of April 14, 1912, and sank killing 1,500 people.
She survived after being bundled up in a sack and carried to safety. Her mother Georgette Eva and brother Bertram also made it, but her father, Bertram Frank, was among those who died.
"It is with great regret that we have to inform you of the death of Miss Millvina Dean on May 31, 2009," the British Titanic Society, of which Millvina was honorary president, said in a brief statement Sunday.
Enthusiasts' Web site Encyclopedia Titanica said she had suffered a short illness. British media reports said she died in a nursing home near Ashurst in the southern English county of Hampshire, but staff there refused to comment.
Dean's family had boarded the Titanic at Southampton, heading for a new life in Kansas where her father hoped to open a tobacconist shop.
Born on February 12, 1912, she was the youngest passenger on board RMS Titanic, which at the time was the most luxurious, most technically advanced and largest passenger liner in the world.
The vessel was dubbed "unsinkable," but it took just two hours and 40 minutes for her to disappear into the icy waters of the Atlantic after striking an iceberg at 11:40 pm on April 14.
After their rescue, Dean was taken back to Southampton with her family. She was not even told she had been on board until she was eight years old and her mother was planning to remarry.
The president of the US-based Titanic International Society, Charles Haas, mourned the loss of the "last living link to the Titanic" and a "dear friend."
"While she never sought the limelight, she enjoyed its results in meeting people and travelling the world," he said in an email to AFP from New Jersey.
"Her story inspires us as a story of hope after adversity, and teaches that a full and rewarding life can follow personal tragedy and loss. We will miss her very much, but never forget her or the other 2,200 aboard Titanic."
According to Encyclopedia Titanica, Dean never married but worked for the government as a cartographer during World War II and then for an engineering company in Southampton.
She told reporters that it was not until the wreckage of the liner was found in 1985 that she suddenly became a celebrity.
In a 2000 interview with the BBC, she said she did not mind the attention -- "I won't get tired of it, oh no" -- but admitted she was surprised by people's fascination. "I think sometimes they look on me as if I am the Titanic!"
Dean was invited to complete her family's ill-fated journey to the United States in 1997 aboard the QE2, and accepted.
However, she turned down an offer to attend the premier of the 1997 blockbuster movie "Titanic" because it would be too upsetting.
Dean moved into a private nursing home in Hampshire after breaking her hip three years ago, and after struggling to pay the bills was forced to sell off some of her memorabilia.
In October 2008 she raised 31,150 pounds auctioning items including a 100-year-old suitcase filled with clothes donated to her family by the people of New York when they arrived after being rescued.
Last month, friends including members of the British Titanic Society and the Belfast Titanic Society -- the liner was built in Belfast in Northern Ireland -- set up a campaign to secure her future.
Among the donors to the Millvina Fund were Hollywood actors Kate Winslet and Leonardo DiCaprio, who starred in the 1997 "Titanic" film. Together with the film's director, James Cameron, they reportedly donated 30,000 US dollars.
John White, head of White Star Memories -- which organizes exhibitions on the Titanic and its owner British shipping company White Star Line -- paid tribute to Dean.
"She was a lovely supportive lady and very kind-hearted," he told the BBC.