Lap Desk Works Wherever You Sit or Stand
An ergonomic, adjustable multipurpose platform improves your posture and comfort when reading or computing.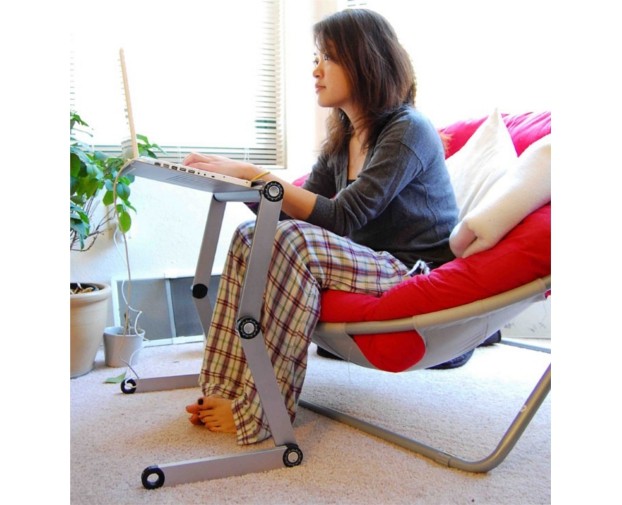 Uncaged Ergonomics WorkEZ Executive: $74.99 on Amazon
Where do you stand on desks? No, not literally in a Dead Poets Society, "O Captain, my Captain" kinda way. Where do you stand on the subject of desks? If you like your non-traditional work place to be as flexible as you are, Uncaged Ergonomics offers a contemporary solution that may make you sit up and take notice.
The lightweight aluminum WorkEZ Executive boasts a non-constrictive 20 inches of 'interior' space, comparable to most business and first class airlines seats. The rotatable 2-sided platform has a smooth surface for writing, cooling holes to prevent electronics from overheating and enough width to handle most notebooks with room for a mouse. Its soft Silicon wrist padding keeps books and computers from slipping. But what makes the Executive indispensible is the push-button angular adjustability of its legs. In 15-degree increments, you can transform it from in-bed tray to couch-friendly platform and from desktop stand to stable, two-foot tall, free-standing desktop. If you like, add an optional cooling fan for $5 more or cooling fan and 3-port USB hub for $10 extra.
Credit: Uncaged Ergonomics