Summer vacation is almost here, and so is the start of sports camps designed to transform fun-loving kids into super-powered athletes. Many of us know parents who are determined to groom sports prodigies just like the Williams sisters, Tiger Woods or perhaps one of the Manning brothers if only they log enough hours in the gym or practice court.
But a new study by a pediatric orthopedist in Chicago found that early specialization doesn't really work. In fact, picking a single sport to focus on usually results in overtraining injuries, and worse, won't turn your kid into an elite or professional athlete.
"There's a great misconception of what it takes to succeed in sports," said Neeru Jayanthi, an associate professor in the Departments of Family Medicine and Orthopedic Surgery and Rehabilitation at Loyola University in Chicago. "You see Tiger Woods or Andre Agassi or any young phenom, and you think that's what it takes. We are much worse than other countries. They try to diversify an athlete, we start right away with specialization."
Jayanthi's study of 1,200 athletes from 8 to 18 years old and found that those who specialize and train intensively have a significantly higher risk of injuries like stress fractures. Kids who spent more hours per week than their age playing one sport -- a 10-year-old gymnast training 11 hours a week for example -- was 70 percent more likely to get overuse injuries.
Jayanthi and colleagues at Loyola and Lurie Children's Hospital of Chicago studied 1,206 young athletes. There were 859 total injuries, including 564 overuse injuries, in cases in which the clinical diagnosis was recorded.
The overuse injuries included 139 serious injuries such as stress fractures in the back or limbs, elbow ligament injuries and osteochondral injuries (injuries to cartilage and underlying bone). Such serious injuries can force young athletes to the sidelines for one to six months or longer.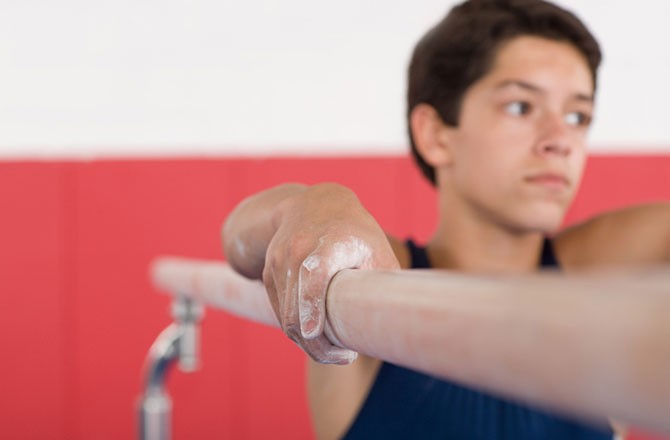 Getty Images
Jayanthi agreed that common sense dictates that playing too much isn't good. However, he said he wanted to develop some specific recommendations rather than just general advice to back off:
Don't practice and play one sport more hours per week than the child's age.

Don't spend more than twice as much time playing organized sports as in the gym and unorganized play.

Don't specialize in one sport before late adolescence.

Take a break from competition for 1 to 3 months each year.

Take at least 1 day off per week.
Jayanthi says he's seen overtraining injuries from individual sports such as gymnastics, tennis, swimming, competitive dance, as well as team sports like soccer, basketball and baseball.
"Early introduction is completely fine," Jayanthi said. "You can get kids out there and develop athletic skills. The problem is early specialization."
Jayanthi and his colleagues presented their findings at the American Medical Society for Sports Medicine meeting recently. A similar survey at UCLA looked at the sports histories of 300 collegiate athletes in 220 varsity spots. It found that the best athletes shared two things: a diverse sports history until late teens and parents who were also competitive athletes.
"You do need to practice, you do need to participate in a consistent way," said John DiFiori, chief of sports medicine at the UCLA School of Medicine, and team physician to the school's department of athletics. "But rest is important, and so are a variety of physical skills. That's the whole concept of sport diversification."
DiFiori also said that developing athletes need more time away from structured practices and games.
"Look at Brazil," he said about the soccer powerhouse. "They're encouraged to play without supervision."