John Paul II and John XXIII Are Saints
John Paul II and John Paul XXIII are made saints, as 1 million gather in St. Peter's Square to attend the double-canonization mass led by Pope Francis.
Alessandra Benedetti/Corbis
An illustration depicts Pope John Paul II (left), Pope Francis (center) and Pope John XXIII outside a shop in Rome April 23, 2014.

Pope John Paul II has been declared a saint on Sunday, just nine years after crowds at his funeral cried out "Santo subito (Saint now)!"
John Paul II rose to sainthood with another pope, John Paul XXIII in what has been dubbed "the day of the four Popes," an unprecedented double-canonization mass celebrated by Pope Francis and attended by Pope Emeritus Benedict XVI.
Italian authorities estimate that at least 1 million people carrying flags and banners packed the streets leading to the Vatican, while huge crowds gathered in St. Peter's Square.
Giant banners showing the faces of the two new saints were hung on the facade of St. Peter's Basilica. The historic open-air event was attended by 150 cardinals, 700 bishops, 6,000 priests, 24 heads of states, 10 heads of government and delegations from more than 100 countries around the world.
"We declare and define Blessed John XXIII and John Paul II to be saints and we enroll them among the saints, decreeing that they are to be venerated as such by the whole church," Pope Francis said.
The crowd erupted in a long applause.
A relic for each of the pontiffs, a vial containing John Paul II's blood and a piece of skin removed John XXIII's body when it was exhumed for his beatification in 2000, was formally presented to the altar in front of the Basilica.
"Saint John Paul II and Saint John XXII were men of courage," Pope Francis said in his homily.
"They were priests, bishops and popes of the 20th century. They lived through the tragic events of that century, but they were not overwhelmed by them. For them, God was more powerful, faith was more powerful," he added.
Looking frail in his white papal robes, Benedict XVI, who resigned from the papacy a year ago, was the strongest living link to John Paul II "the Great" and John XXIII, the "Good Pope."
As German Cardinal Joseph Ratzinger, Benedict celebrated John Paul II's funeral in St. Peter's in 2005. As Pope, he led the ceremony to beatify his Polish-born predecessor in 2011. As a young theologian, he attended the revolutionary Second Vatican Council called by John XXIII.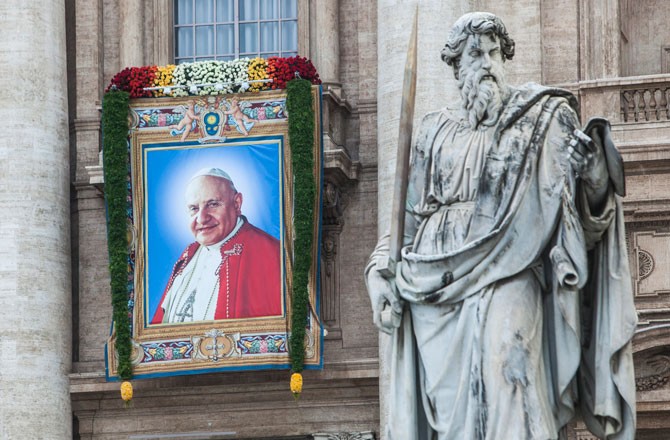 Pilgrims gather in St. Peter's Square during the historical canonization of Jonh Paul II and John XXIII, pictured.STEFANO RELLANDINI/Corbis
John XXIII was born Angelo Giuseppe Roncalli at Sotto il Monte, Bergamo, on Nov. 25, 1881, the third of 13 children. He was elected pope on Oct. 28, 1958, at the age of 76.
His papacy lasted less than 5 years -- he died of stomach cancer June 3, 1963 -- but left an indelible mark by putting aside doctrinal issues and focusing on the modern world's trends.
John put aside the Church's rigid and often obscure language and reached people's hearts with a simple, spontaneous and paternal approach. This attitude earned him the name "the Good Pope."
"He was for the church a pastor, a servant-leader. He was the pope of openness to the spirit," Pope Francis said.
Indeed, the Council that John XXIII called produced modernizing reforms which included the use of local language rather than Latin for Mass, ecumenical efforts toward dialogue with other religions, and a new, more communicative approach to the world.
Francis described John Paul II as "the pope of the family."
Born Karol Wojtyla on May 18, 1920, in Wadowice, Poland, a town near Krakow, John Paul II has also been a pope of firsts. He was the first pope of the third millennium, and the third-longest serving Pope, having led the Roman Catholic Church for 26 years.
He was the first non-Italian Pope since Adrian VI in 1522, the most traveled pope in history, and the most hospitalized pope.
A man of contrasts, who championed human rights and challenged dictators, John Paul II adopted a less formal style which contrasted with his rigid, traditionalist stance on issues like contraception, divorce, gay marriages and abortion.
Attacked for his decision to beatify Pope Pius IX, who was known his frequent anti-Semitic speeches, John Paul II was also questioned about having done enough to respond to the church sex abuse scandal.
However, the charismatic Polish pontiff was one of the most beloved popes in the history of the church, drawing huge crowds at each events he attended.
He has now set a record for modern times by becoming a saint only nine years after his death.
The road to sainthood was also fast for John XXIII, who was made saint although only one miracle -- instead of the two normally required -- has been attributed to him.
John XXIII, the hero of the church's progressive wing, and John Paul II, a giant for Catholic conservatives, are now the 79th and 80th popes of the Roman Catholic Church to become saints.