Some people are born to be jerks -- at least for a while -- suggests the newly formulated Crazy Bastard Hypothesis.
YouTube
Bikers surround an SUV on a New York City highway in a Sept. 29 chase that ended with bikers beating the SUV driver in front of his child and wife.
iStockphoto
Are men inherently better than women are at some skills, and vice versa? Though we tend to think otherwise -- and there are always notable exceptions -- scientific research frequently concludes that men and women excel in different areas.
So what about nature versus nurture? As Diane Halpern, a professor of psychology at Claremont McKenna College, said during the British Psychological Society Annual Conference last year: "We do socialize our boys and girls differently, but the contribution of biology is not zero."
Corbis
Men are better at judging person's size based on their voice
A study in the latest Biology Letters holds that "men are better than women at acoustic size judgments." This means that men have an enhanced ability to determine a person's size based on the sound of his or her voice, according to Benjamin Charlton and colleagues from the University of Sussex. The findings, conclude the authors, "lend support to the idea that acoustic size normalization, a crucial prerequisite for speech perception, may have been sexually selected through male competition."   
Corbis
Men have better spatial awareness

 

Men possess a stronger ability to think of objects in three dimensions, helping with navigation, which was also discussed during the British Psychological Society Annual Conference. Even 3-month-old infants exhibit the sex-based behavioral difference. It could be that hunting, competitive battles and other activities conducted in the past helped to lock the skill into males.
Ingrid Taylar, Flickr
Women are better at locating specific items

 Men often may have better spatial awareness than women do, but women are "better at remembering where things are," Halpern said. As a result, women are more likely to navigate using landmarks. While both men and women can therefore find their way to places with about equal skill, women might have an edge, since they could likely find things like missing car keys and maps first.
Maxwell GS, Wikimedia Commons
Women are better at worrying
Women produce only about half as much serotonin -- a neurotransmitter linked to depression -- as men do and they have fewer transporters to recycle it, according to Karolinska Institute research. As a result, women tend to worry more. That's not always a bad thing, as women might then possess an enhanced ability to foresee problems and plan how to handle them.
Corbis
Women detect colors better than men do

 Women can detect subtle variations in color that men fail to identify, such as noting certain off-white colors versus white, Israel Abramov of CUNY's Brooklyn College, determined a few months ago. It could be that women -- acting as gatherers -- developed improved color detection while searching for edibles. Abramov suspects that sex hormones are behind the differences, given that male sex hormones can alter development in the visual cortex.
Corbis
Men handle lack of sleep better than women do
A Duke University study found that men could tolerate sleep deprivation more than women could. This is either good or bad news for men, as sleep is involved in brain repair, when the brain sorts out memories and other information acquired throughout the day.
Corbis
We are evenly matched at multitasking

 Some studies have found that men are better at multi-tasking, while others have determined just the opposite. When compiled, the data so far suggests that our multitasking skills could be evenly matched.
As we age, we also tend to lose, at about the same rate, our ability to handle more than one activity at once. Older men and women exhibit more difficulty in switching between tasks at the level of brain networks, according to a study published in Proceedings of the National Academy of Sciences.
Corbis
Men are better at detecting infidelity
Men appear to be better at reading subtle vocal, visual, scent and other cues indicating their partner's fidelity, concludes a study published in the journal Human Nature. The downside, said co-author Paul Andrews of Virginia Commonwealth University, is that that these cues aren't always accurate, and men are more likely than women to falsely suspect cheating.
Yet another study on cheating, published in the Journal of Marital and Family Therapy, found that men are more upset by sexual infidelity, and while women are more upset by emotional infidelity. Women, it should be mentioned, outperform men when identifying emotions, according to a study in the journal Neuropsychologia.
Corbis
We are evenly matched in terms of intelligence
Men tend to be larger and, as a result, tend to have bigger brains. Size, however, does not necessarily correlate with intelligence. Braininess instead relies more on neuronal connections, which we help forge when learning by experience or study.
Historically, women's IQs have lagged behind those of men by up to 5 points, but now women are surpassing men in such tests. Rex Jung, an assistant professor of neurosurgery at the University of New Mexico, has found that men tend to have more brain grey matter while women have more white matter. The differences yet again are evident, but it appears that the evolutionary battle between the sexes can, at least for now, be judged as a tie.
Corbis
Women usually live longer than men

 Better immunity, reduced risk for blood diseases and lower risk-taking may give women an edge on longevity. Based on Centers for Disease Control data, women tend to have a life expectancy that's 5.3 years greater than men's, but the gap is narrowing. In 1978, it was 7.8 years. The good news for men is that they tend to remain sexually active longer than women do. "Interest in sex, participation in sex and even the quality of sexual activity were higher for men than women, and this gender gap widened with age," said Stacy Tessler Lindau of the University of Chicago, who worked on a related study.

Drunken rowdiness at sports facilities, dangerous driving in heavy traffic, stupid and risky financial decisions, and other behaviors associated with jerks could be explained by the newly formulated "Crazy Bastard Hypothesis."
The hypothesis, outlined in the latest issue of Evolution of Human Behavior, says that part of the population -- mostly young men -- are predisposed to nonviolent risk-taking, which can improve their status.
"Specifically, the less that someone cares about their own welfare, the more dangerous they are as an opponent, because they will not be deterred by threats, and will be less likely to retreat if injured," lead author Daniel Fessler explained to Discovery News.
"A considerable part of the psychology of young men is dedicated to competition, including potentially violent competition with other young men," added Fessler, an evolutionary anthropologist at the University of California, Los Angeles. "Advertising that one is indifferent to injury or death makes one a feared adversary and a valuable friend."
Fessler was inspired to conduct the study because he wondered why anyone would engage in non-violent risk-taking. For example, he noticed that young men in California are vastly more likely than other people to be bitten by rattlesnakes. Guys often pick up the snakes sometimes as a dare or to show off in front of others.
For the study, Fessler and his team conducted five experiments. Most looked at how both men and women perceived the size and strength of unseen risk takers. Risk-prone vignettes included things like not wearing a seat-belt, eating and texting while driving, speeding, driving through a red light, sunbathing without sunscreen, betting a day's income at a high-stakes poker game, and other risky behaviors.
A similar study was conducted in Fiji among villagers, only this time the risky behavior vignettes including things like climbing tall coconut trees and sailing rough seas without a life vest.
In most cases, and particularly among men, knowing that a man voluntarily engages in dangerous, nonviolent activities leads others to conceptualize him as larger and stronger.
"In other words, in your 'mind's eye,' you form a mental picture that is a summary of all of the various tactical assets and tactical liabilities that you and your opponent would bring to a fight (such as weapons, the presence of allies, etc.)," Fessler said. "Conceptualizing a risk-taker as bigger and stronger thus reveals that you think of that person as more dangerous in a fight."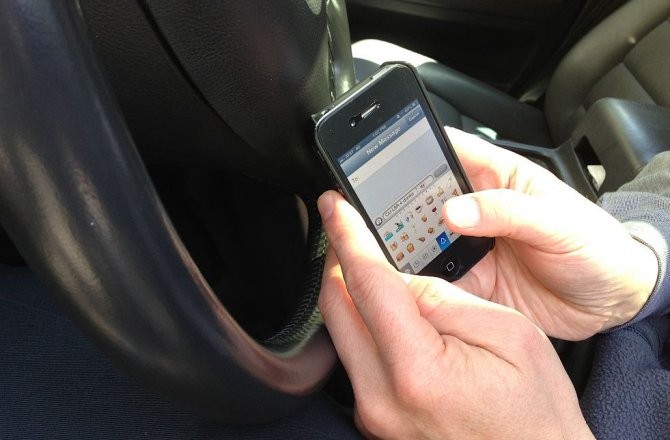 Texting while driving is a risky behavior that could be linked to a new theory on why some men act out.IntelFreePress, Flickr
Prior studies have found genetic links to risk-taking tendencies among both men and women, so some of the "crazy bastard" behavior appears to be hard-wired.
As for why men tend to engage in it more than women, Fessler explained that there is greater variance in male reproductive success than in female reproductive success. This is a consequence of the greater female investment in reproduction, due to pregnancy and lactation. Young men tend to become less risk-prone as they get older. They essentially grow out of it.
Daniel Kruger, a researcher and faculty member of the University of Michigan"s School of Public Health, finds the Crazy Bastard Hypothesis "intriguing and intuitively plausible."
Kruger said, "It helps to remember that our psychological architecture evolved in a world much different from what you and I experience. Only very recently have we had rule of law and near universal police protection in modern societies."
"Even just a hundred years ago," he continued, "people were at risk of physical confrontations both within their social group and with other groups. Having formidable allies and creating a deterrent to threats were very real and prominent concerns through most of human history."
Such concerns live on to this day.
Fessler said that women who feel that they are in need of physical protection tend to go after daredevils, while certain countries tend to always support "Crazy Bastard" leaders.
"As for electing leaders," Fessler said, "if one lives in a setting where violent conflict occurs between groups, then one should place greater value on having a leader who will intimidate enemies."