Jericho's Massive 1,200-Year-Old Mosaic on Display
For this week only, Jericho invites visitors to gaze at the largest Middle Eastern carpet mosaic in the world's oldest city.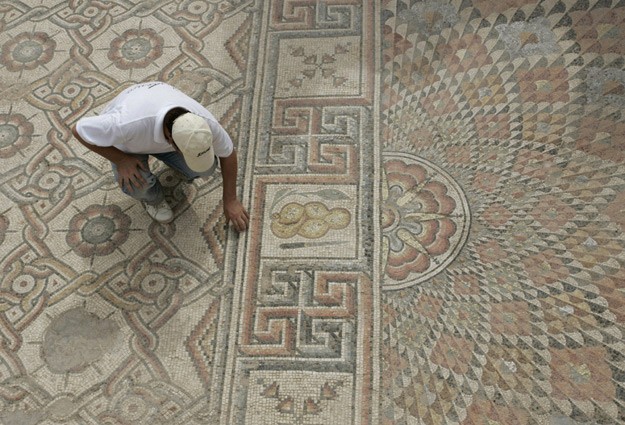 What is 1,200 years old, over 9,000 square feet and drawing visitors for one week only?
It's the largest Middle Eastern carpet mosaic, of course, and it is now on view in the ruins of an 8th century Islamic palace in Jericho.
The exhibit is aimed to ramp up visitors to Jericho, which already has a healthy tourism market. Designating itself as the oldest city on Earth, Jericho has also claimed this week as its 10,000-year anniversary.
In fact, Sunday's celebration of Jericho's 10,000th birthday is fairly arbitrary, with archeologists admitting they could be off by hundreds of years in dating the first human settlement in the area.
Arguments on accurate dating aside, the carpet mosaic on display is impressive.
Small red, blue and ochre square stones are patterned in geometric and floral designs. The striking floor once served as the foundation of the main bath house of an Islamic palace that was destroyed by an earthquake in the 8th century.
Excavation beginning in the 1930s unearthed the mosaic, but it was quickly covered under layers of soil and canvas for protection from sun and rain. After this week, the mosaic will return to its shrouded existence until enough money can be raised for a permanent environmental shield.
Estimates put the cost of a permanent roof at about $2 million.