Jackets with Built-In Heating Let You Extend Your Cold Weather Golfing, Tailgating and Spectating
Just because it's gotten colder outside it doesn't mean you have to cut your golfing or tailgating short, or freeze your butt off supporting your team in the Frozen Tundra. Mobile Warming Gear has jackets and vests featuring built-in heating elements using technology originally pioneered by NASA during the early days of the space program, [...]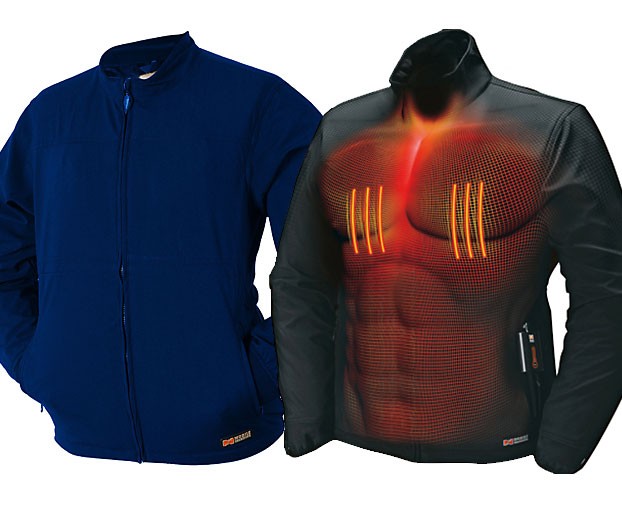 These jackets have a built-in heater with four temp settings (Photos: Mobile Warming Gear)
Just because it's gotten colder outside it doesn't mean you have to cut your golfing or tailgating short, or freeze your butt off supporting your team in the Frozen Tundra. Mobile Warming Gear has jackets and vests featuring built-in heating elements using technology originally pioneered by NASA during the early days of the space program, so you can crank up the heat when the temperature drops.
A system of unobtrusive micro-alloy heating elements built into the back and chest area are powered by a small, rechargeable lithium ion battery. A push-button switch lets you dial in the heat to your choice of four settings, depending on the conditions outside: 100%, that'll bring the heat at 135 degrees, 75% for 120 degrees, 50% delivers 105 degrees and 25% will warm you to 90 degrees. Forget layering, you'd have to pile on a half dozen bulky layers to get you close to 135 degrees of chill-busting warmth.
But all that warmth comes at a price. A time price. The battery lasts about 2.5 hours at 100%, but when you dial it down to 25% you'll get up to 10 hours of heat. So pace yourself.
For golfers who want to squeeze in a few late month rounds around the holidays, Mobile Warming Gear's new waterproof collection of heated golf jackets are designed with performance and movement in mind. The jackets and vests are seam-sealed, USGA conforming and cut from ultra-lightweight and breathable technical polyester that's waterproof to keep the rain and snow from shorting out the heaters, and your game. Featuring four-way stretch and golf-specific construction, the jackets provide exceptional freedom of movement without restricting layers.
Offered in both men's and women's styles the golf jackets are also windproof and feature waterproof pocket zippers, Velcro cuffs and a hem cinch cord for easy adjustment, and to keep the frost from blowing up your back. Because it's hard to sink that 30-foot putt when you're shivering.