Is It Really Lincoln? Gettsyburg Photo Stirs Debate
A stereoscopic photograph taken on the day of the Gettysburg Address may or may not show President Lincoln.
Alexander Gardner/Library of Congress, Prints and Photographs Divison/Courtesy of Christopher Oakley
This image allegedly shows Abraham Lincoln (highlighted in center) moments before delivering the Gettysburg Address in 1863.
Library of Congress
The Battle of Gettysburg, the decisive engagement 150 ago today that would turn the tide of the Civil War leading to a Union victory, was launched when Confederate General Robert E. Lee's troops clashed with the Union's Army of the Potomac, headed by General George Meade. The battle lasted for three days and proved the bloodiest of the Civil War, with around 50,000 casualties total.
In this slideshow, take a tour of the battlefield from photos shot in the aftermath of the conflict.
Library of Congress
Although it may look like a simple cottage by modern standards, this house was in fact the headquarters of General Lee at Chambersburg Pike, a position the South held before marching on to occupy Gettysburg.
Library of Congress
General Meade commanded the Union Army to its eventual victory at Gettysburg from his headquarters here on Cemetery Ridge.
Library of Congress
As one might expect from any surviving images of the deadliest battle in the Civil War, many of the photographs taken in the aftermath of Gettysburg graphically depict the human cost of war. Confederate soldiers who were killed on July 1 near McPherson's Woods, where some of the heaviest fighting broke out early on, appear in this scene.
Library of Congress
More than 4,700 Confederate soldiers died. Though Union troops won the battle, they paid dearly as well, with more than 3,000 dead. Union soldiers who died on the battlefield appear in this photo.
Library of Congress
Among the most iconic photographs of the battle -- and among the most remembered of the entire war -- is this image of a dead Confederate soldier in the trench still with his rifle. The young sharpshooter fell at Devil's Den, hiding behind a rocky barricade on the boulder-covered hill.
Library of Congress
Thousands died and tens of thousands were injured at Gettyburg. Although the Confederates had a higher death toll, the Union side saw a higher number of injuries. And although the Civil War helped usher in a new era of modern medicine, the techniques known to and tools available to 19th-century surgeons were undoubtedly crude compared to today's. In this photo, an amputation is performed by a Union army surgeon at a hospital tent near the battlefield.
Library of Congress
Although many men fell in battle, still others, like these three Confederate soldiers, were captured by Union troops. Despite being held prisoner, all three men still bear a look of pride in this photo.
Library of Congress
Armies are composed of men, but in the 19th century, they were powered by horses and mules. These animals carried soldiers' equipment and supplies; they were critical to each armies' communications efforts; and they rode soldiers and officers on their backs into war. As a result, many animals died as well, with some 3,000 perishing in the aftermath of Gettysburg.
Library of Congress
Capturing some record of the battlefield wasn't strictly the pursuit of photographers, but also sketch artists and illustrators who showed what the war look like through their eyes. Artist Alfred R. Waud of Harper's Weekly composes a sketch on the battlefield in this photo.
Library of Congress
One of Waud's sketches of the battle represents the charge by Confederate soldiers nicknamed the Louisiana Tigers upon a battery of the 11th Corps Union Army at Gettysburg.
U.S. National Archives
Taken months after the conclusion of the battle itself, this photo is a one-of-a-kind shot of President Abraham Lincoln visiting the battlefield to attend a ceremony to dedicate Soldiers' National Cemetery in Gettysburg. Hours after this photo was taken, Lincoln delivered the most famous speech of his presidency, the Gettysburg Address, which codified in 10 sentences the meaning of the war between North and South.

In 1863, President Abraham Lincoln stirred the soul of an embattled nation with the famous speech he delivered in Gettysburg, Pa. And now, 150 years later, Lincoln has again aroused passions by being spotted -- possibly -- in a stereoscopic photograph taken on the day of the Gettysburg Address.
But is Abe Lincoln really in the photo? And, if so, which of two images of a bearded man in a black stovepipe hat is Lincoln? These questions have set off a dustup in the normally staid world of archival photography, according to Smithsonian magazine.
Six years ago, John Richter, an amateur historian and director of the Center for Civil War Photography, magnified a stereograph taken by photographer Alexander Gardner on the day of Lincoln's now-famous Gettysburg speech. Richter identified a tall figure on horseback, wearing a stovepipe hat and saluting the troops, as the 16th U.S. president. (Lincoln to Reagan: Top 10 Ailing Presidents)
Richter's finding was celebrated as a rare gem of a photo, since only one other image of Lincoln is known to exist from that fateful day. But ever since the finding was announced, skeptics questioned the veracity of the supposed Lincoln photo.
"For starters, the guy on the horse looks like a Cossack. His beard is longer and much fuller than the wispy, trimmed one the president wore in his studio session with Gardner 11 days before," William Frassanito, a historian and author of "Gettysburg: A Journey in Time" (Thomas Publications, 1996) told Smithsonian. "Lincoln had an unmistakable gap between his goatee and his sideburns. If you're going to spy him in a black speck in a distant background, at least get the beard right."
Earlier this year, Christopher Oakley -- a former Disney animator and Civil War buff -- was working on a 3D animation of Honest Abe as part of his Virtual Lincoln Project, a student collaboration. (Oakley also teaches new media at the University of North Carolina-Asheville.)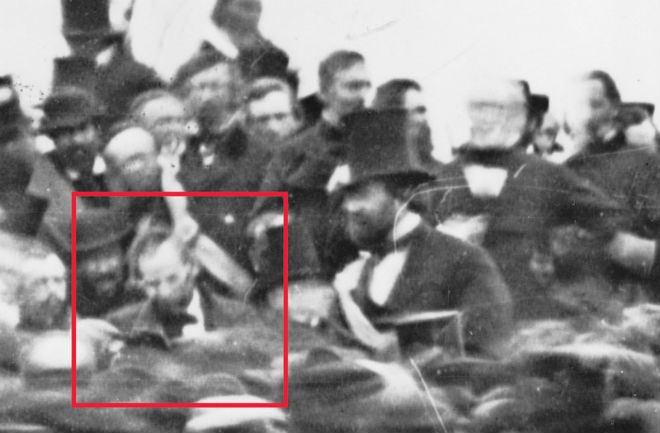 Taken months after the conclusion of the battle itself, this photo is a one-of-a-kind shot of President Abraham Lincoln visiting the battlefield to attend a ceremony to dedicate Soldiers' National Cemetery in Gettysburg. Hours after this photo wasU.S. National Archives
While examining Gardner's stereograph, Oakley wondered if the Library of Congress (which owns the image) had ever created a high-resolution copy of the photo's left-sided negative. They hadn't, but would do so for $73. "It's the best $73 I ever spent," Oakley told USA Today. "As soon as I had that in my hands, I was able to look at it much more clearly."
Oakley's investigation found two critical images in the enhanced stereograph. First, the man Richter and others assumed to be Lincoln was wearing a coat with military-style epaulets on the shoulders. Lincoln is known to have been wearing a plain overcoat that day.
And perhaps even more important, Oakley identified a man with a trimmed beard and stovepipe hat standing precisely where Lincoln would have stood, near a man Oakley determined to be then-Secretary of State William Seward, who was on the speaker's platform. "All the landmarks -- jawline, beard, hair, cheekbones, heavy brow, ears -- line up perfectly," Oakley told Smithsonian.
But Oakley's findings don't sit well with all historians, namely Richter. "The man I found had to be Lincoln," Richter told Smithsonian. "Who else might have been returning a salute but the commander in chief?"
Actually, other experts have noted that it's unlikely Lincoln would have saluted the troops, since Ronald Reagan is acknowledged as the first U.S. president to have done so, in 1981 -- a notable break with presidential protocol.
And the prominent figure on horseback wearing epaulets? Probably a uniformed member of the Independent Order of Odd Fellows, hundreds of whom were in attendance that day. "The fraternal order assigned its own marshals to the ceremony," Frassanito told Smithsonian. "No one knows what their uniforms looked like," but the mounted man was likely an Odd Fellows official or some other marshal in a military-style coat, he added.
This article originally appeared on LiveScience.com. More from LiveScience.com:
Busted: 6 Civil War Myths

The 10 Weirdest Inaugurations in US History

Album: Faces and Injuries of the Civil War
Copyright 2013 LiveScience, a TechMediaNetwork company. All rights reserved. This material may not be published, broadcast, rewritten or redistributed.