iPhone App Tells You If a Satellite Is Watching
If anything's hovering over your head that might be taking your picture, the app will provide notification.
Mohamed Aly Soliman/Rossella Lorenzi
Are these formations in the Egyptian desert long lost pyramids? Or are they just naturally occurring pyramidal rock outcrops?
The structures were spotted last year by amateur satellite archaeologist Angela Micol. She used Google Earth 5,000 miles away in North Carolina.
Angela Micol/Rossella Lorenzi
Located about 90 miles apart, the two possible pyramid complexes appeared on aerial imagery as an unusual groupings of mounds with intriguing orientations.
One site near the Fayum oasis revealed a four-sided, truncated mound approximately 150 feet wide and three smaller mounds in a diagonal alignment (left).
The other site, just 12 miles from the city of Abu Sidhum along the Nile, featured two large and two small mounds (right).
Mohamed Aly Soliman/Rossella Lorenzi
First reported by Discovery News, Micol's claim gained widespread media attention and much criticism.
Authoritative geologists and geo-archaeologists dismissed what Micol called "Google Earth anomalies" as windswept natural rock formations -- buttes quite common in the Egyptian desert.
Medhat Kamal El-Kady and Haidy Farouk Abdel-Hamid
Micol was then contacted by an Egyptian couple -- collectors who claimed to have important historical references for both sites.
According to Medhat Kamal El-Kady, former ambassador to the Sultanate of Oman, and his wife Haidy Farouk Abdel-Hamid, a lawyer, former counselor at the Egyptian presidency and adviser of border issues and international issues of sovereignty, more than 34 maps and 12 old documents in their collection would support the existence of the lost pyramids.
Strictly copyrighted; intellectual property rights by Medhat Kamal El-Kady and Haidy Farouk Abdel-Hamid
For the site near the Fayum, they cited three maps in particular, dating from 1753 to the late 1880s.
The documents would point to the existence of two buried pyramids (within the red square) which add to the known Fayum pyramids of Lahoun and Hawara.
Mohamed Aly Soliman/Rossella Lorenzi
While the site in the Fayum has not been investigated yet, a preliminary on-the-ground expedition has already occurred at the site near Abu Sidhum.
According to Micol, it provided intriguing data to compare with El-Kady and Farouk's maps and documents.
Mohamed Aly Soliman/Rossella Lorenzi
Suspecting the mounds were ancient in origin, locals tried to dig into one of the two smaller mounds.
Mohamed Aly Soliman/Rossella Lorenzi
The excavation failed due to striking very hard stone that Aly and Micol believe may be granite.
Mohamed Aly Soliman/Rossella Lorenzi
Aly Soliman believes the big mounds are hiding pyramids as the metal detector used over them signaled metal and showed an underground tunnel heading north.
Angela Micol/Rossella Lorenzi
Apart from the two larger and smaller mounds, the expedition team believes the site features a temple or habitation and a row of what may be mastaba tombs adjacent to the mounds. They are shown in the red rectangle thanks to a false color imaging technique developed by Micol.

In case you're hungry for personal space situational awareness, or are just plain paranoid, a new iPhone app can tell you when and what imaging spacecraft might have you in sight.
Orbit Logic of Greenbelt, Md., has created SpyMeSat, an app that provides notifications when spy satellites and unclassified imaging satellites are zooming above your head and may be taking your picture. A dynamic map shows orbit tracks and the location of remote sensing satellites with upcoming passes over a user's specified location.
Alex Herz, president of Orbit Logic, said that SpyMeSat is the firm's first app designed for everyday folks, and a product that extends the company's customer base beyond the aerospace, defense and government intelligence communities. [The Top 10 Space Apps]
"I actually got the idea for the app from talking to friends outside the aerospace industry who were always very interested in space and satellites and imaging from space. This app answers those questions in a fun and interactive way," Herz told SPACE.com.
The SpyMeSat app makes use of multiple sources, including orbit data from the North American Aerospace Defense Command (NORAD). The NORAD spacecraft data come via CelesTrak, a website designed to provide current orbital software, educational materials and links to software to support tracking satellites and understanding orbital mechanics.
That information is melded with available public information about commercial and international imaging satellites.
The iPhone app user can see a satellite's trajectory around his or her location, as well as get an alert when a camera-snapping or radar-scanning satellite might be in range.
Moreover, the app user can learn more details about each imaging opportunity, and also peruse a page describing the satellite that's zooming by overhead. According to Orbit Logic, SpyMeSat users can organize the app in several ways, such as modifying the location of interest.
All of the imaging satellites in SpyMeSat are in low-Earth orbit at an altitude of about 500 miles (805 kilometers). Enabled SpyMeSat satellites include such zoom-lens notables as GeoEye, the French space agency's SPOT-5, India's CartoSat-2A, DigitalGlobe's WorldView satellites and Canada's RADARSAT-2.
Of course, a SpyMeSat imaging-pass notification doesn't necessarily mean that a satellite is taking your picture. An identified satellite could have its camera in off mode or pointed elsewhere along its ground track.
SpyMeSat does not include all imaging spacecraft. No classified imaging satellites, from any nation, have their orbit information published, so these satellites do not show up in the app.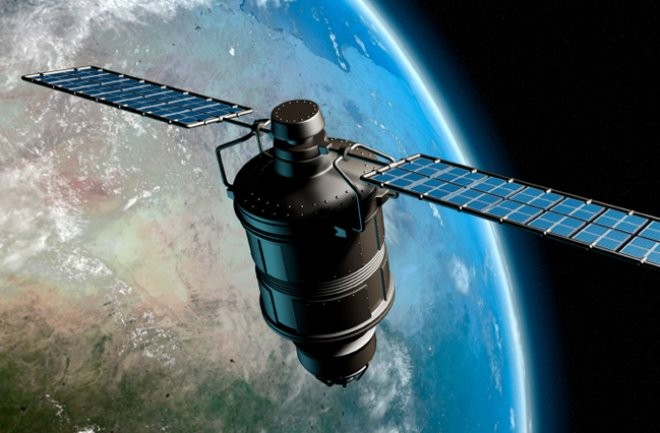 iStockPhoto
The app does include imaging satellites with resolution capabilities of some 16 feet (5 meters) or better for which orbit information is published by NORAD. For the most part, these are commercial satellites or openly acknowledged government satellites from other countries.
When pondering the potential uses of this app, might it not help hide nefarious actions from orbiting eyes — say by a terrorist group, somebody whipping up a batch of plutonium or perhaps those involved in human rights wrongdoing?
Herz said that people have already mentioned possible use of the app by terrorists.
"We were careful to only include satellites that are unclassified and whose orbits are published by NORAD. Even the sensor data — resolution, etc. — was taken only from the websites published by the satellite operators. So everything SpyMeSat is using is open and public. Even the computations are basic orbit math taught in colleges everywhere," Herz said.
"We can also track app downloads by country through the Apple App Store," he added. "So far, no terrorist countries — unless you consider Brazil, Switzerland, Canada, Germany or Australia, terrorist havens."
Responding to a SPACE.com query, John Pike, a leading expert on defense, space and intelligence policy and director of GlobalSecurity.org, said: "Anyone who was trying to hide from such satellites was already doing so."
SpyMeSat requires iOS 6.0 or later. The app is compatible with iPhone, iPad and iPod touch and is optimized for iPhone 5.