iPhone 5 Can Go The Distance But Gets Lost
Apple's iPhone 5 is the rare LTE smartphone that can run all day, but beware of its Maps app.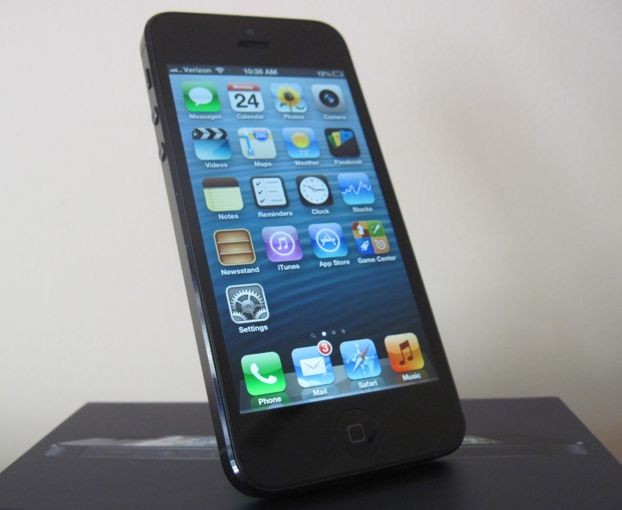 The iPhone 5 has me torn: With this trim and light smartphone, Apple seems to have cracked one of the more intractable problems in the smartphone world — but it's also created a new, unnecessary one.
The single best part of this new iPhone ($199 and up on two-year contracts with AT&T, Sprint and Verizon Wireless, with a prepaid deal due from Cricket Wireless this Friday) is what's hidden inside: the electronic wizardry that lets it survive most of a day on an LTE signal.
ANALYSIS: iPhone Launch: Stories from the Fringes
Older Android devices have struggled to make it to lunch on power-hungry Long Term Evolution radios, but a purchased Verizon Wireless iPhone 5 only edged below 10 percent of a charge after 13 hours of regular Twitter, Web and e-mail use. In an overnight test of Web radio and online use with the screen kept on, this device lasted nine hours and 19 minutes — one of the best results I've ever seen. 
But the results of later tests (7:44 of nonstop Web radio, 85% of a charge left after 24 hours idle) weren't quite as breathtaking.
That's still impressive when you consider that the iPhone 5's battery, as revealed in iFixit's dissection, falls short of the capacity of most Android phones.
And yet: Would making the phone oh-so-slightly thicker to accommodate a larger battery (and keep Apple's old dock connector and micro-SIM slot instead of replacing them with the smaller, incompatible Lightning and nano-SIM) yield a device that could survive a long workday and a late night?
ANALYSIS: iPhone 5: the Price of Thin
That endurance is more important than LTE support itself, since its velocity varies widely. At one blessed spot in San Francisco, Speedtest.net's app clocked Verizon's download speed at 28.18 million bits per second — but near Dulles Airport, it slowed to 8.71 Mbps, faster than 3G but not mind-blowingly so.
The iPhone 5's 8-megapixel camera took some terrific shots outdoors, even in high-contrast scenes, but indoor and nighttime shots look about as grainy as other smartphones's work. Its new panoramic-picture mode only matches what competing phones offer.
Four days in, the iPhone 5's taller, 4-inch screen doesn't feel much bigger, although it does help to see an extra row or two of tweets and e-mail messages. The beveled metal edges around it no longer look as jewel-like as they did on Friday, thanks to scuff marks already picked up.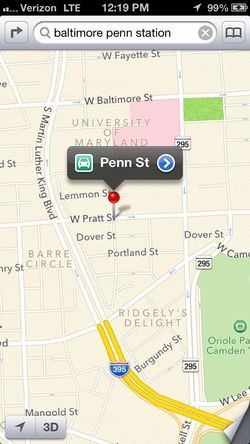 And then there's the Maps app you may have heard about. I understand why Apple needed a new navigation program; it was apparently never going to get features like turn-by-turn directions from Google.
But the software on the iPhone 5 (and on older models updated with Apple's new iOS 6) is dangerously clueless, far worse than I expected. It couldn't properly locate destinations as obvious as Dulles International Airport or Baltimore's Penn Station and provided directions on bridges that are closed or have been rebuilt in adjacent spots.
Apple can theoretically fix those flaws by throwing enough money and people at them. But Maps' clumsy handoff of transit directions to third-party apps — sometimes separate ones for a city's bus and rail networks — can't be cured unless somebody ships a comprehensive, worldwide database of transit systems.
You know, an app like the Google-powered software Apple evicted, or the far more capable program on such new Android phones as Samsung's Galaxy S III (warning: terrible keyboard) and HTC's One X series.
So it's not an obvious choice. If you rely on your phone for navigation, you may resent the iPhone 5 until Apple puts serious work into its mapping application or Google ships a standalone version of Google Maps.
And as Android users can attest after too many delayed updates to Google's operating system from manufacturers and carriers, pining away for a software update you desperately need can get old.
Updated 9/26 with additional battery-life tests.
Credit: Rob Pegoraro/Discovery