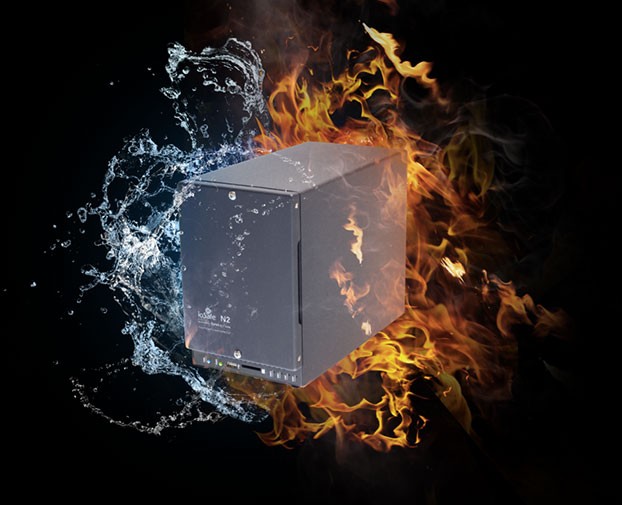 Image: ioSafe
When it comes to protecting data, you can't go wrong with ioSafe. The company makes drives that are too fun to torture test — you know, the usual: throwing off balconies, running over with cars and submerging in pools.
Its latest is a network-attached storage solution that provides a private cloud without fear of security vulnerabilities from third-party services. The N2 is a two-bay drive with up to 8 TB of storage, 512 MB of memory and a 2GHz CPU. A gigabit ethernet port also means blazing fast transfer speeds.
Think of the N2 as a black box for your data. Like the Solo G3, a combination of different technologies — DataCast, HydroSafe and FloSafe — keeps data safe from fire up to 1550 degrees Fahrenheit and submergence in 10-foot-deep water for up to three days. It's also backed up by a data-recovery service that provides up to $5,000 of coverage per terabyte. Unlike the Solo 3G, which weighed a monstrous 15 pounds, the N2 is even more of a beast at 23 pounds.
The N2, which will ship beginning January, starts at $599.99. To get the product off the ground, ioSafe will turn to Indiegogo to raise funds (the product will come to market regardless of how much it's able to crowdfund in the next month). Being an early supporter has a few perks though, including $100 off the entry-level N2, discounts off other ioSafe drives and T-shirts.