iOmount Stands and Delivers
Docks and cases that double as tablet stands are great, but they're limited. The viewing height and viewing angle always seem to be a compromise, and you're lucky if you get more than two ways to position your tablet. With the iOstand from iOmount you can viddy your screen from a nearly endless number of [...]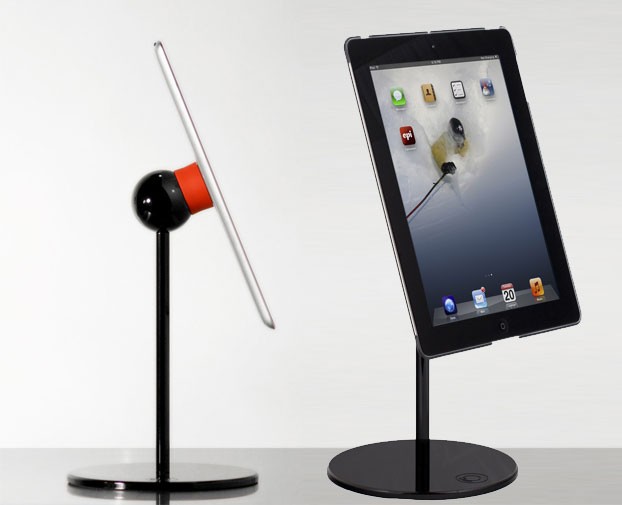 The iOstand puts your screen at whatever viewing angle you need (Photos: iOmount)
Docks and cases that double as tablet stands are great, but they're limited. The viewing height and viewing angle always seem to be a compromise, and you're lucky if you get more than two ways to position your tablet.
With the iOstand from iOmount you can viddy your screen from a nearly endless number of angles and orientations. An ingenious combination of sturdy stand with a hefty, I-dare-you-to-tip-me-over, foam-bottomed base topped with a set of magnets so strong they'd make Magneto rethink his career choice, the iOstand puts your screen exactly where you need it.
Just stick one of the included iOadapts (a super slim wafer of metal coated on one side with adhesive), to the back of your tablet or other device, and boom, it clings to the iOstand as tightly and securely as a Kardashian to an NBA point guard.
The curved-back mounting magnet rides a metal sphere, making a ball and socket-like connection that lets you position your iPad at just about any point along the orb. Watching movies a breeze, and it makes contorting yourself into a comfortable typing position to get some work done on your tablet a thing of the past.
I gave the iOstand ($100) a try and I'm hooked. I used to work with a folding case that sat on my desk with me hunched over it trying to deal with the locked-in viewing position. One too-strong keystroke would knock it flat. The iOstand puts my screen right at eye level, and lets me type as hard as I like, the mags hold the angle surprisingly firm. Yet spinning it to vertical or horizontal is a snap. Taking my iPad off the stand was easy too. As strong as the magnets are, they release the device with a quick twist.
My only disappointment is, even though the stand can unscrew from the base to fold flat, it's a little too heavy to take traveling. But since it would let me watch a movie and still have room to load up my minuscule airline tray with food, I may suck it up and deal with the extra pounds.
A couple of caveats: First, the iOadapts are backed with a super strong adhesive designed to hold your tablet securely, forever. That means getting one off your device is nearly impossible without doing some damage. So iOmounts recommends adhering it to a case, and not the tablet itself. I have Ghost Armor on mine, so not an issue. (The iOstand comes with two iOadapts, but you can buy more if you have multiple devices to mount.)
UPDATE: iOmount reps have told me that they've had luck getting the iOadapt discs off their gear by working a strand of dental floss in behind it. Good tip.
Second, since these magnets are so strong, they'll wipe a conventional hard drive clean faster than you can say "Where'd my vacation pics go?" So the iOstand should only be used with approved devices with solid-state or flash hard drives. Luckily, that includes iPads, iPhones and just about every other tablet and smart phone. The things you'd want to mount anyway. And according to iOmount, you can safely keep an iOstand or iOmini 4″-6″ from your laptop without any risk.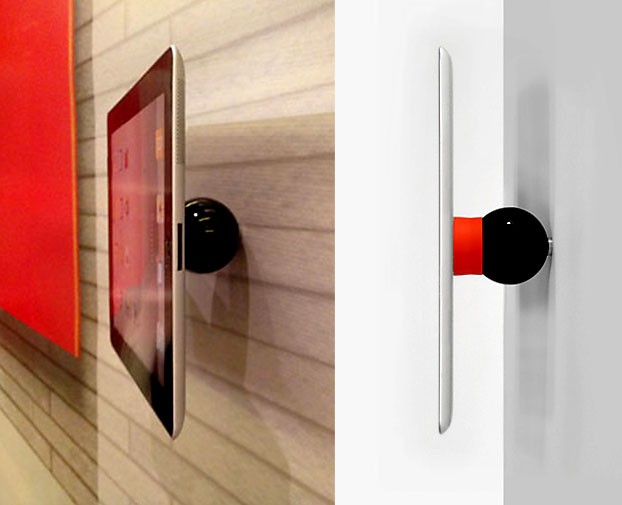 The iOwall lets you turn your tablet into a temporary wall-mounted flat screen
iOmounts also makes a smaller version, the iOmini ($90) specifically designed for smart phones, and the iOwall ($60) for the temporary mounting of your tablet on the wall for group viewing or following that yoga video you keep telling your girlfriend you know nothing about.
Available in Stainless Steel, Black Powdercoat, White Powdercoat