Invasive 'Jumping' Earthworm Found in the Midwest
The invasive species native to Japan and the Korean peninsula is no friend to forests or gardeners.
National Park Service
Jan. 17, 2013 -- The invasion of Burmese pythons in Florida's wetlands poses an existential challenge to the state's native wildlife as these apex predators have been known to prey on everything from small animals like raccoons and opossums to larger ones like white-tail deer and even alligators.
How has the state faced the challenge of dealing with 150,000 non-native snake threatening its biodiversity? The answer is a good old-fashioned hunting contest, of course. Florida's "Python Challenge" has drawn some 800 snake hunters, according to a report by the Associated Press. Most of the snake hunters are amateurs, so they're given some instruction: "Drink water, wear sunscreen, don't get bitten by anything and don't shoot anyone."
Good advice. But can the state of Florida really shoot itself out of this mess?
State of Louisiana Department of Wildlife and Fisheries
Invasive species might be bad for the environment, but many of them are good enough to eat.
Tiger prawns in the Gulf, Asian carp in the Great Lakes and many other species have been put on the menu in their respective locales in an attempt to thin their numbers.
In fact, there are even books devoted to taking advantage of the potential of using invasive species as a potential food source.
Chris Brown/USGS
Sometimes, nature will take care of a problem all on its own.
A study published in 2010 in the Journal of Arid Environments sought to document invasive bullfrog populations in the mountains of Mexico's Baja California. To their surprise, the invaders were actually put under severe pressure due to flash floods that occurred periodically in the region that they simply weren't adapted to cope with.
The bullfrogs happen to breed during the hurricane season, making them vulnerable to population swings. Native frogs, on the other hand, fared just fine circumstances they were adapted for.
Corbis Images
Just as the environment can help push out an invasive species, so too can a well adapted native on rare occasions.
A University of Georgia study conducted in 2012 found that some native clearweed plants in the Peach State have evolved resistance to garlic mustard, an invasive plant first introduced 150 years ago to the United States from Europe.
The garlic mustard, a noxious plant that spreads rapidly, is evolving a counter-resistance, setting off a kind of chemical warfare among the native and invasive species.
David Pattermore/Princeton University
In some cases, the best policy for dealing with invasive species is just to leave them alone, particularly if they occupy a crucial ecological niche that they or other invasive plants and animals forced another species to vacate.
A study by Princeton researchers in 2011 found that invasive ship rats brought to New Zealand's North Island when Europeans first arrived devastated local populations of birds and bats. As pollinators, the native species were an important part of the ecosystem, but the ship rats have filled that role. As one of the researchers explained in a press release, "the killer stepped in to do the job of its victim."
Furthermore, efforts to eradicate the invader could come at a cost to native species.
Robert H. Mohlenbrock @ USDA-NRCS PLANTS Database / USDA SCS
One common tactic for reducing populations of invasive species is simply to make their importing them from their native habitat illegal.
State fish and wildlife departments monitor the potential introduction of invasive plants and animals from outside their jurisdictions. Alligatorweed, for example, is an invasive aquatic plant that originated in South America and can not only endanger native species, but also put humans at risk by reducing water quality.
Unfortunately, that tactic doesn't seem to have its limitations. Florida, after all, eventually made it illegal to import Burmese pythons, but that hasn't stopped in the increasing numbers of these snakes in the Sunshine State.

It may have made for the perfect lesson, but it was a discovery that no invasive species expert wants to make.
During a workshop on invasive species last October, University of Wisconsin-Madison Arboretum leaders took students into the field to show them, theoretically, how to survey for invasive species.
But as a Wisconsin Department of Natural Resources invasive species expert was explaining how the ground would change if a specific species of earthworms was present, the class got a much more realistic lesson than they were expecting.
"We went out to the woodlands and Bernie (Williams) was telling them about this Asian worm that we're on the lookout for, but that's not here yet. And then there it is, jumping and snaking around," said Brad Herrick, an ecologist at the arboretum.
It was the first confirmed sighting of Amynthas agrestis in Wisconsin, although it's been found in the Southeast and East since it was reported in the southern Appalachians in 1993.
The worms, also known as "jumping" or "crazy" worms, can be inadvertently transported to the United States from their native Japan and the Korean Peninsula along with imported landscape plants.
The fear of the jumping worm in a new habitat is that the forest floor will become barren, reducing the regeneration of trees and making it more hospitable for other invasive species.
"This particular invasive worm is very large and aggressive, and it reaches maturity very quickly," explained Monica Turner, a University of Wisconsin-Madison zoology professor. "It eats its way through the soil faster than other earthworms."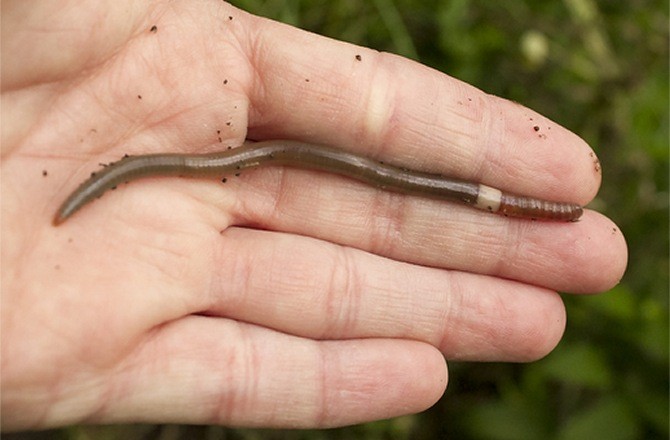 The jumpy worm, UW Arboretum
It also appears to be hardy, surviving the past winter, Wisconsin's coldest in 35 years. Although the effect on vegetation is obvious, there has been little research on long-term effects of the worm. So Turner and her students have begun a study of the critters and hope to have some initial data by spring 2015.
"Because we know the starting conditions, we will be able to compare changes in the soils with and without the worms to see what they can do within one season, and how that varies with soils from different kinds of ecosystem," Turner said.
A second, observational study will measure soil characteristics at locations within the arboretum that have been invaded by the worms versus locations that have not.
Ironically, the worm species that Amynthas agrestis could threaten is not native, either: The worms commonly found in Wisconsin and the Midwest arrived from Europe with the first settlers.
While the worms are not welcome, there are too many unknowns to say exactly where they fall on the spectrum of invasive species nastiness, Herrick said. Unsuspecting gardeners may actually appreciate them for the high nutrient soil they help create.
"But they do more harm than good," Herrick said.
The arboretum is limiting access to infected areas, and staff there are washing boots, tires, and tools of anything that gets near the worms, to control their spread.
Meanwhile, people who see the worms in their gardens should contact the local department of natural resources, Herrick said. They can be identified both by their active, jumpy behavior and their white rings.