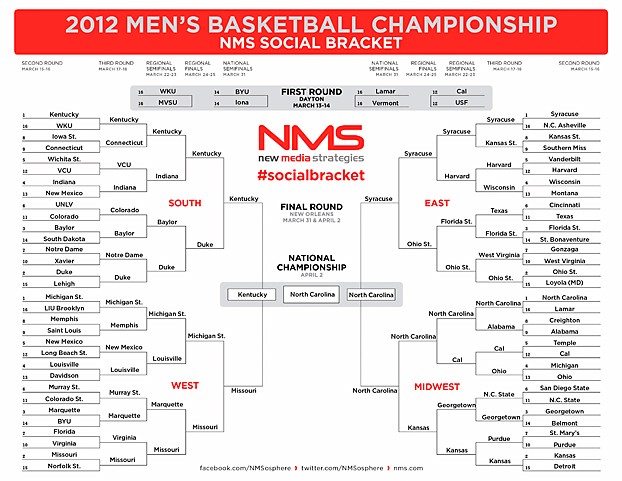 While you were sweating your office bracket pool picks this year, one company decided to let the Internet decide theirs.
New Media Strategies, or NMS, has a long standing tradition of a companywide bracket pool.  Every March, their office is aglow with TV screens and monitors tuned into the games, online chatter, blog posts, articles, predictions, and of course what's being said on social media. This year they took the challenge a step further.
This year, they decided to pick winners the way they know best: by the amount of social media talk they created. They tabulated the volume of online discussion over the past month for each of the 68 teams in the NCAA Tournament, along with key terms for "March Madness," to see who had the most social buzz.
They took that information, then decided the winners of each game solely on the strength of their chatter, the volume of online conversations and discussion across blogs, Twitter, news, and forums, using social media tools, and dubbed it "The Social Bracket" tweeting #socialbracket to keep the conversation going. (Here's the full-sized bracket.)
So how did the Internet do in picking the winning teams? As of this writing, the Sweet 16 is set, and as you know, a couple of bracket busters decimated brackets nationwide. (Of ESPN's 6.45 million brackets played, only 3 have the 16 teams remaining.) But the Social Buzz still did OK, considering all those upsets. Here's how they faired:
South: They got 3 out of 4 picks correct… No one expected Duke to exit that early.
West: Again, a 3 out of 4 record here. The Internet just didn't see Norfolk State upsetting #2 Missouri.
East: Not the Internet's best division. The Harvard win blindsided them, and they expected Florida State to go deeper. Syracuse and Ohio State give them a 2 for 2 score.
Midwest: Number 13 Ohio shocked everyone by getting into the Sweet 16, including the Internet. And #11 NC State downing powerhouse Georgetown ends in another 2-2 division score.
The good news is, Social Buzz still has a shot at the Final Four… but not the entire Final Four, since only 3 of their picks are still in: Kentucky, Syracuse, and North Carolina.
Their overall pick to cut down the nets? North Carolina Tar Heels beating Kentucky.
So will you use the Internet to pick your teams next year? Depends on if your months of studying beat a few weeks of tabulating online chat. And, at the very least, it may still be better than Valerie in Accounts Receivable picking by which team has the cutest mascot.