Insane Ken Block Gymkhana Video Tears through Backlots of Universal Studios (Video)
Heavily promised and highly promoted, extreme driver Ken Block's new Gymkhana FOUR: The Hollywood Megamercial video was released to the world via YouTube yesterday, and it is insane, especially for the small screen. (Gymkhana, in case you were wondering, refers to a type of driving course that is typically super-complex, and memorizing the course is [...]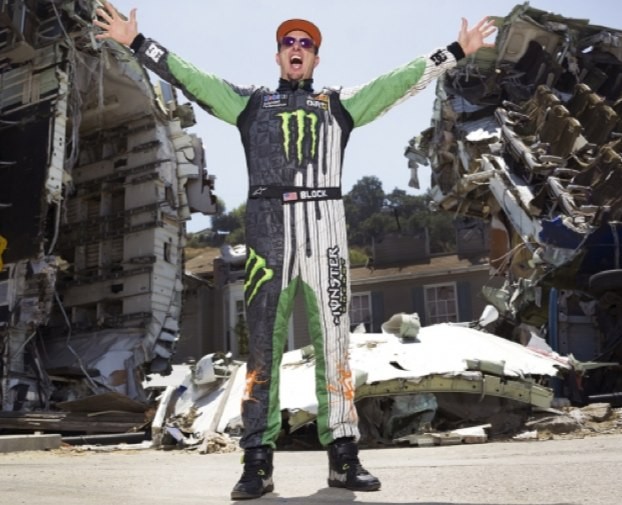 Images: DC Shoes
Heavily promised and highly promoted, extreme driver Ken Block's new Gymkhana FOUR: The Hollywood Megamercial video was released to the world via YouTube yesterday, and it is insane, especially for the small screen. (Gymkhana, in case you were wondering, refers to a type of driving course that is typically super-complex, and memorizing the course is essential to completing it quickly.)
During what is basically an over-adrenalized commercial for everything that is Ken Block, the Monster World Rally Team driver rips through Universal Studios Hollywood tearing up the sets of Psycho, Jaws, Back to the Future, and ends up in Bollywood. Along the way he has to deal with a Gorilla on a rocket-powered Segway, a fiery jet airliner crash, and the cast of Epic Meal Time shooting on a sound stage.
Click on image above to play video
Block hoons* his way through all of this in his new Ford Fiesta Hybrid Function Hoon Vehicle and while his driving is pure Ken Block, the special effects, camera angles, and sound editing is incredible.
Sure there are plenty of ripoffs from the pages of Hollywood, but I am sure Block would prefer to call them finely hooned homages to the big screen. And Block "ain't looking for nothing but a good time" with the backing music courtesy '80s hair band Poison.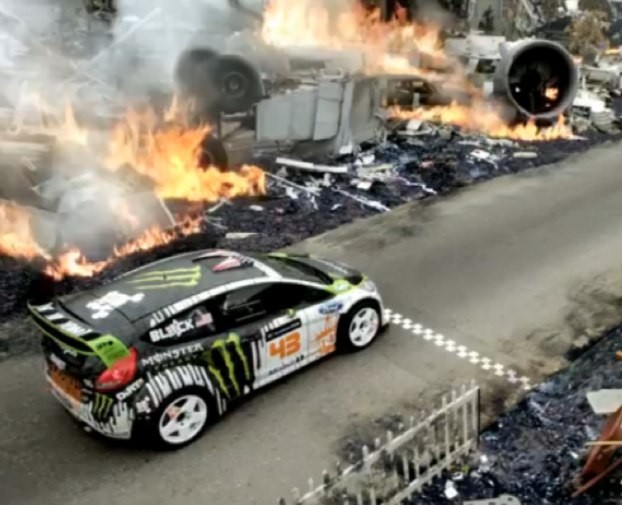 Known as the place where movie magic begins, Block took over the backlots of Universal Studios Hollywood, converting them into a giant playground for GYM4. Filmed over the course of five days, the video uses iconic movie locations and backdrops as obstacles, which increased both the danger and difficulty of the course and tricks.
"With each Gymkhana film, we've raised the bar, making it tougher and tougher to outdo ourselves," said Block. "So we opted to go over the top on FOUR with a big Hollywood production and Universal Studios provided the perfect place for it. The backlots provided real life obstacles, plus an extremely varied collection of settings all just minutes from each other. Without question, Gymkhana FOUR is the most ridiculous film we've done yet, but it's also packed with some of the hardest and most dangerous driving I have done in these films."
The Hoonmobile
Every Hollywood action star needs a great sidekick and in Gymkhana FOUR, Block's is none other than his new 2011 Ford Fiesta H.F.H.V, a unique race car built by the Monster World Rally Team to be transformed for Block to compete in Stage Rally, Rallycross, and Gymkhana. For this film, the H.F.H.V. was putting down 600hp and 665 lb-ft of torque through a custom 6-speed sequential gearbox that's mated to a mechanical all-wheel-drive system. At only 2,755 lbs, the H.F.H.V. does the sprint from zero to 60 in an astonishing 1.9 seconds, giving McFly's DeLorean a serious run for its money to 88 mph.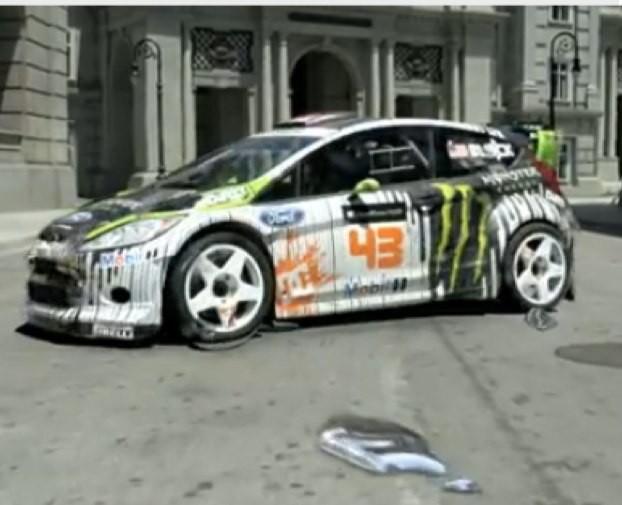 *Hoon
verb
1. To travel at speed in a confined area, or do burnouts on a public road in traffic.
2. To show off in a dangerous manner, mostly with a vehicle or engine powered item.