'Inadequate' Climate Change Deal Reached in Poland
UN negotiators agreed in fraught overtime talks Saturday on cornerstone issues of an ambitious, global climate pact to stave off dangerous Earth warming -- but critics say the deal falls short.
Corbis
Marcin Korolec, President of COP19/CMP9, gives a thumps-up at the closing plenary of the 2013 UN Climate Change Conference in Warsaw, Poland, on Nov. 23, 2013.
Louise Mair
Argus Butterfly
A once rare butterfly living in the United Kingdom is the latest unexpected beneficiary of the rising temperatures brought about by global climate change. Over the last 25 years, the brown Argus butterfly can now exist over a larger range thanks to a warmer environment and a new plant host to raise its young. And these fortunate insects aren't the only ones who stand to benefit from a warmer world. Yes, over the coming decades, there are certainly many other species, including humans, that will feel increasingly pressured by environmental changes brought about by climate change. But there will be some balance of winners and losers among the different species on this planet. Here's a look at some of those who will likely come out ahead.
Corbis Images
Albatross
Change in wind patterns as a result of climate change has helped albatrosses in the Southern Ocean find food more rapidly, according to a study published in a January 2012 issue of Science. The faster and more intense winds reduce the amount of energy albatrosses need to expend to fly, particularly useful given that these birds can fly distances spanning thousands of miles. By using less energy and finding more food, the albatrosses are healthier and often have better breeding outcomes, according to the study's authors.
Corbis Images
Gray Nurse Shark
Worldwide, around one third of oceanic shark species are at risk of extinction, according to the International Union for the Conservation of Nature (IUCN). These animals are primarily at risk as a result of human intervention, particularly the overfishing of sharks for their fins. But there is one species of shark that may stand to benefit from man-made climate change, the Australian gray nurse shark. Like many shark species, gray nurse shark populations have been under pressure. This species could disappear entirely by 2050. However, thanks for warmer waters surrounding Australia, two separate populations of this nurse shark on each side of the continent may reunite for the first time in 100,000 years.
Corbis Images
Orca
Sharks aren't the only sea life that might benefit from warmer waters. Killer whales, too, appear poised to take advantage of rising ocean temperatures, exploiting new feeding areas as Arctic snow ice melts that were once off limits. The orca's gain, however, could be detrimental to other species. Killer whales prey on two species, the beluga and the narwhale, considered "near threatened" by the IUCN. With their chances to escape to safety from the predatory killer whales dwindling as ice melts, these species could face further pressure to their populations.
Corbis Images
Pine Beetle
This tiny insect has made major inroads into the North American continent thanks to warmer temperatures. Mountain pine beetles can decimate entire forests. During cold snaps, they are killed off. But with shorter, warmer winters, more of these bugs are surviving through the cold season and expanding their ranges even further.
Getty Images
Jellyfish
Acidifying oceans and warmer waters might be encouraging swells in populations of jellyfish around the world. Although the notion that jellyfish are benefiting from climate change has been subject to debate, studies have shown that coastal jellyfish populations are generally on the rise. More jellyfish would be bad news for any species that relied on the oceans for its food supply, including humans. Jellyfish can essentially reorder the food web by eating the same plankton that would otherwise be consumed by fish, restricting the transfer of energy on the food chain since predators tend to avoid them. The increase in jellyfish populations could also lead to an ecological disaster by resulting in an increase in carbon beyond what oceans can cope with, according to a report from The Guardian. When jellyfish die, they break down into biomass with considerably higher levels of carbon than their vertebrate counterparts. Bacteria that thrive on decaying organisms cannot absorb carbon as well and instead breathe it out into the atmosphere as carbon dioxide.
U.S. Fish and Wildlife Service
Trumpeter Swan
Once standing on the brink of extinction due to over-hunting for their meat and feathers in the 19th century, trumpeter swans have made a comeback in Alaska, thanks not only to restrictions on hunting these birds but also to global warming. Warmer temperatures have allowed the swans to expanding their ranges, and longer summers have allowed to greater opportunities for breeding and raising young, according to Scientific American.
Corbis Images
Ant
Americans spend some $40 billion a year caring for their lawn, according to Bloomberg News. And that industry could get even more lucrative with the spread of a pest that has its sites set on your home turf: fire ants. According to a report from the National Wildfire Foundation, the range of red imported fire ants could expand some 21 percent in the United States, more than 80 miles northward, within the lifetime of a child born today.
iStockphoto
Mosquito
If there's one creature who's climate change gain is our loss, it's mosquitoes. No longer restricted to strictly tropical environments, mosquitoes have spread as warmer temperatures have crept into environments they had never previously been. More mosquitoes means higher potential to spread diseases, including malaria, West Nile virus and dengue fever. This greater risk of disease is not only bad news for humans, but also some animals, including certain bird species, who had previously been unexposed to these pests. In fact, even some of the world's largest creatures are not immune to the disease transmitted by these tiny insects. Last month, the Whale and Dolphin Conservation Society revealed that two whales kept in captivity died as a result of diseases carried by mosquitoes.
Corbis Images
Yellow Bellied Marmot
Although most mammals won't be able to flee climate change quickly enough, some are taking full advantage of the changing conditions. The yellow-bellied marmot, which calls Colorado's Rocky Mountains home, fattens up ahead of winter before its long hibernation into spring. With a shorter season though, the marmots are emerging larger than they otherwise would. As a result, they've also been breeding more and passing their larger size onto their offspring.

UN negotiators agreed in fraught overtime talks Saturday on cornerstone issues of an ambitious, global climate pact to stave off dangerous Earth warming.
While sleep-deprived delegates congratulated themselves on the outcome, which followed 36 hours of non-stop haggling at the end of a fortnight of talks, observers and climate-vulnerable nations said there was not much to be happy about.
"Just in the nick of time, the negotiators in Warsaw delivered enough to keep the process moving," said climate analyst Jennifer Morgan of the World Resources Institute.
PHOTOS: What 11 Billion People Mean for Climate Change
But climate economist Nicholas Stern warned that "the actions that have been agreed are simply inadequate when compared with the scale and urgency of the risks that the world faces from rising levels of greenhouse gases, and the dangers of irreversible impacts."
Rich and poor nations have been at loggerheads ever since the talks opened on November 11 over who should do what to curb the march of planet warming.
In particular, they clashed over sharing responsibility for curbing climate-altering greenhouse gas emissions, and about funding for vulnerable countries.
PHOTOS: Animals Benefiting from Climate Change
The negotiations had threatened to collapse Friday amid vehement squabbling between developed and developing nations over their respective contributions to the goal of curbing average planet warming to 2.0 degrees Celsius (3.6 deg Fahrenheit).
The UN-backed target must be reached by national curbs of climate-altering greenhouse gas emissions, but the two camps disagree fundamentally about who must bear the most responsibility.
Emerging economies like China and India objected to any reference in the Warsaw text to "commitments" that would be equally binding to rich and poor states and failed to consider historical greenhouse gas emissions.
Developing nations, their growth largely powered by fossil fuel combustion, blame the West's long emissions history for the peril facing the planet, and insist their wealthier counterparts carry a larger responsibility to fix the problem.
The West, though, insists emerging economies must do their fair share, given that China is now the world's biggest emitter of CO2, with India in fourth place after the United States and Europe.
PHOTOS: 11 Health Threats from Climate Change
On current emissions trends, scientists warn the Earth could face warming of 4.0 C or higher -- a recipe for catastrophic storms, droughts, floods and land-gobbling sea-level rise that would hit poor countries disproportionally hard.
"Climate change represents an urgent and potentially irreversible threat to human societies, future generations and the planet," warned the Warsaw text.
"Continued emissions of greenhouse gases will cause further warming and changes in all components of the climate system."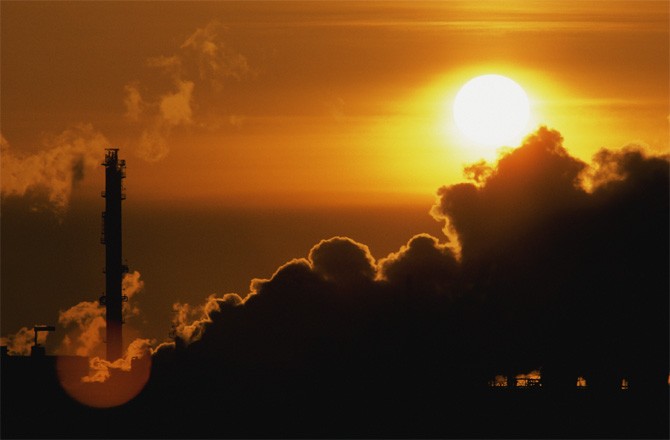 Steam and smoke bellow from a reprocessing plant, generating significant quantities of carbon dioxide, a key greenhouse gas.Corbis
In a breakthrough that followed an intense hour-long emergency huddle, countries agreed on a consensus text outlining the road to a new global warming pact to be signed in Paris by 2015.
In the Warsaw text, negotiators notably replaced the word "commitments" for nationally-determined emissions cuts, with "contributions".
These must be put forward "well in advance" of the green light.
"It took a lot of effort, you could see a lot of drama and different interests, but in the end... people saw there was a real risk that we would not manage to make the progress that we so badly needed," said European climate envoy Connie Hedegaard.
NEWS: Curbing Climate Change Could Save 500,000 Lives
Due to enter into effect in 2020, the Paris deal will be the first to bind all nations to curbing atmosphere-polluting greenhouse gas emissions from burning coal, oil and gas.
But getting there is unlikely to be simple.
"As the intense discussions showed, there are serious differences between countries on the tough issues involved in getting a climate deal in Paris in 2015," said climate analyst Alden Meyer of the US-based Union of Concerned Scientists.
Money Crunch
Another bone of contention in the talks is finance.
Developing countries want wealthy states to show how they intend keeping a pledge to bolster public funding for climate aid to $100 billion (74 billion euros) by 2020 -- up from $10 billion a year in the period 2010-12.
They also seek more immediate-term help, with China and the Group of 77 developing countries making a last-minute pitch Saturday for pledges of $70 billion per year on the table by 2016.
Still grappling with the global economic crisis, the developed world is wary of committing to a detailed long- or short-term funding plan.
NEWS: Comparing Risk: Plane Crashes vs Climate Change
The text did not mention any figures or set any milestones.
"This conference should have been a finance conference," Bangladeshi negotiator Qamrul Chowdhury told AFP. "All we got were peanuts."
Delegates also compromised on the finance text, which "urges" developed nations to mobilise public funds "at increasing levels" from the 2010-12 period.
Negotiators also finally managed to resolve a third contentious issue by agreeing to create a "loss and damage" mechanism that will "address" future climate harm that vulnerable countries say is no longer avoidable.
The structure, mandate and effectiveness of the "Warsaw international mechanism" must be reviewed in three years' time.