In U.S., 'Natural' Food May be Anything But
Because there's no definition of natural, foods with chemicals regularly stock U.S. shelves.
Cornell Creative Machines Lab
Ink seems so retro now that machines can custom-print myriad 3-D objects, including snacks. Here are some of the most impressive edibles to emerge from 3-D printers so far.
Cornell University's Creative Machines Lab
is at the forefront of 3-D printed food. The lab's Fab@Home project led by PhD candidate Jeffrey Ian Lipton uses solid freeform fabrication to print interesting snacks. Lab researchers worked with the French Culinary Institute to print this space shuttle from cheese.
3-D Printing Is Getting Ready to Explode
Paul Jacobson, Flickr Creative Common
Printing with chocolate is a no-brainer given its consistency but what used to be a novelty has started going mainstream. Chocolate companies are using 3-D printing tech in new ways, like this
tractor
printed for Nestlé and Android KitKat's
Chocnology
exhibition.
Windell Oskay, Evil Mad Scientist Laboratories
Using food like ink can be much trickier than generating a mold from 3-D tech. Several years ago
Windell Oskay
and his team at
Evil Mad Scientist Laboratories
custom-built a 3-D fabricator that fused sugar together into sculptures. More recently 3D Systems released the ChefJet printer to produce confections and cake-toppers.
Youtube Screengrab, Natural Machines
One day the pizza question could be, Fresh, frozen or printed? The Barcelona-based startup Natural Machines printed fresh pizzas using a 3-D machine prototype called Foodini in 2013. At the same time, NASA gave a grant to the Systems and Materials Research Corporation in Austin to develop pizza-printing capabilities for space.
3D-Printed Pizza to Feed Colonists on Mars
Cornell Creative Machines Lab
The crew at Cornell University's Creative Machines Lab did print thick cookies containing the letter C but German designer
Ralf Holleis
produced fewer crumbs. He collaborated with a professor at the University of Applied Sciences Coburg to print
holiday cookies
from red and green colored dough.
Youtube Screengrab, Natural Machines
Printed meat doesn't sound all that appetizing but that hasn't stopped anyone from trying. The startup
Modern Meadow
is working on developing humane, bioprinted meat while
Natural Machines
used their Foodini to create real swirled hamburgers -- as well as the buns and cheese to go on top.
Cornell Creative Machines Lab
These chips might look like ramen noodles but researchers at the Cornell Creative Machines Lab printed them from corn dough. The flower shape allowed for even frying, Fast Company reported. If you want pasta, Natural Machines says its Foodini printer can serve up gnocchi and ravioli.
TNO Research
The Dutch consultancy T
NO Research
envisions using 3-D printing to address world hunger, although some might squirm at their proposals. Their food printer can generate nutrient-rich snacks from alternative ingredients like algae and even mealworms.
Natural Machines
If telling kids to eat broccoli because it's "little trees" doesn't work, perhaps Natural Machines' 3-D printed
spinach quiche
will. To tempt picky young eaters, the Spanish startup produced vegetable snacks in the shape of butterflies and dinosaurs using their Foodini printer.

In the United States, pre-packaged foods loaded with artificial ingredients and chemicals can make it onto grocery store shelves boasting the label "natural."
Why? Because in America, there is no definition of "natural."
This gray area has led consumer advocates to threaten lawsuit after lawsuit against big food giants, alleging that their claims are misleading and illegal.
"There are just too damn many 'natural' lawsuits," said lawyer Stephen Gardner of the Center for Science in the Public Interest (CSPI), estimating there have been around 50 in the past decade.
"It only scratches the surfaces of the number of companies that are making these claims. We keep coming across them," he said.
Some lawsuits have been merely threatened by CSPI, and eventually settled out of court after the company agreed to change labeling.
Others have been filed by private parties seeking class action payouts.
The latest involves Kraft Foods, maker of Crystal Light powdered drink mixes which contain artificial sweeteners and colors, a texturizer called maltodextrin and a synthetic preservative called butylated hydroxyanisole.
In January, CSPI notified Kraft of its intent to sue if the word "natural" continues to appear on products like Natural Lemonade and Natural Lemon Iced Tea.
Gardner said talks with the company are ongoing, but given his experience -- he first sued Kraft over similar claims on its Capri Sun drinks in 2007 -- he expects Kraft to counter that the word "natural" relates to the flavor.
"I am not aware of a lemonade flavor. I am aware of lemon," Gardner said.
Many consumers believe 'natural' claims
Asked for comment, a Kraft spokeswoman told AFP that a federal judge in California recently dismissed a similar claim against Crystal Light.
"Our products are clearly and accurately labeled with information that is both truthful and helpful for consumers," spokeswoman Caroline Krajewski said in an email.
Foods that claim to be "natural" but clearly are not can slip past authorities because the main U.S. regulatory agency, the Food and Drug Administration, has not formally defined "natural."
However, the regulator has sent several warning letters to companies in the past, FDA spokeswoman Theresa Eisenman told AFP in an email.
"Although the FDA has not established a formal definition for the term 'natural,' we do have a longstanding policy concerning the use of 'natural' in food labeling," she said.
"The FDA considers the term 'natural' to mean that nothing artificial or synthetic (including all color additives regardless of source) has been included in, or has been added to, a food that would not normally be expected to be in the food."
The FDA has left Crystal Light alone, and consumer groups complain that regulators are not aggressive enough, leaving plenty of room for corporations to exploit well-meaning shoppers who appear to be susceptible to packaging claims.
According to the market research firm Nielsen, "natural" products produce over $22 billion in annual sales.
A full 77 percent of U.S. consumers polled said they believe "natural" claims at least some of the time, and nine percent said they always do.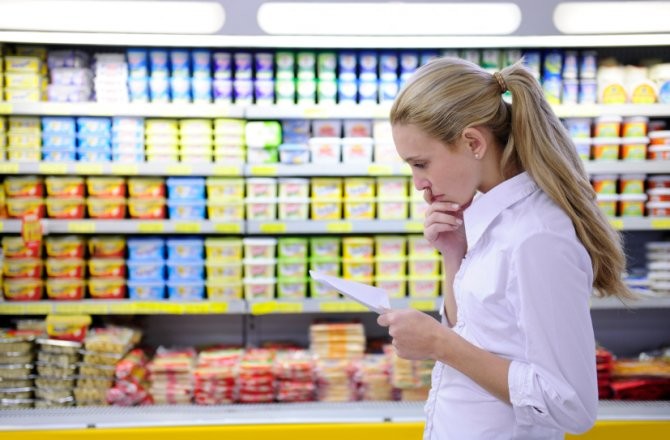 iStock
Lawsuits keep them 'honest'
Despite the high volume of lawsuits, the matters often settle out of court and corporations avoid big payouts, said Gardner.
"We stop them, but they get to keep the money they stole from consumers by fraud," he said.
In some cases, a company relents to pressure from consumer groups but is sued again by private interests seeking a cash payout to people who bought the product.
Such was the case with Ben and Jerry's ice cream, which took the claim off 48 products in 2010 but has since faced a drawn out class-action lawsuit.
Some companies have quietly dropped "natural" from their packages, including Naked Juice and Frito Lay chips, as the food industry faces thorny legal questions over genetically modified ingredients and common additives like corn syrup.
In Gardner's view, the lawsuits would stop if the FDA came up with a definition for "natural."
But Baylen Linnekin, executive director of the non-profit group Keep Food Legal, said more regulation is not the answer.
"The idea that the FDA needs to define every word that has ever been used to refer to food is ludicrous," said Linnekin.
"The occasional lawsuit helps keep companies honest and that has always been the case."