In the Unlikely Event of a Shark Attack...
Shark attack victims share their wisdom on what to do (and what not to do) if you are unlucky enough to find yourself in their shoes.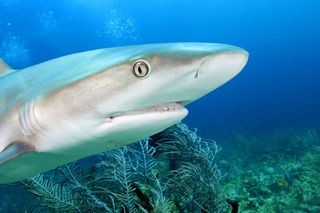 Guest commentator Debbie Salamone is Communications Manager at the Pew Campaign to End Overfishing in the Southeast.
Have you seen enough of Shark Week to make you afraid of taking a dip in the ocean?
The odds are astronomically small that you'll be bitten. Take it from some shark attack survivors who are now shark conservation advocates, thanks to a little organizing by the Pew Environment Group.
Below are some easy tips to lessen your chances of an attack but if you end up in a shark's jaws, some of the survivors offer advice: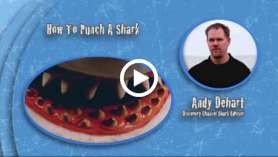 WATCH VIDEO: Being charged by a shark? You don't have to be a victim! Learn how to punch a shark on the nose or gills to discourage it from snacking on you
Krishna Thompson, Wall Street banker who nearly died and lost a leg: "Do not let water go up your nose or in your mouth. Keep trying to get the shark off your body: kick, punch, use your body weight, etc. Fight back! Never quit."
Mike deGruy, California filmmaker who suffered a serious arm injury: "Know that only a very small percentage of attacks are fatal, so use this as confidence that you will get out of this mess with scars and a great story to tell down at the pub. Or, eat a lot of onion and garlic before diving –- no self-respecting shark would like that taste!"
Al Brenneka, founder of Shark Attack Survivors support group, who lost an arm: "Slowing down the water moving through the gills can cause the shark to think it's drowning. If going for the gills, use an open hand, not a fist. Use your whole foot not just the heel or toes. If you have the opportunity to jab the shark in the eye, put your thumb in and don't stop pushing and twisting. The last choice is hitting the shark's snout. It is very easy to miss a moving shark and put another part of your body near its mouth. So use your fist or the heel of your foot and hit with as much force as possible, always trying to hit the top of the snout not near the teeth. If you're a rescuer, don't play tug of war with the shark trying to pull the victim out of the shark's mouth. Close the water flow through the gills with a towel or shirt."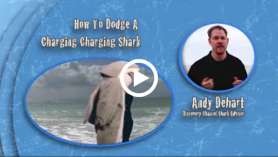 WATCH VIDEO: Sharks don't always attack without warning. Learn how to reach shark body language to tell when it's time to take evasive action.
For more of Al's advice, visit his website, sharkattacksurvivors.com.
And if you believe prevention is worth of a pound of cure, follow advice from the University of Florida's experts at International Shark Attack File:
Don't swim alone or too far from shore. Don't swim near fishermen or during dark or twilight. Don't think you're safe if you see dolphins; sharks and these creatures often eat the same prey. Don't wear shiny jewelry because reflected light looks like the sheen of fish scales. And don't wear bright colors because sharks see contrast particularly well. Although bright yellow is traditionally used for water safety flotation devices and rafts, that color is also seen well by sharks. Shark researchers laughingly refer to this as "yum yum yellow."