In Hilarious Ads, Will Ferrell Schills Discount Beer for Old Milwaukee -- for Free
Meet Old Milwaukee beer's newest spokesman: Will Ferrell. In time for the holidays, the comedian, actor and Old Milwaukee fan can be seen schilling the beer in three spots running in Iowa. The fact that he's selling a product is not necessarily news. Famous people often exchange their dignity for bags of money. But for [...]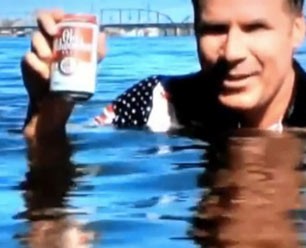 screenshot
Meet Old Milwaukee beer's newest spokesman: Will Ferrell.
In time for the holidays, the comedian, actor and Old Milwaukee fan can be seen schilling the beer in three spots running in Iowa. The fact that he's selling a product is not necessarily news. Famous people often exchange their dignity for bags of money. But for Ferrell, there was no check, cash monies or bling.
Here's the story behind the ads: In September, Ferrell had approached Pabst Brewing Co. to shoot some ads for the discount beer brand — and for free, Business Insider reported. These ads have the making of low-budget viral marketing, thanks to grainy handheld cameras and hilarious (and free) A-list talent. The ads for Old Milwaukee are set in Davenport, Iowa — same difference, right — which only contributes to how ridiculous this entire project is.