Improv Reality 'Sitcom' Gets Spacy
"In space, no one can hear you complain about your job."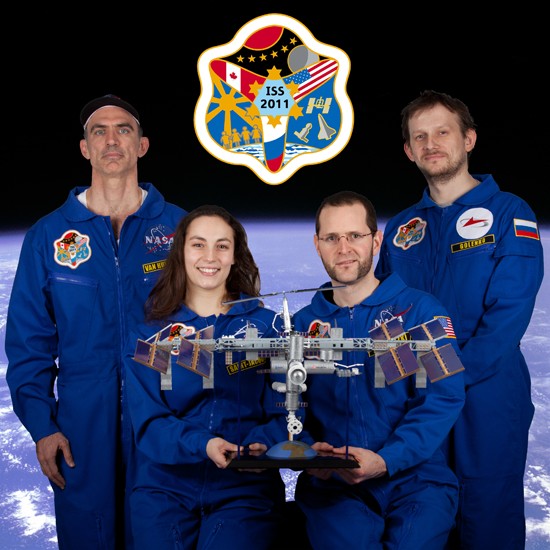 If you're one of those space fans who loves watching NASA-TV or wading through the official transcripts of old Apollo missions — in short, if you're a serious space buff — you might be amused by a new reality "sitcom" being produced by an improvisational theater group in Vienna called monochrom. The tagline: "In space, no one can hear you complain about your job." (h/t: io9)
See, most films about life in space — fiction and documentary alike — really only showcase the highlights, not the day-to-day-tedium of an astronaut's existence. monochrom's sitcom, in contrast, wants to explore those seemingly mundane details that must be grappled with by astronauts aboard the International Space Station.
So they sent out a casting call for five actors — four male, one female — and put them in front of an audience in Vienna on March 15 to tape the first episode, "V-Day." (Firefly, Star Trek: Enterprise, and Buffy fans might recognize Jeff Ricketts, who plays Captain Ulysses Van Hundsbak.) Over the course of their daily "activities," the cast is presented with surprise situations — supposedly "loosely based on actual ISS data uncovered by monochrom" — and must respond on the fly. From the FAQ:
"The dramatic conventions of the sitcom correspond to the everyday life of people who spend an extended period of time on a space station. The latter is an unending sequence of detailed and strictly regulated tasks, leaving little room for anything unexpected. The adventure faced by the ISS crew is not to confront any fantastic events arising from the unknown depths beyond the airlock, but to come to terms with the trials of close confinement as a group while maintaining the communicative status quo between crew members."
Okay, so it's not as action-packed as Galaxy Quest, or as snappy as The Big Bang Theory. The humor is dry, subtle, and slow-moving, and the first episode clocks in around 45 minutes — a bit long for Internet attention spans. But as improv experiments go, it's a novel approach, and I look forward to future episodes. The next live taping will be on April 15 in Vienna.