If Lance Confesses, Will Bikers Still Dope?
Sport experts say a contrite admission could change the sport and lead Armstrong back to cycling.
Bryn Lennonryn Lennon/Getty Images Sport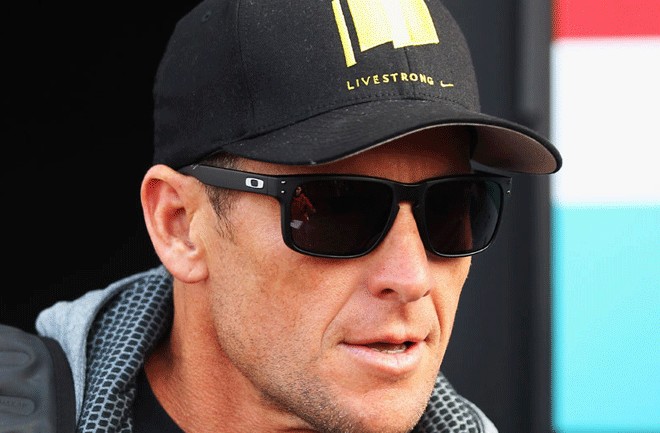 Lance Armstrong may confess to using performance-enhancing drugs.Bryn Lennonryn Lennon/Getty Images Sport
While Lance Armstrong considers a confession to doping, according to a report in the New York Times, sport and cycling analysts theorize about the effects an apology would have on the use of performance-enhancing drugs in the sport.
His motives may be more selfish than altruistic. Armstrong wants to compete again. The Times' Juliet Macur reports that a reduced sentence is a possibility, depending on what information Armstrong could share with the United States Anti-Doping Agency.
Yet Armstrong still has the power to influence both the sport and young people worldwide, experts say. And with an appearance scheduled on Oprah next week, the cycling world is abuzz. With so much evidence against him, a confession or apology wouldn't change many opinions about his drug use. Analysts say the effects of a confession depend largely on how it's executed.
"I think it has the potential to dramatically affect cycling," said Joe Lindsey, a contributing writer for Bicycling magazine. "But it depends on how it's put out. If he's going to apologize for unspecific things he's done in the past and be very vague along the lines of, 'I did things in the past that I'm not proud of, but that's what you had to do,' I think people will tune him out. But if he comes out and says something that sounds more contrite, if he confesses and calls for the idea of a truth and reconciliation commission to get all of cycling's past out of the closet, that could have a significant impact on the sport and provide a blueprint for other sports."
Riders coming forward after a promise of amnesty may be the most likely avenue to change in the sport. Former Armstrong teammate Jonathan Vaughters told the New York Times that such an undertaking could help strengthen testing. Others maintain that coverup will always be part of the game.
But equally important, according to director of Northeastern University's Sport in Society Dan Lebowitz, is modeling conciliatory behavior -- especially in the case of an athlete like Armstrong, whose career has shone so brightly.
"I think there's no downside to him coming clean," Lebowitz said, "and the upside sends a really positive message about what is right and wrong."
The $121 trillion global sports industry is so pervasive, he said, that it would be hard for a single confession to clean up such a massive economic enterprise. The business of baseball, he points out, suffered little economically from its drug embarrassments. Cycling's PR problem, Lindsey said, isn't quite in sync with reality. The Armstrong scandal represents the cycling world of five to ten years ago, he said.
"It's not reflective of how the sport is today," he said. "There have been a lot of improvements and changes made, though that's not to say it's 100 percent clean."
For Armstrong personally, an apologetic confession may be the best way forward, Lindsey said. Without it, he won't be able to compete, and it's unlikely the Livestrong Foundation would let him play much of a public role. Baseball's Mark McGwire, for example, lived a hermit-like existence until he decided to come forward publicly, Lindsey noted.
So will he do it? "Oprah's Next Chapter" is promising a "no-holds-barred interview." The show's website says: "Armstrong will address the alleged doping scandal, years of accusations of cheating, and charges of lying about the use of performance-enhancing drugs throughout his storied cycling career."
"My sense is that he wants a way back, but he's struggling, wondering 'How do I do this?'" Lindsey said.
Whatever happens, Lebowitz said his story represents "both the great possibilities of humanity and all of the fallibility."