Hurricane Sandy Ravages On: 16 Fisker Karmas Catch Fire and Explode
Today's fascinating car story comes courtesy of Alex Davies, formerly one of our own and now on the transportation beat for Business Insider (we miss you, man). It's no surprise that Hurricane Sandy flooded a number of cars, but it seemed to have a vengeance for the eco-friendly 1 percent. It's reported that 16 Karmas [...]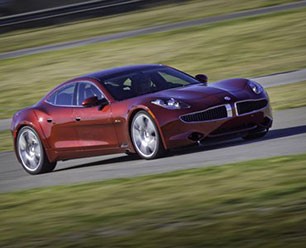 Image: Fisker
Today's fascinating car story comes courtesy of Alex Davies, formerly one of our own and now on the transportation beat for Business Insider (we miss you, man).
It's no surprise that Hurricane Sandy flooded a number of cars, but it seemed to have a vengeance for the eco-friendly 1 percent. It's reported that 16 Karmas (each worth six figures) in Port Newark, N.J. were submerged, catching fire and exploding.
In a statement, Fisker said there weren't any injuries and the cars in question weren't charging at the time.