How to Trick the Ebola Virus
Many potential drug cures remain in the laboratory -- and one treatment won't fit all.
As the Ebola outbreak continues to spread throughout West Africa and some U.S. hospitals test sick patients for the virus, researchers are hard at work looking for ways to trick the highly-contagious, highly lethal organism.
They are using tools of molecular biology to mimic or interfere with the virus to make vaccines or treatments for the next outbreak. Many of these drug candidates are still stuck in the laboratory, pending federal approval and private money.
Watch "Ebola: Are We Next?" on Thursday, Sep. 18, starting at 9/8c on both Discovery Channel and Discovery Fit & Health.
The evolving and sporadic nature of Ebola has made it tough for researchers to follow the well-worn path for drug development, according to Justin Julander, research associate professor of virology at Utah State University, who is working on ways to use animal models to test drugs for Ebola, yellow fever and other super-diseases.
"The outbreaks are so random, you may have a huge problem," Julander said. "It's difficult to plan a clinical trial for something like Ebola."
Here's a rundown of current research:
Tobacco plant monoclonal antibodies The two American aid workers struck with Ebola in Liberia received emergency doses of a brand-new, untested drug made inside tobacco plants, according to Bloomberg News. The drug is made by San Diego-based Mapp Biopharmaceuticals. Genes for the antibodies against Ebola are combined with genes for a natural tobacco virus. The tobacco plants are then infected and the infection results in the production of new antibodies. The plant is ground up and the antibody is extracted.
Horse-killer Vesicular stomatis virus (VSV) affects horses and cattle and is spread by flies. But researchers are using it to deliver an antibody for Ebola's surface coating. This vaccine is being developed by Canadian health authorities and a New York firm. It has protected monkeys in animal tests against the same strain of Ebola now in West Africa.
RNA interference Ebola blocks the body's own antibodies, such as interferon. The drug BCX4430 blocks Ebola's own messenger RNA from replicating. The drug was initially designed for bioterrorism outbreaks and its early development is funded by the U.S. military and produced by Tekmira.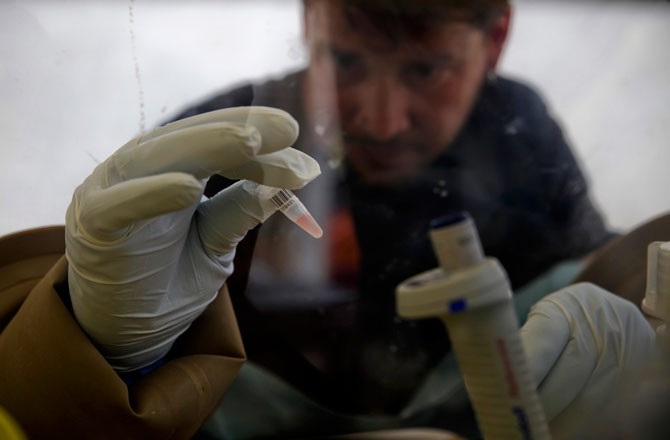 A scientist separates blood cells from plasma cells to isolate any Ebola RNA in order to test for the virus at the European Mobile Laboratory in Gueckedou, a remote corner of Guinea.STRINGER/Reuters/Corbis
Convalescence plasma This age-old method was used by Dr. Keith Brantly, the American doctor infected while helping patients in Liberia. He was administered a serum taken from a local patient who survived Ebola and still had live antibodies in his system. The problem is that it only works during an outbreak, and only for that particular viral strain.
Common to all of the methods above -- drug treatment or vaccine -- is that they haven't gone through clinical trials to assess whether they are both safe and effective in humans. While the National Institutes for Health and the Pentagon may fund early stage efforts with animal models, which are less expensive, drug companies are needed to come up with the millions of dollars needed for full-scale drug trials with human volunteers.
"A lot of these things are early days because they have not gone through phase 1 yet," said Gaya Amarasinghe, assistant professor of pathology and immunology at the Washington University School of Medicine.
"A single approach is not going to be useful," Amarasinghe said. "There are circumstances where vaccines may be useful, or therapeutics and small molecules may be useful. The monoclonal antibodies may not be possible in a rural, high temperature setting. Multiple approaches are needed and a much better view of the basic science needs to be known."
Despite the obstacles, some experts believe that this most recent outbreak will force both health agencies and pharmaceutical firms to commit the scientific and financial resources to stop Ebola more quickly.
"We learn from all these outbreaks," said Heinz Feldmann, chief of the virology laboratory of the National Institute of Allergic and Infectious Diseases in Hamilton, Mont. "In developed countries such as the United States, they are not endemic.  But in nations where they are endemic, we have a responsibility to help them. I hope this outbreak will trigger policy-making authorities to release the money to be ready for the next time."