Corbis
Some e-cigarettes have tiny LED lights at the end of them to mimic the look of a lit cigarette.
Getty Images
March 23, 2012 --
According to a joint report published this week by the American Cancer Society and World Lung Foundation, around six million people died last year from smoking. In addition to the human cost, the World Health Organization also estimated that the global cost of dealing with health conditions tied to tobacco use was $500 billion. In the United States, tobacco use has been curbed as a result of highly visible public health campaigns against cigarette manufacturers following decades of denials by the industry over the health risks of smoking. Smoking is still responsible for high rates of fatal health conditions, including heart disease and certain cancers. There are many other markets, however, where tobacco companies don't have the same history of litigation or the same kind of public health campaigns against their product. Not only do consumption rates skew higher, but so do deaths per capita as a result of smoking. Although nations may have signed on to the World Health Organization's Framework Convention on Tobacco Control, which mandates the implementation of legislation to curb tobacco use, many of the signatories are simply not enforcing their own laws, according the joint report. Find out which countries have some of the highest number of smokers -- both among adults and minors -- and the public health dilemmas facing these countries as a result.
Brain Scan Can Tell if You'll Quit Smoking
Corbis Images
Tobacco use is the single highest cause of death in the People's Republic. According to the report, China lost around 1.2 million people out of the country's population of 1.3 billion people to health complications as a result of smoking. The American Cancer Society adds that the number could climb to 3.5 million by the end of the decade. Given China's population, it should come as no surprise that the People's Republic is also the world's largest cigarette market, both in terms of production and consumption. China accounts for nearly 40 percent of all cigarettes consumed in 2009. There are nearly 350 million smokers in China, according to a report in The People's Daily, 50 million of which are young people. And up to 540 million are exposed to secondhand smoke. The People's Republic has tried to deter consumers from buying tobacco through price hikes, but that hasn't yet had an impact, according to China's minister of industry and information technology, Miao Wei.
Corbis Images
In Greece, cigarette smoking is higher per capita than in any other country. In 2008, Greece's 3.8 million smokers consumed roughly 3,055 cigarettes annually per capita, according to the Seattle Times. Around 40 percent of adults in Greece smoke, significantly higher than the average of 29 percent in other European Union nations, according to BBC News. Youth smoking is also a problem in Greece. According to rough estimates, between 10 and 32 percent of 15-year-olds in Greece smoke, as well as many as 50 percent of 16- to 19-year-olds, according to one study. The Greek government has been trying to reduce smoking through modest efforts intended to limit tobacco use. In 2010, Greece passed a law banning smoking in public places and in tobacco advertisements themselves. Hefty fines will be levied against smokers and businesses that violate the law.
Corbis Images
According to the report, Turkey has the highest mortality rate of any nation in terms of men dying from health complications relating to smoking. Around 37 percent of deaths among men in Turkey in 2004 were the result of tobacco use. Despite the passage of laws banning smoking in public places and taxing cigarettes to raise the price, nearly one-third of Turkey's population smokes, and that rate is rising.
Getty Images
Although Turkey has the highest mortality rates for men when it comes to fatal conditions related to smoking, the Maldives has the largest percentage of women who succumb to fatal tobacco-related health conditions. According to the joint report, nearly a quarter of women in the Maldives died in 2004 because of smoking. The Maldives may only have a population of 360,000, but they imported some 346 million cigarettes in 2010, according to a report quoting the Maldives Customs Service.
Corbis Images
Lebanon has the highest percentage of adult smokers in the world, according to a 2009 report from the World Health Organization (PDF) using available data on national smoking rates. Fifty-eight percent of Lebanon's adults smoke. When it comes to youth smoking, some 65 percent of boys age 13 to 15 use tobacco. Lebanon also has a smoking culture that includes not only cigarette consumption but the use of a water pipe than can be just as damaging as cigarette smoke, despite perceptions to the contrary, according to CNN. In 2011, as part of an effort to curb the prevalence of tobacco use, Lebanon's parliament passed a bill banning smoking in public places, like restaurants, cafes and offices, as well as airplanes, according to the Lebanese newspaper The Daily Star.
Corbis Images
Although tobacco isn't the only factor contributing to Russia's shrinking population, which has even been called a demographic crisis, smoking is a major cause of Russia's exceedingly high death rates linked to non-natural causes. (Alcohol abuse is the top non-natural killer.) Around 44 million of Russia's 138 million people smoke, according to government estimates. Up to 400,000 people in Russia die annually due to tobacco-related causes, as reported by Radio Free Liberty/Radio Europe. Smoking is not only widespread, but tobacco itself is cheap. According to that same RFE/RL report, cigarettes are actually cheaper than chocolate because of a lack of taxes intended to raise the price and discouraging new smokers. Unlike many other developed nations, Russia doesn't yet have laws on the books banning smoking in public places. That could change by 2014, however, when Russia is due to host the Winter Olympics. The health ministry intends to impose stringent smoking bans by then, according to the Moscow Times.
Is Sitting the New Smoking?

THE GIST
- As New York considers becoming the first state to ban electronic cigarettes, debate surrounds the devices and their safety.
- Critics worry that e-cigarettes will attract kids and create a new generation of nicotine addicts.
- The devices, which are tobacco-free, may be a safer alternative to cigarettes, say advocates.
Electronic cigarettes are handheld nicotine-delivery devices that, despite a devoted following, are currently swirling in controversy.
New York is pushing to become the first state to ban the devices, which so far remain unregulated and mostly unstudied. With cutesy colors, fruity flavors, clever designs and other options, e-cigarettes may hold too much appeal for young people, critics warn, offering an easy gateway to nicotine addiction.
But those criticisms clash with equally strong arguments for the value of e-cigarettes. The devices, which are tobacco-free, may be a safer alternative to cigarettes, say advocates, who point to testimonials from thousands of smokers who say they have used e-cigarettes to help them quit.
As the U.S. Food and Drug Administration struggles to gain regulatory control, and as safety studies remain works in progress, the debate continues.
"There really are a lot of unknowns with respect to health," said Prue Talbot, a toxicologist at the University California, Riverside. "I don't know of any studies in the literature which are peer-reviewed. Almost all of the studies have been paid for by the e-cigarette companies.
"E-cigarettes are often sold as safe, which is probably not true," Talbot added. "They may not be as dangerous as real cigarettes, but on the other hand, they could be. We just don't know."
Electronic cigarettes typically use a rechargeable battery-operated heating element to vaporize the nicotine in a replaceable cartridge. Nicotine is usually dissolved in propylene glycol, a clear and colorless liquid that is commonly found in inhalers, cough medicines and other products.
Some e-cigarettes are made to look like real cigarettes, cigars or pipes. Others look like pens or USB memory devices. There is no tobacco involved, and no smoke either. Instead, users do what's called "vaping." As they inhale, they take in nicotine-filled vapor.
By isolating nicotine, e-cigarettes should carry far fewer chemical risks than regular cigarettes, said Michael Siegel, a tobacco researcher at Boston University. Tobacco contains about 5,000 known chemicals, he said, with as many as 100,000 more that haven't yet been identified. E-cigarettes eliminate many of those ingredients.
Siegel and a colleague reviewed 16 studies that analyzed the contents of electronic cigarettes. In a paper just published in the Journal of Public Health Policy, they reported that levels of certain harmful chemicals were on par with levels found in nicotine patches and hundreds of times lower than what's found in cigarettes.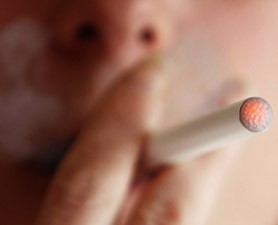 Some e-cigarettes have tiny LED lights at the end of them to mimic the look of a lit cigarette.Corbis
The researchers also found evidence that vaping reduces cravings among smokers, not just for nicotine but also for the need to hold something in their hands and put something in their mouths -- making the devices more appealing to them than patches or gum.
As a cigarette-quitting strategy, Siegel compared e-cigarettes to heroin needle exchange programs. It's not that the devices are good for anyone, he said. They are just better than what they're meant to replace.
"The relevant question is not, 'Are these things safe?'" he said. "But are these things much safer than real cigarettes, and do they help people quit smoking? The answer to both of those questions we know is yes."
"What New York is doing is equivalent to outlawing lifeboats on a sinking ship because they haven't been FDA approved," he added. "It's a really crazy approach to public health."
For other experts, the list of unknowns is still too large for them to consider e-cigarettes worth recommending. Some users, Talbot said, have reported problems with their lungs and throats that have forced them to stop using the devices.
And even though industry-funded studies have deemed the devices to be safe, an FDA report found levels of carcinogens and toxic contaminants that they determined to be were worthy of concern. Without regulation, Talobt added, cartridges may contain undisclosed chemicals that could end up being more toxic than tobacco smoke.
Quality control is also lacking. In a recent study, Talbot evaluated six brands of e-cigarettes acquired over the Internet. None of the devices were labeled clearly with nicotine levels, expiration dates or other information, she reported in December in the journal Tobacco Control.
Most cartridges leaked onto her hands, the study found, and all were defective in some way. Talbot also found unsubstantiated health claims on many of the company websites and print materials. One says they put vitamins in their e-cigarettes.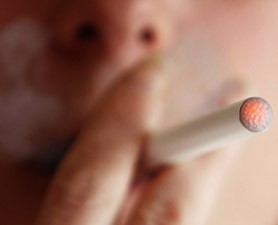 Some e-cigarettes have tiny LED lights at the end of them to mimic the look of a lit cigarette.Corbis
Other experts worry about the appeal of e-cigarettes to children. The devices are easy to buy online or in mall kiosks. They come in flavors ranging from chocolate to bubble gum. You can buy them in pink, gold or blue.
"Once a youth has decided to try an e-cigarette, there is nothing that protects him from getting addicted to nicotine by puffing this product," wrote Jonathan Winickoff, a pediatrician at the MassGeneral Hospital for Children, in a letter to the FDA. "Nicotine itself is not safe for children. Nicotine addiction is one of the hardest addictions to break."
New York's move is a reaction to what can't yet happen on the national level. According to a series of recent court decisions, e-cigarettes cannot qualify as drug delivery products, said Jeff Ventura, a spokesman for the FDA. As a result, the agency cannot ban them or require more arduous testing.
But even though they are now considered tobacco products, they are not mentioned in the Tobacco Control Act, either. For now, then, they remain unapproved and unregulated.
And anyone is free to buy them.