How John Glenn Drew the First Orbital Flight
For John Glenn, being the first American to orbit the Earth on Feb. 20, 1962 was a stroke of luck. ->
Image: The tethered Agentha booster rocket ha
Paving the Path for Apollo
Jan. 16, 2012 -- The 1960s were an amazing time for American space exploration. Major milestones were being reached nearly every year, from Alan Shepard's first manned flight into space in 1961 to John Glenn's historic first orbit the following year, while energetic programs like Mercury, Gemini and Apollo culminated with a successful lunar landing on July 20, 1969. These missions pushed the boundaries of technology, created heroes, and continue to inspire millions around the world. Of particular importance were the Gemini missions, which prepared engineers and astronauts for the specific challenges of a full-scale lunar mission. Extravehicular activities, spacecraft docking, and orbit adjustments were all perfected during Gemini missions... often by men who would continue on to become Apollo astronauts. Researchers at Arizona State University and Johnson Space Center have compiled a new online database of rescanned photographs taken by Gemini astronauts during their time in orbit. Shown here are some of my favorites, cropped to fit the format of this page. I strongly suggest you visit the site for many more wonderfully restored images from an amazing era in NASA's history.
Credit: NASA/JSC/Arizona State University
On June 3, 1965, Gemini IV astronaut Ed White became the first American to "walk" in space. He's seen here tethered by a 25-foot gold foil-wrapped umbilical line high above the California coast.
Credit: NASA/JSC/Arizona State University
Cottony clouds float above the rugged Atlas Mountains of North Africa in this photo, taken by Gemini V pilot Charles Conrad on Aug. 27, 1965.
Credit: NASA/JSC/Arizona State University
A full moon hovers over a sea of clouds above the western Pacific Ocean in this photo, taken on Dec. 8, 1965 by Gemini VII pilot Jim Lovell.
Credit: NASA/JSC/Arizona State University
On July 18, 1966, Gemini X astronauts John Young and Michael Collins successfully docked with two Agena booster rockets while in orbit. This is one of the Agena boosters seen from the Gemini window at a range of 62 feet (19m).
Credit: NASA/JSC/Arizona State University
During the final flight of the program, Gemini XII approaches the western coast of Florida on Nov. 12, 1966 while docked to an Agena booster. Aboard were astronauts Jim Lovell and Edwin "Buzz" Aldrin.

John Glenn really wanted to be the first man in space. And from the moment he was selected as one of the Mercury astronauts, he worked diligently to stand out among his peers in the eyes of NASA's top decision makers. But in the end, it was pure luck that Glenn ended up being the first American to orbit the Earth on Feb. 20, 1962.
Glenn was the quintessential 1950s astronaut. He was a decorated Marine veteran of the Second World War and the Korean War. He was a celebrated pilot; on July 16, 1957, he broke the trans-America speed record in a Vought F8U Crusader jet aircraft when he flew from from Los Alamitos Naval Air Station in California to Floyd Bennett Field in New York in 3 hours 23 minutes 8.4 seconds, averaging 725.55 miles per hour.
PHOTOS: The Gemini Missions: Paving the Path for Apollo
He was charming, something the nation saw first hand when he appeared on "Name That Tune" alongside child star Eddie Hodges the same night the Soviet Union launched Sputnik. He was a Presbyterian. He was a family man, married to his childhood sweetheart Annie. And above all he was fiercely patriotic.
The media loved Glenn, and Glenn could only hope the NASA brass would feel the same way. Publicly and privately, he embodied what he thought the agency would want to put forward as its first astronaut.
He might have gone too far. In the course of their training, Glenn isolated himself from his fellow astronauts. He put work first, studied diligently and exercised daily to keep his weight under the 180 pound cutoff. He assumed the role of the group's spokesman and representative, often leaning on his media contacts to cover the other astronauts' indiscretions.
But it was all for naught. On Jan. 19, 1961, the director of NASA's Manned Spacecraft Center Robert Gilruth called the seven Mercury astronauts into his office. He asked each man to write on a slip of paper the name of the man other than himself he'd like to see make the first flight. After all his good behavior and diligent hard work, the first flight was coming down to a peer vote. A popularity contest was the one kind Glenn couldn't win in that group.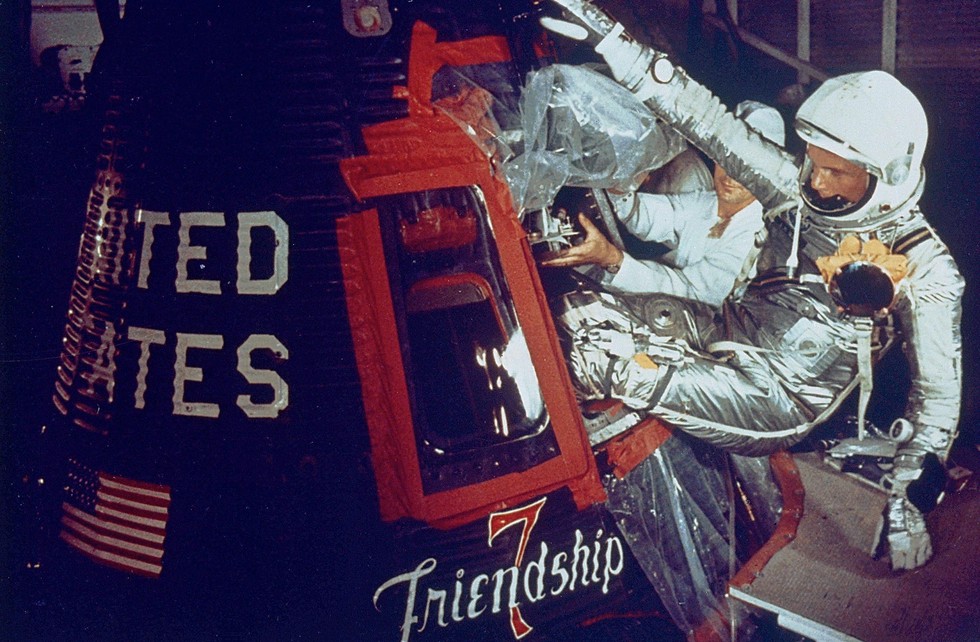 PHOTOS: Apollo 18: Myths of the Moon Missions
Gilruth collected the astronauts' votes, and without saying how much their votes matter he announced that Alan Shepard would be first to fly. Gus Grissom would fly second. Glenn would be third. For privacy's sake, NASA told the media that all three astronauts were in the running for the first flight. The plan was to keep the secret until the morning Shepard walked out to the launch pad.
Glenn was furious, and he wouldn't let it lie. The next day he wrote a letter to Gilruth urging him to reconsider the flight lineup. His performance in training and classroom sessions ought to weigh heavier than his popularity, he argued. Glenn went so far as to appealed directly to NASA administrator Jim Webb, urging him to overrule Gilruth's decision. Webb outright rejected Glenn's plea. The letter to Gilruth went unacknowledged. Glenn watched as Shepard became the first American in space in space on May 5, 1961. He watched as Grissom followed suit on July 21. Then Glenn's luck changed.
The first two Mercury flights were short suborbital hops, and the plan had been for all seven astronauts to make the same mission before the first orbital flight. But with pressure mounting to keep pace with the Soviets and match Yuri Gagarin's orbital flight, NASA decided on Aug. 18 that it had gathered all the experience it could from suborbital missions. The next flight would go into orbit.
Suddenly, Glenn, the third American in line for a ride into space, had the first orbital mission dropped right in his lap.
Image: John Glenn boards his Freindship 7 capsule before launch. Credit: NASA