Think you're living green and saving the planet? Park the Prius and put down that grass-fed beef hot dog for a minute and make sure.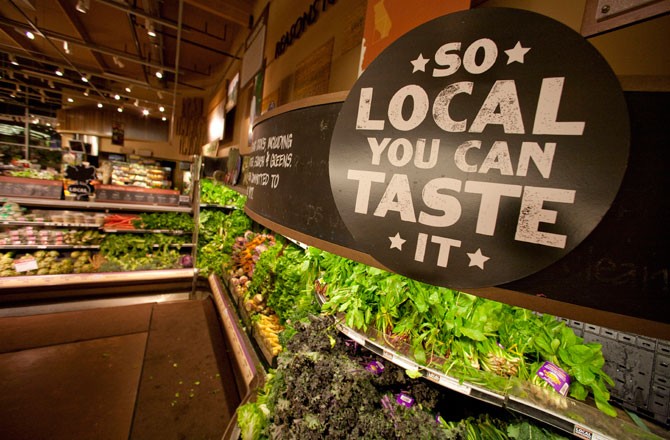 A sign on a grocery isle at Whole Foods in Irvine, Calif., indicates the produce was grown locally. The company has been ranked among the most socially responsible businesses and placed third on the U.S. Environmental Protection Agency's list of Top 25 Green Power Partners. Whole Foods Market eliminated the use of disposable plastic grocery bags company-wide. Ruaridh Stewart/Corbis
Think you're living green and saving the planet? Park the Prius and put down that grass-fed beef hot dog for a minute and make sure. We talked to some experts on the matter to get the scoop on what's truly earth-friendly -- and what just makes you feel like you're personally responsible for the end of global warming. Answer these questions, and the Earth wins.
Should you eat locally?
Eating locally is important -- but foods reach our plates with vastly different greenhouse gas emissions. Red meat, for example, will increase your carbon footprint faster than Al Gore can say "global warming." You could eat 18 pounds of spaghetti for the same amount of emissions as a single pound of red meat, notes Brenda Ekwurzel, a climate scientist at the Union of Concerned Scientists and author of Cooler Smarter: Practical Steps for Low-Carbon Living. So about that grass-fed beef hot dog? Even if you could hear the cow it came from mooing from your window, trading it in for mac-and-cheese is a better option for the Earth. Better yet, reduce the meat and fill up on more fruits and veggies, which are more important to buy locally.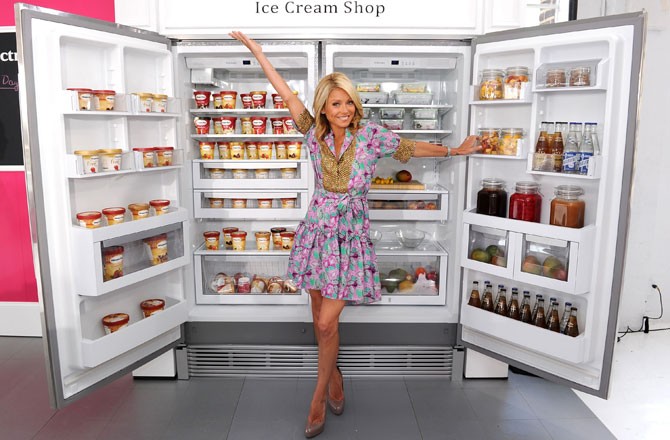 TV-personality Kelly Ripa attends the celebration of Electrolux's new stand-alone refrigerator and freezer at Studio 450 in New York City in June 2010.Dimitrios Kambouris/Getty Images
Scouring Craigslist for vintage hand-me-downs is an eco-friendly option when it comes to clothes, toys, and bicycles, and helps keep money in the bank for other projects. But being green can also be a bit costly in the short-run, such as when it comes to upgrading to energy-efficient products. The biggest bang for your greenback? Trading in a pre-2004 refrigerator for a new one.
"We have to disregard the advice of our parents and grandparents who loved to say, 'If it isn't broken, don't fix it,'" Ekwurzel said. Today's refrigerators are 70 percent more efficient than those made in 2003, she said. And next to driving, the energy used at home has the biggest impact on your carbon footprint, she said. If you haven't already, it's also time to upgrade to a programmable thermostat and LED or compact fluorescent light bulbs, and schedule that energy audit.
Bonus: These upgrades translate into saved money over time as well as energy.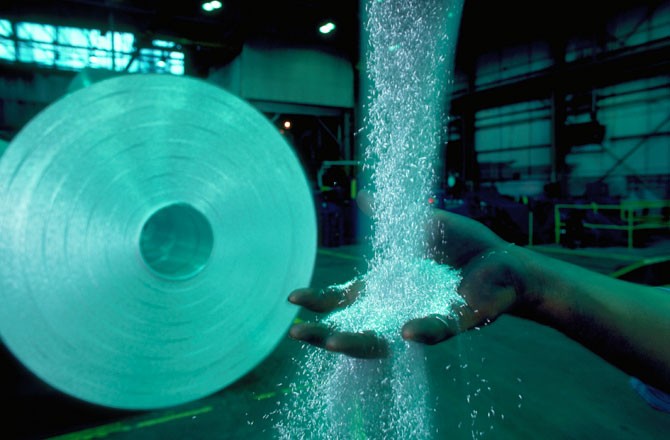 Pellets of aluminum, the resulting product of recycled cans, are to melted into rolls of aluminum sheet.James L. Amos/Corbis
If you can't handle sorting your trash into myriad piles, at least make sure you're recycling aluminum cans. No harm in composting your egg shells and recycling your newspapers, of course, but creating aluminum from raw materials is so energy-prohibitive that it's by far the most important item to recycle, Ekwurzel said. Recycling a pound of cans can keep more than 15 pounds of harmful emissions from the atmosphere, because making a can from recycled aluminum causes 5 percent of the emissions of making it from raw material.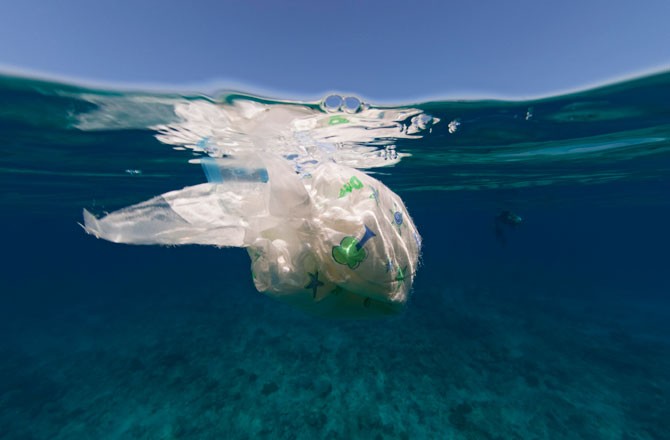 A disposable diaper floating on the surface of the water, Alif Dhaalu Atoll, The Maldives. Jason Isley - Scubazoo/Corbis
It depends on where you live and how you plan on washing those diapers. If you live in a desert and you set your washer dial to hot, stick with disposables. But if water is plentiful in your area of the country, it's your lucky day: stocking up on cloth diapers, and washing them in cold water, has the environmental edge over Pampers. In fact, Ekwurzel suggests leaving the dial on cold: your clothes will be cleaner than you think.
Better yet, forget diapers and try elimination communication.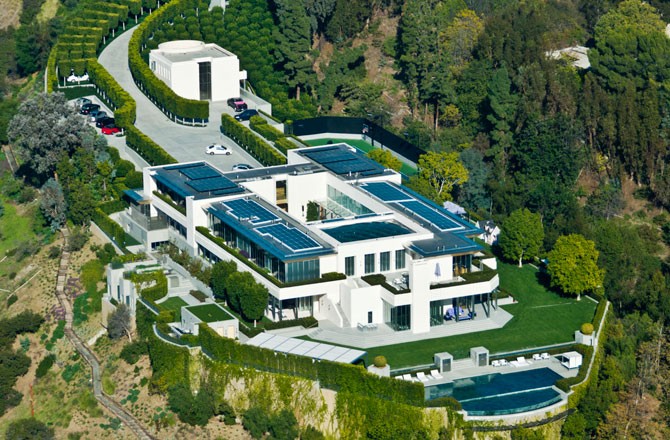 Anthony Pritzker's, Hyatt heir, 53,000 square foot Beverly Hills estate. His name is lent to the Pritzker Price, a prestigious yearly award given to the top architectural firm.Proehl Studios/Corbis
Actually, you don't need to live in a sun-drenched climate to use solar energy. Massachusetts, for example, offers incentives for solar power, putting it among the Top 10 of states that hosted the most new solar in 2012. And Germany has been a leader in solar energy for years, says Cooler Smarter co-author and Union of Concerned Scientists Senior Energy Analyst John Rogers.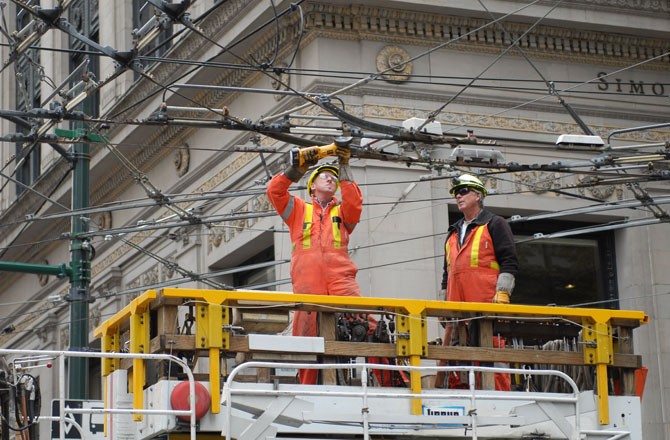 Workers maintain power lines in Vancouver, Canada, on March 20, 2013. The City of Vancouver stood out of 66 cities and was awarded Global Earth Hour Capital 2013 by the World Wildlife Fund (WWF) on Tuesday for its efforts to address climate change.Sergei Bachlakov/Corbis
Tomorrow (March 23) at 8:30 p.m., households will dim their lights across the planet. But a recent article in Slate suggested that the practice might do more environmental harm than good. While that is debatable -- the author, Bjorn Lomborg, director of the Copenhagen Consensus Center, says that any reduction in emissions would be offset by the generators firing back up afterward, but others disagree -- his overall point is that much bigger steps must be taken.
"This is not about changing lightbulbs (although that is a fine thing to do, it will only reduce emissions about 0.1% of the amount that needs to be cut) or similar things," said David Lessmann, communications manager for the Copenhagen Consensus Center. "It is about changing the entire energy infrastructure of the world, and that is hard and costly. This is why the economists focus on innovation -- if we can get green energy to become cheaper than fossil fuels, everyone will eventually change over."
So, go ahead and turn out the lights (while you're at it, consider powering down televisions, computers, and smart phones too), with the understanding it's mostly an act of symbolism. As we've seen there are many ways to really go green.