How Does Solitary Confinement Alter Prisoners?
Physical effects begin after a few days of isolation and can last long after release from confinement.
After 41 years in solitary confinement, Herman Wallace was freed last week. Three days later, he died from complications from liver cancer in his sleep.
Wallace, 71, was one of the "Angola Three" convicted of the 1972 murder of a prison guard at the Louisiana State Penitentiary, also known as Angola. He maintained he was innocent. On Oct. 1, a federal court judge said he had not received a fair trial, overturning Wallace's grand jury indictment.
Regardless of the politics of the case, Wallace's death shows that years of isolation have a profound effect on the body and mind.
"Consider Herman Wallace's liver cancer," said Dr. Terry Kupers, a psychiatrist at the Wright Institute with a background in psychoanalytic psychotherapy, forensics and social and community psychiatry.
"I understand he had lost over 40 pounds in the months prior to the diagnosis of his cancer, and by the time it was diagnosed it was untreatable and his prognosis was very grave. With adequate medical care, for example in the community, liver cancer would be diagnosed very much earlier and treated intensively so it would much less likely become fatal."
Common physical effects include cardiovascular and gastrointestinal issues, migraine headaches and profound fatigue.
While in solitary confinement in Louisiana prisons, Wallace probably fared better than most prisoners in isolation, experts said, because of his political awareness.
"What impresses me repeatedly is how little anger many prisoners express about their situation," Kupers said. "I think this is especially true of very bright and politically sophisticated prisoners like Herman Wallace.
"I discussed this issue with (freed Angola Three member) Robert King, who agrees with me that when prisoners understand the social dynamics and injustice of their harsh treatment in prison, they don't feel as much anger as they do resolve to survive and change the system that is so abusive and discriminatory. This must explain why someone like Herman Wallace can survive (almost) 42 years of torture in solitary confinement and remain ... clear-headed, politically aware and committed to justice."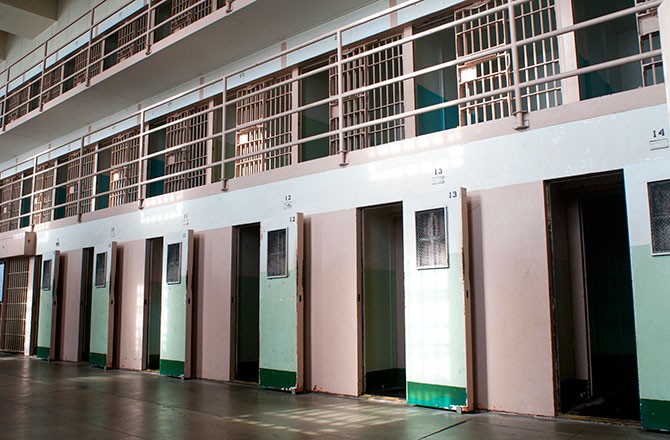 Sabrina Dalbesio/Getty Images
Dr. Stuart Grassian, a psychiatrist who studies solitary confinement, visited the Angola Three in the early 2000s at Angola.
"The conditions there were particularly abhorrent," he said. "I've been to many prisons, and I've never been scared except there. Camp J (an area of Angola reserved for solitary confinement) is a miserable dungeon, with small dirty cells, leaking water, mold, enormously hot in summer. The mosquitoes are unbearable. But these men were of tremendous strength and intelligence, and they never succumbed to some of the more dramatic symptoms of isolation."
Those dramatic symptoms include one of the most common, which is rarely seen in the general population, which Grassian calls florid psychotic delirium. Symptoms include hyperresponsivity to noises and other stimuli, hallucinations, panic attacks, trouble concentrating and remembering, and paranoia.
Studies that use electroencephalography (EEG) to measure the brain's reactions to stimulation show that after just a few days of solitary confinement, people experience more stupor and delirium. And one study found that the symptoms can last long after release from confinement.
Eventually, Kupers said, a general numbness often sets in.
"I find that prisoners who have spent decades in solitary confinement give up trying to communicate, for instance not even bothering to speak to the officer who delivers their food tray, or not saying good morning to the prisoner in the next cell," Kupers said.
"Then, in order to suppress the anger that evolves, they start suppressing all feelings so they begin to feel numb, then lifeless, then dead. A large number of prisoners in many states have described this hyper-isolation, even in the context of solitary confinement, and this numbing into a dead state."
Half of successful suicides in prisons are prisoners in solitary confinement, Kupers pointed out -- even though that's only 4-6 percent of prisoners.
The United Nations lead investigator on torture, Juan Mendez, has urged the United States to ban the use of prolonged solitary confinement, citing its mental and physical toll.
Supporters of Wallace hope that his case will spark changes in the penal system.
"This was never just about Herman," friend Ashley Wennerstrom, told NOLA.com. "This is about a much larger movement to make the criminal justice system actually just."