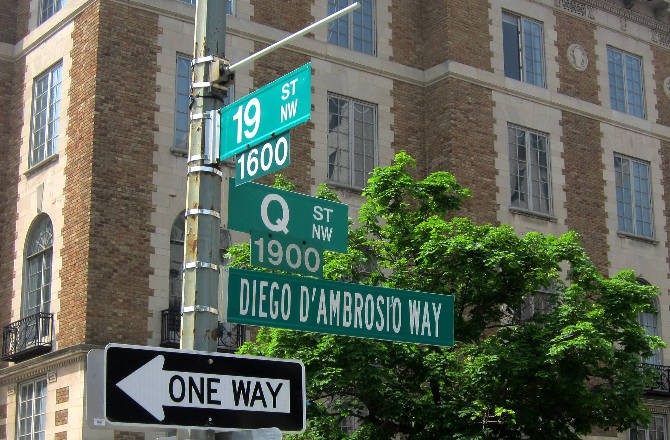 WikiMedia Commons/AgnosticPreachersKid
Traffic is a you-know-what; if anyone's happy to be in it, they're off their meds. Rush hour now seems to be any hour, and, particularly during holiday weekends, the sight of bumpers too close to other bumpers can set any traveler on edge.
Driver's aren't helped by the confusing signage some cities seem to take devilish pleasure in providing, as we'll see.
With those cheery thoughts in mind, we present the top 10 most traffic-congested cities in the United States, according to the 12-month rolling Traffic Scorecard kept by traffic data provider Inrix.
Tenth-most on Inrix's current list is our nation's capital. Washington, D.C.'s infamous Beltway keeps cars not moving during rush hour.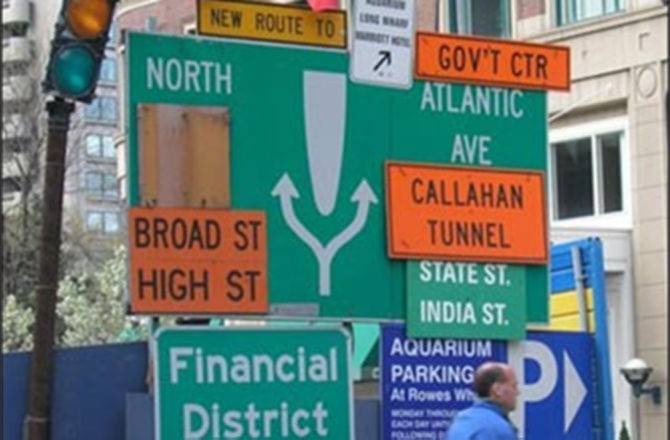 Flickr/NNECAPA
Boston? The ninth-most trafficky city? Get outta heah! Traversing Beantown by car can be wicked confusing, as anyone who encountered this helpful sign could attest. It's almost as if Boston transportation insiders enjoy seeing people get lost.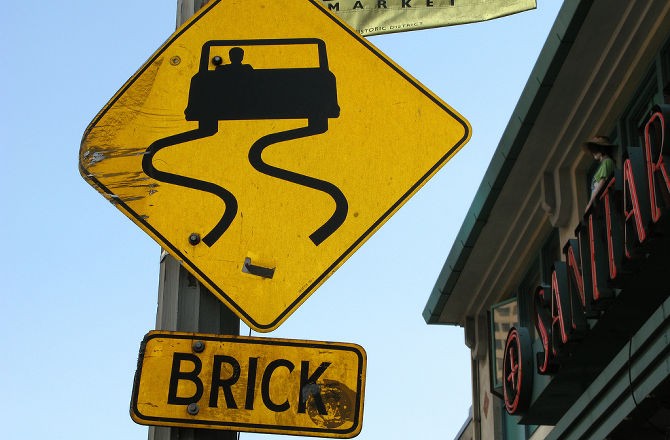 Flickr/Slippery Brick Road
Seattle traffic will slow the most eager of automotive souls. And watch out for slippery bricks or ... wavy bricks?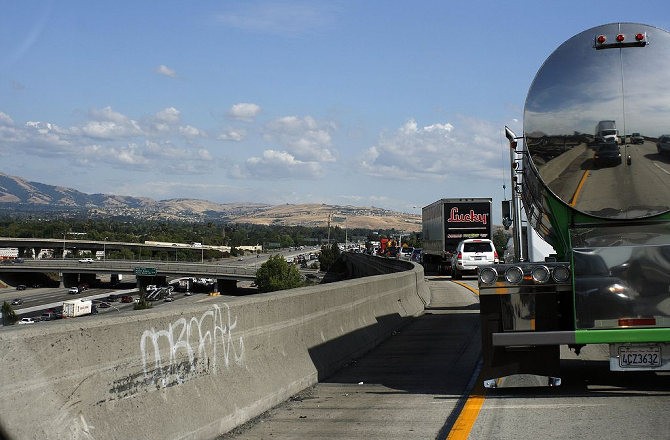 Sanjosecalifornia/WikiMedia Commons
San Jose, Calif. clocks in on the traffic speedometer at number 7 on the list. Do you know the way there?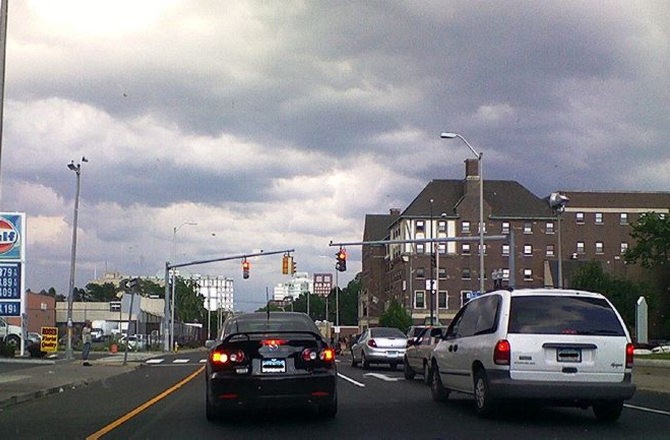 Bwin01/WikiMedia Commons
In Connecticut, you might guess Hartford would be the traffic nightmare, but according to the Inrix list, you'd be wrong. It turns out Bridgeport tops the insurance haven. Here, a moment of relative vehicular calm has descended on a road into the city.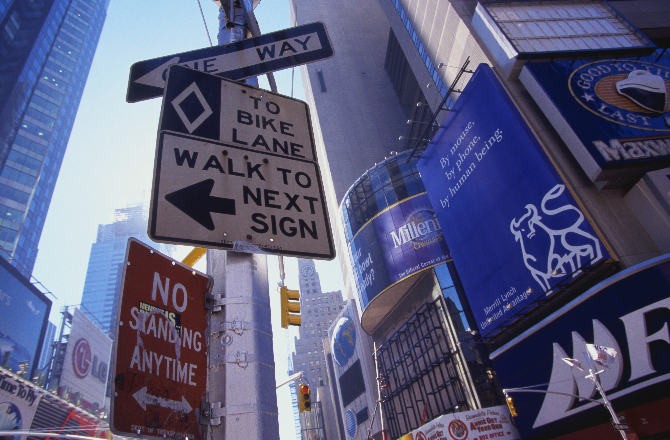 Steven Vidler/Eurasia Press/Corbis
Signage overload is a constant sight in Times Square, in the heart of the number 5 worst traffic city, New York.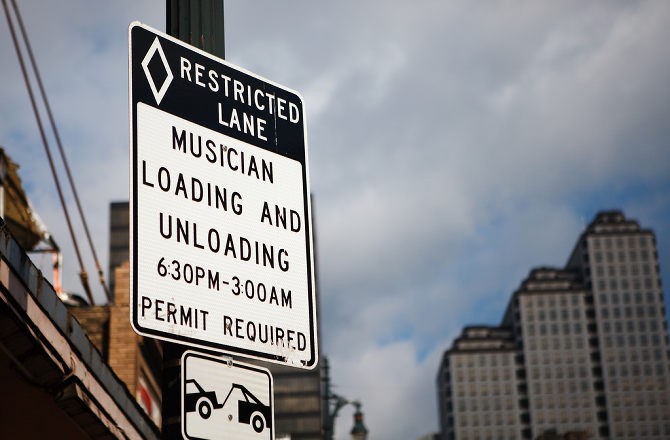 mirsasha/Flickr
Does it seem sometimes like everyone is moving to Austin? Population growth in the city has helped it scale to number 4 in traffic congestion. Here, a sign in the music-friendly city lays down the loading law. However, musicians being a notoriously anti-authoritarian lot, it might be unwise to try to load or unload them.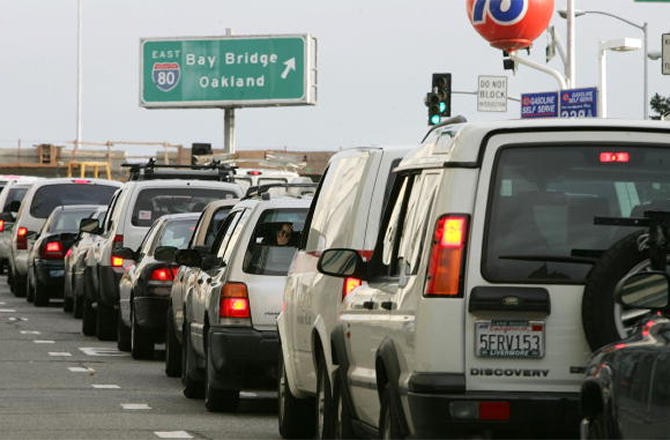 Getty Images
Cars sit in traffic in the city by the bay. San Francisco takes the bronze medal in the driver headaches competition.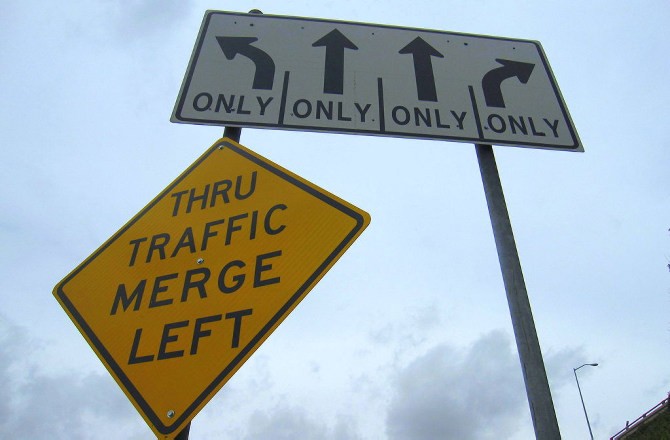 WikiMedia Commons/Streetwise Cycle
Los Angeles is forever at or near the top of any list of vehicle tie-up terrors. To make matters worse, its signage can be no less puzzling than the decision to make certain of Hollywood's movies.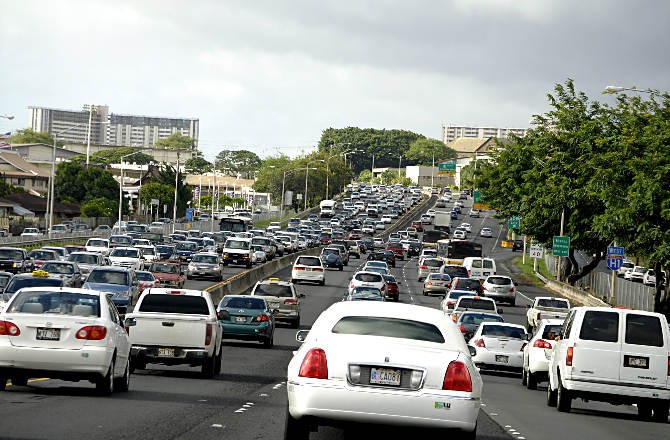 Francis Dean/Corbis
Topping the list of worst traffic metropolises is a city in a state many people like to think of as paradise. Honolulu may indeed be an island paradise, but it might not look that way from the inside of a car during rush hour.