Hiroshima Survivors Remember Atomic Bomb Blast: Big Pics
Hiroshima Survivors Remember Atomic Bomb Blast: Big Pics are explained here. Learn more about Hiroshima Survivors Remember Atomic Bomb Blast: Big Pics in this article.
Aug. 6, 2010 -- Three days after an atomic bomb devastated Hiroshima, six-year-old Kazuko Uragashira and her parents were aboard an evacuation train out of their charred home city.
Having narrowly survived the nuclear inferno, the family headed for the home of an uncle, not knowing that another date with destiny lay ahead of them. His home town was Nagasaki.
Uragashira remembers sitting on the train, her legs burnt from the radioactive blast, when their train stopped in a tunnel outside Nagasaki after a 300-kilometer (190-mile) journey.
"It was another scene from hell," Uragashira, now 71, recalled. They had stumbled into the immediate aftermath of the second atomic bombing in Japan, on August 9, 1945.
As the train passengers painstakingly trudged their way through the carnage, she saw survivors with molten skin dripping off their bodies.
"I still remember the smell of charred bodies and the weak screams of the dying, for water… Even if I suffer dementia, I will never forget it," she said.
Uragashira, who now lives on a remote island off Nagasaki, is one of the few remaining "niju hibakusha" -- survivors of not one but both atom bomb attacks on Japan in the final days of World War II.
"I was lucky as a lot of others died instantly, but I still want to know why such a horrible thing happened to me twice," she said quietly.
An estimated 140,000 people died instantly in Hiroshima or succumbed to burns and radiation sickness soon after the blast, and over 70,000 perished as a result of the Nagasaki attack three days later.
Friday marks the 65th anniversary of the Hiroshima bombing.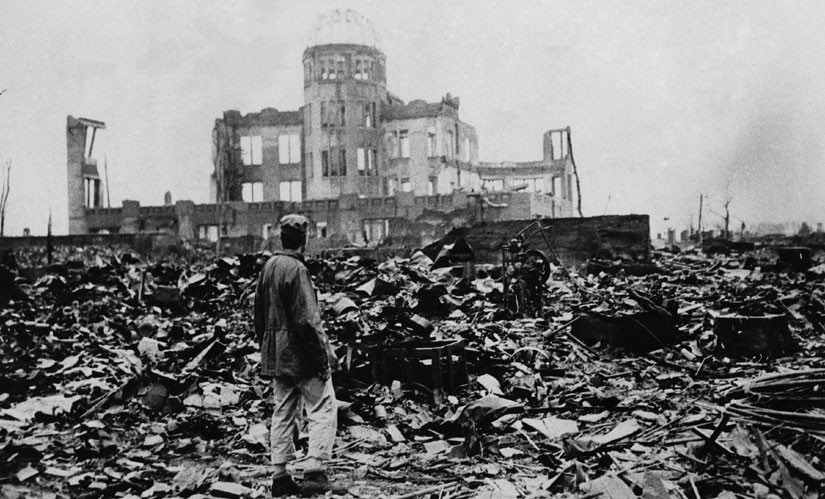 AP Photos
Around 150 people, like Uragashira, are thought to have been exposed to both bombings.
The only person officially recognized as a survivor of both bombs, Tsutomu Yamaguchi, who died in January aged 93, once told an interviewer: "I thought the mushroom cloud had followed me."
Media interest has grown in the double-survivors. Last month, a publisher released the Japanese translation of interviews a New York Times correspondent held with nine of them in the 1950s.
Film director Hidetaka Inazuka has recorded testimonies by double bomb survivors to keep alive their memories.
While many Americans believe the bombs were necessary to bring a speedy end to the war, Inazuka, like many Japanese, argues the attacks -- at least the one on Nagasaki -- were unwarranted because Japan was on the verge of surrender.
"Hiroshima was completely destroyed, which should have been sufficient," Inazuka said. "We need to strictly verify why they were dropped on the two cities."
Inazuka said the clock is now ticking to record the voices of the survivors, whose average age is above 75, saying: "Their children or grandchildren need to take the baton as we only have 10 years or so left."
Many single and double "hibakusha" -- atom bomb survivors -- have long kept silent, fearing discrimination against them or their offspring, but many have now started speaking out about their traumatic memories.
"I didn't tell anyone before that I'm a hibakusha because I thought no one wants to marry a person like me," said another survivor of both attacks, 80-year-old Misako Katani.
"Bodies were everywhere in the city," she said about Hiroshima. "Some were skeletons and others were bloated from the black rain."
She remembers the feel of the ashes of her 14-year-old sister, whose human shape remained recognizable in their charred family home, where the remains of their mother were also found.
Katani was told by her father to bring the ashes to their ancestors' graveyard in Nagasaki, where she was exposed again -- a double dose that she said caused her to fall into a three-day coma, bleed and lose her hair.
"The atomic bombings destroyed my life," Katani said. "I heard that President Obama wants to make a visit, but just a visit doesn't mean much. I hope he will pledge to create a world without nuclear weapons."