High-Tech Sunglasses Shield Your Eyes on the Highest Mountains
If you're going to be climbing or hiking at high altitudes, it's not just the thin air you need to worry about. The sun's rays are more powerful up there, and your sea level sunglasses may not protect your eyes from the intense glare and bombardment of UV--the extreme conditions Julbo mountaineering glasses were designed [...]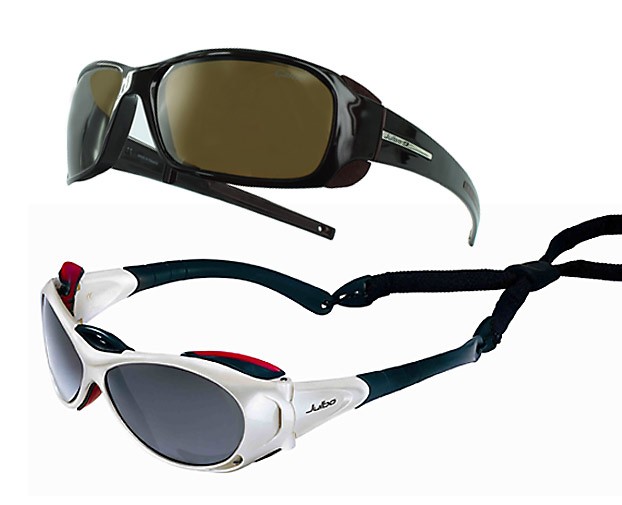 Julbo mountaineering sunglasses are made for high-altitude protection. MonteBianco (top) and Explorer (bottom.) Photos: Julbo USA
If you're going to be climbing or hiking at high altitudes, it's not just the thin air you need to worry about. The sun's rays are more powerful up there, and your sea level sunglasses may not protect your eyes from the intense glare and bombardment of UV—the extreme conditions Julbo mountaineering glasses were designed for.
With a long heritage in mountaineering optics, Julbo makes more that a dozen styles of glasses engineered to block out 100% of the harmful UVA, B and C rays, so you can focus on your lines, handholds or trail, without worrying about going "snow blind" in bright conditions.
Their top-of-the-line Explorer are the most worn mountaineering sunglasses, developed in collaboration with the elite climbing school in Chamonix, with a classic, wraparound style, open venting for air flow to keep fog from forming, and removable side "wings" for added sun blockage. The Spectron 4 lenses with anti-reflective coating offer the highest protection, letting in only 5% of visible light. (That's the reason Julbo doesn't recommend you wear them when driving.) You can also get them with their Camel polarized, photochromatic lenses that darken in brighter light.
I took a pair of Explorers on a recent rock climbing trip to Nevada, and loved how they kept the desert sun from baking my retina, without keeping me from seeing the details in the rocks. The soft inserts in the stems keep them comfortable when you've got them on all day, even when you're wearing a helmet. The adjustable strap kept them snug too, so I didn't have to worry about them sliding off during the climb, or blowing off in the wind when I had them on while jet-skiing later in the day.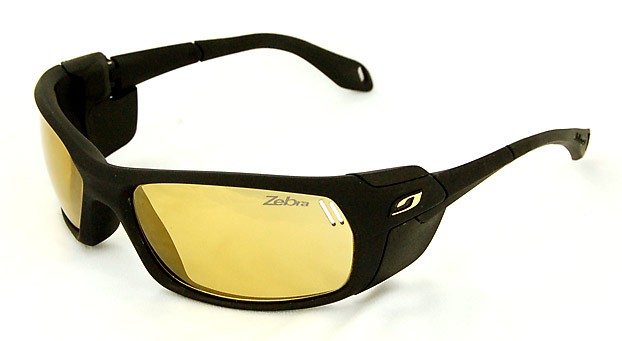 The Bivouak features magnetic side shields and large, wrapping lenses
Two more popular styles include the multi-functional MonteBianco, a more traditional looking style that's as at home around town as it is on a summit, featuring removable side shields and available with Julbo's Zebra lens which transition from category 2 to category 4 protection in less than 30 seconds; and the tech-packed Bivouak that boasts magnetic protective shields and wide, wrapping lenses. Go ahead, climb higher, your eyes can take it.