Higgs Boson Quest Inspires Epic LHC Art
In 2010, an artist was inspired by the incredible science behind the LHC, so he painted a mural on the side of the ATLAS detector's control room.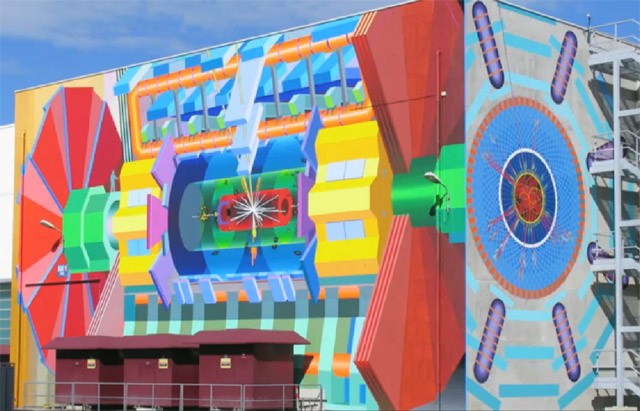 In 2010, Discovery News' Jennifer Ouelette reported on a cool project that artist Josef Kristofoletti had embarked upon. Inspired by the Large Hadron Collider (LHC) and one of its huge detectors, he began work on a mural of the ATLAS detector… on the side of the ATLAS control room (commissioned by CERN, of course). The 25-meter high ATLAS is one of the two LHC detectors that are hunting for the Higgs, and we'll hear results from ATLAS physicists via a special webcast on Wednesday at 9 a.m. CEST — that's at 3 a.m. EST or midnight PST.
"The hardest part of the mural was painting the whole image with a slight perspective shift," Kristofoletti told Discovery News via email. "The detector appears closer on the left and farther on the right side of the mural.
"The actual signature of the Higgs event was the most exciting thing to paint since it is actually depicting something that is invisible."
But what inspired him to create such a mural in the first place?
"It is a more complicated project than the moon landing. So, I am in awe of finding something that is so fundamental to understanding where we came from," he added.
As we are fast approaching a major announcement from CERN about the quest to track down the elusive Higgs boson, it seems like an appropriate time to showcase Kristofoletti's 2010 work of art through a time-lapse video he recently uploaded.