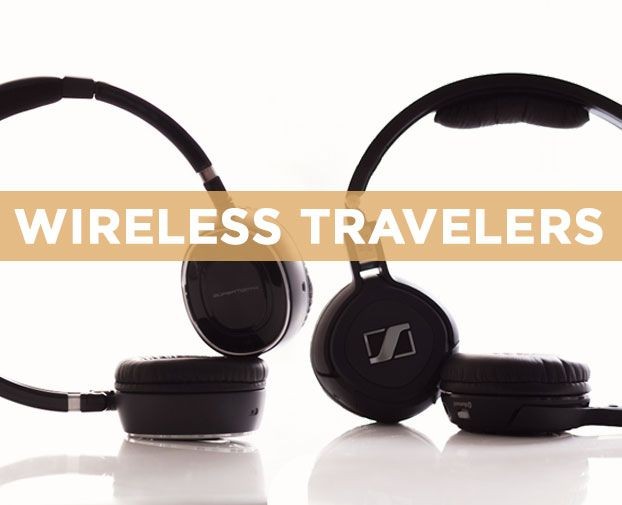 Sennheiser MM 450-X: $450; SuperTooth Melody: $99
To help wade through the seemingly countless options on the market, two Discovery colleagues share their insights on 20 new and relevant headphones. Taking on a pair at a time, Scott Tharler and Alice Truong will each evaluate how these contemporary cans match up in a dueling series called Headphones Heads Up.
Well respected for their impressive range of high-quality wired and wireless headphones, we selected Sennheiser's MM 450-X headphones for this series. As fate would have it, just after that we heard that SuperTooth — known for their Bluetooth speakers and voice-activated speakerphones — was coming out with a brand new set of headphones called Melody. Despite the disparity in price, we were intrigued by the concept of a travel-friendly wireless headphone match-up: the headphone experts vs. the Bluetooth specialists.
As expected, the Sennheisers pumped out terrific sound, with sharp treble, solid vocals and respectable bass. They're certainly both comfortable and — folding the band and swiveling the cups flat — compact, with a nice little zip-up pouch. One rad feature I haven't seen elsewhere is a removable Micro-USB rechargeable battery. With it slid out, it was nice that the headphones still offered wired sound, although then (both figuratively and literally) they lacked power. For on-ear headphones, they did a good job of both passively and actively canceling outside noise. And they canceled inside noise as well — that is, they had a button that attenuated the music and activated a mic, allowing you to temporarily hear someone talking to you without having to take off your headphones.
I wasn't sure what to expect from the SuperTooth headphones. I'm a fan of their HD speakerphone and the original Disco speaker kicks butt…BUT, headphones are a different story. They passed the audio test. Not better than the Sennheisers by any stretch, but about where they should be for the price. Having the volume controls in a thumb-friendly underneath the right can rather than on its face felt natural to me. Unfortunately, the controls that were on its face (power, track skip) were awkwardly stiff and tough to operate.
If you're the kind of person who likes to hit play and listen for hours, the SuperTooth Melody offers a comfy enough fit and decent enough sound for the money. But ironically, because of the poor tactile experience I had with the touch-unfriendly controls, they seemed like they should've been twenty or thirty bucks cheaper. Likewise, the Sennheisers present an attractive headphone with cool features. And I'd say to run out and get them…if they were half the price. But they weren't luxurious enough to make me want to drop four-plus bills. Perhaps they should take a cue from the headphones we'll be featuring in tomorrow's Headphones Heads-Up, the final face-off of the series!
Credit: Alice Truong/Discovery