Headphones Heads-Up: Battle of the Bass
In today's rumble, we compare the rumble of two husky sets of headphones: Fanny Wang vs. Denon.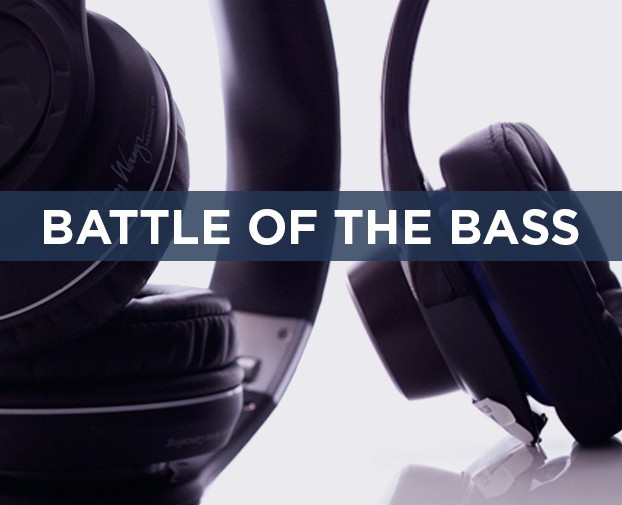 Fanny Wang 3000 Series: $299.95; Denon Urban Raver: $399.99
To help wade through the seemingly countless options on the market, two Discovery colleagues share their insights on 20 new and relevant headphones. Taking on a pair at a time, Scott Tharler and Alice Truong will each evaluate how these contemporary cans match up in a dueling series called Headphones Heads Up.
It seems listeners are quite enamored with bass these days. (Is that your doing, Dre?) If you're not an audio purist but prefer listening to music on the thumpy side, we've got a pair of good contenders known for punchy lows: Denon Urban Raver and Fanny Wang 3000 Series.
Comfortable, attractive, collapsible and (in available three colors) stylish, I liked the unpowered sound of the Fanny Wang headphones. The switch that activates Active Noise Canceling and Bass was located intuitively and changed colors to indicate the selected power mode. The ANC mode was hissy and tough to listen to, especially on synth-heavy tracks. But Bass mode was better, providing good rumble and clear mids, although still some of that high-end hiss. The more I wore these spacy, over-the-ear headphones, the more I grew to appreciate how they kicked out nice bass without killing the treble; but ironically, it was actually a little too much and that sibilance did in their sound. One last plus and minus: Kudos on the dual-jack feature that allows a buddy to tag along on your audio; but I didn't like how they required two AAA batteries and found it tricky to twist back on the clumsy ear cap.
At the risk of looking like Lobot (Lando's bald aide from Empire Strikes Back), I enjoyed wearing the Urban Ravers. I liked how they're Micro-USB rechargeable; but the power switch was tough to find/operate while wearing the cans. When finally powered on, the protruding outer knobs both light up (just to call more attention to yourself) and one of them can control the track with a swivel or push. Unlike the Fanny Wangs, these super cushy pads not only surrounded but snuggled right up against my ears. My listening experience goes against what their specs say, both that the Urban Raver's frequency response is the same on the low end and higher on the high end. They easily out-rumbled and thumped their worthy adversary. And so the interestingly designed Urban Ravers win this battle of the bass.
Credit: Alice Truong/Discovery