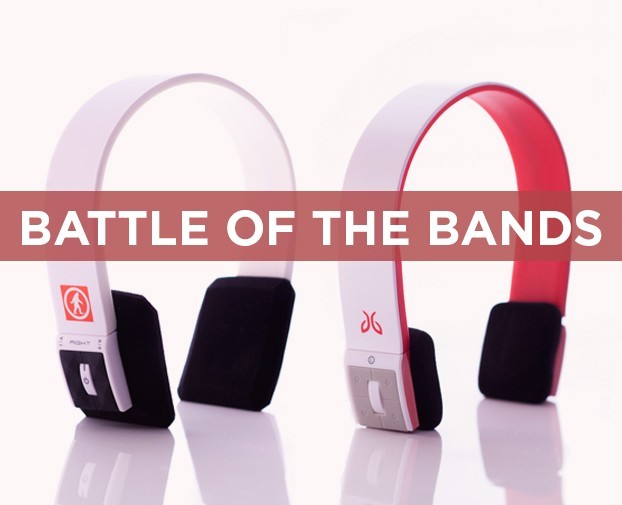 Outdoor Tech DJ Slims: $69.95; Jaybird Sportsband: $99
To help wade through the seemingly countless options on the market, two Discovery colleagues share their insights on 20 new and relevant headphones. Taking on a pair at a time, Scott Tharler and Alice Truong will each evaluate how these contemporary cans match up in a dueling series called Headphones Heads Up.
Forget the wires. You're going for a workout and don't want anything standing in your way, which is why we're looking at Jaybird Sportsband and Outdoor Tech DJ Slims to see which better complements your active lifestyle.
Just by looking at these two near-identical fitness-friendly bands, you wouldn't think it'd be such an easy choice. But [Spoiler alert!] it was: The DJ Slims were easily my favorite.
Although they're the same width, the DJ Slims are just a little longer, which simply means they'll fit more (bigger) noggins. But more importantly, their ear pads were noticeably larger. They're made to cushion the entire ear, whereas the Sportsband's little squares felt skimpy by comparison. The Sportsband's sound was good and loud, but felt punchy. Whereas the DJ Slims were smooth, clear, full and well-balanced. Also, their significantly lower price point didn't hurt.
By the way, on the outside of the right ear, both bands had 5 buttons (for adjusting the volume, skipping the track and — using the power button — play/pause) that took getting used to. They were easy to find/distinguish. And the Sportsband gave a beep for feedback. But both were tricky and not as responsive as I would've liked, especially when skipping the track backward. It took just the right pause before hitting the button again to skip multiple tracks back/forward. Just one of those things you wouldn't know until you tried them. But once I figured out how to finesse the buttons (as much as was possible), each was passably convenient.
Credit: Alice Truong/Discovery