Have the X Games Gotten Too Extreme?
X-Games snowmobiler Caleb Moore has died following a bad accident. Has the event gotten too dangerous?
Getty Images
Caleb Moore works his way through one of his tricks in the 2011 Winter X Games in Aspen, Colo.
Christian Pondella/Getty Images
Levi LaValle of the USA takes flight during Snowmobile Freestyle at the X Games in Aspen on Jan. 24, 2013.
Stockbyte
Sure, motorcycles are great -- and snow is great -- but what if you put them ... together?
Mark Wieland/Getty Images
A surfer rides the man-made Eisbach (Ice Brook) wave in Munich. It's been surfed since 1972, and officials made it legal to ride in 2010.
Richard Bord/Getty Images
Aluan Ricciardi from France rides the Superpipe during the Winter X-Games Europe in Tignes, France.
Doug Pensinger/Getty Images
Greg Joyce hangs on to his shovel while shovel racing -- an annual event -- in Steamboat Springs, Colo.
Doug Pensinger/Getty Images
Snowboarder Mark McMorris of Canada soars off a jump as he qualifies for the Winter X Games in Aspen, Colo.
Richard Bord/Getty Images
Shaun White from the USA rides the Slopestyle at the Winter X-Games in Tignes, France.
Carl Court/AFP/Getty Images
Freestyle skiing is just slightly more extreme when you do it in front of the Battersea Power Station in London.

January 31, 2013 Update: X Games snowmobiler Caleb Moore died in the hospital today. His family released this statement: "This morning Caleb Moore passed away. He will be truly missed and never forgotten."
As X-Games snowmobiler Caleb Moore clings to life in the hospital, where he underwent emergency surgery after a crash in last week's X Games, some wonder: Has the competition become too extreme?
There have been no deaths yet in the Winter X Games, which debuted 17 years ago. Last year, X Games skiing sensation Sarah Burke died at the age of 29 after a crash in training.
"Caleb is in critical condition and is being closely monitored," family spokeswoman Chelsea Lawson told the Denver Post. "The Moores want to express their gratitude to all of Caleb's fans, friends and family for their strong support and ask for continued prayers in the coming days."
Moore, 25, was competing in the snowmobile freestyle event in Aspen on Thursday when he miscalculated a back flip and his 450-pound snowmobile crashed on top of him. After a concussion was diagnosed, he was flown to Aspen Valley Hospital, where doctors discovered bleeding around his heart. He was airlifted to Grand Junction for emergency heart surgery, and remained there with brain complications. One of his most recent Facebook posts read: "Hey everyone, make sure and watch on Thursday, Saturday, and Sunday! I'll be going for it all! Thanks for the support!"
Moore's brother also made a trip to the emergency room following a crash last week; the X Games wrapped up on Sunday with several more injuries, including a spinal fracture (skier Rose Battersby) and at least one concussion (snowboarder Halldor Helgason).
Still, most say that extreme athletes willingly accept the risk -- even the ultimate risk of death. There is no rush to blame any certain entity for creating a competition or for sponsoring athletes, although some call into question the celebrity culture that envelops sports.
"I feel like the athletes understand the risk and are willing to take it to exceed and excel in their sport," said snowboarder Kevin Pearce, who suffered a traumatic brain injury in 2009 and returned to the sport.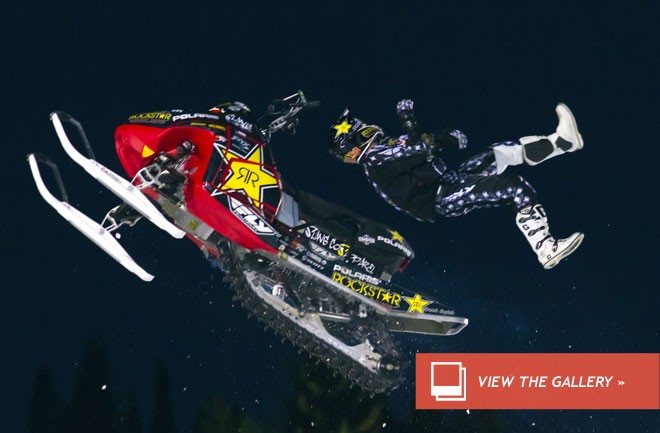 Caleb Moore works his way through one of his tricks in the 2011 Winter X Games in Aspen, Colo. Getty Images
"We're all complicit in where sport has gone," said director of Northeastern University's Sport in Society Dan Lebowitz. "There's a responsibility in all of us as members of a functioning, inclusive society....It's a tug of war: the loving of the pushing of the envelope, but also stepping outside of ourselves and asking the question, have we perverted the essence and beauty of sport and teamwork?"
Dr. Omer Mei-Dan understands both sides of it: he's an extreme athlete, a former Red Bull BASE jumper, and a sports medicine doctor who recently co-authored of a textbook, "Adventure and Extreme Sports Injuries."
"People get injured and die in extreme sports. Everyone understands that; it's part of the deal," he said. "We're trying to minimize the risks by applying better techniques and training and better protection...Is the sponsor responsible? It's a fair question, but I don't think that's the case. People like that do it because they want to. They have the right personality to pursue this type of activity. I don't think they're doing it because of the sponsor or to make money."
A few things have changed since Mei-Dan was at one of the first X Games, however: social media has exposed the minute details of extreme sports to the masses. That's led to more participants in many of the sports: 10 years ago, there were less than 500 active BASE jumpers, he says. Now, there are 3,000 globally. At the same time, safety precautions -- helmets, most prominently -- have become mainstream.
"It came from the more extreme daredevils; people saw them wearing helmets and thought, oh, maybe wearing helmets is cool and it also protects my brain," Mei-Dan said.
Despite an increase in helmet use, however, skiing and snowboarding head injuries requiring emergency care actually increased between 2004 and 2010, a 2012 study showed. That could mean that more novices are hitting the slopes, or that helmets may create a false sense of security. What is clear is that glamorizing risk-taking has become the norm.
"We bow down to the sensational in sports, where we glamorize the incredible violence and risk-taking and then sometimes we don't like the outgrowth," Lebowitz said. "There's a certain level of expectation that people are looking for: these incredible tricks of hanging off a snowmobile with one arm. There's this incredible balance in fueling interest by paying attention to the sensational and maintaining some semblance of it being a sporting event."