Great White Shark Sightings Have U.S. Lifeguards on Alert
Dozens of great white shark sightings in recent days have authorities on alert at many U.S. beaches now, according to multiple media reports.
Dozens of great white shark sightings in recent days have authorities on alert at many U.S. beaches now, according to multiple media reports. 
(Great White Shark; Credit: Terry Goss)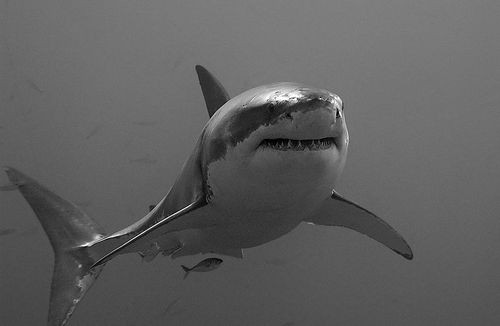 While shark attacks on humans are rare, the mix of tourists enjoying sunny beach vacations at this time and the close presence of great white sharks merits concern. Even President Obama and his family are vacationing at Martha's Vineyard, not too far from where great white sharks were spotted at the Massachusetts coast.
MA state officials today confirmed that a great white shark has been swimming around the waters off of Truro and Provincetown. The state's Executive Office of Energy and
Environmental Affairs made the determination after examining photographs taken by a tourist. The report adds to several others made in just the past few weeks there.
Shark experts think hungry great whites are showing up in force due to more than usual seals for this time of year in the region.
"Somehow the word is out in the great white shark population and they're arriving to eat their preferred meal," Tony Lacasse of the New England Aquarium told CBS news.
Great white sharks of all sizes appear to be bellying up to the site. A 15-footer was spotted in New England waters in July, and a "baby" one that measured "just" 7 feet long was also seen.
On the other side of the country, dozens of great white shark sightings have also been reported in recent days along the West Coast. Some of the reports describe more than just viewings, such as this one from kayak-er Adam Coca (with additional info provided by Allan Bushnel of the Santa Cruz Sentinel):
"I was South of Bean Hollow Beach
off those beaches toward Pigeon Point on the San Mateo coast. I stopped to fish
in about 50 feet of water when I felt the shark strike the nose of my boat from
below, like boom, then KABOOM! It flipped the boat over and I was half-way in
the water. The shark was chewing on the bow of my boat while swimming in a
circle. We must have done three or four circles like that with the shark
pushing and chewing on my boat. I was finally able to climb atop my boat, while
the shark continued to chew on the nose. My boat is 13 feet in length and the
shark was at least as long, maybe longer. The Great White Shark became tangled
in my leash and might have been distracted by the flailing paddle, which it did
bite and severe my leash. The shark submerged and disappeared. I flipped my
boat over and jumped in and hung on to the rails and braced myself, waiting for
the next strike, which never came. I had made a distress call on my VHF radio
which brought other kayakers to my location quickly. They helped me collect my
floating gear that had been dislodged from the kayak when it flipped over. The
bite marks on the bottom of the boat measured 18 inches at the widest portion
of the arc, and the individual tooth marks were about 2 inches apart."
Photos of Coca's shark-gashed kayak may be viewed at this Shark Research Committee page.
The Shark Research Committee has logged a half dozen great white shark reports from Sunset State Beach, San Onofre and La Jolla beaches alone. Outside of those accounts, on Sunday, lifeguards spotted a great white shark's 20-inch dorsal fin sticking out of the water about 50 yards from La Jolla Shores, according to The Los Angeles Times.
Perhaps the most dramatic evidence of the shark's presence so far was this video, shot by Chuck Patterson recently while he was surfing in Southern California.
The Florida Museum of Natural History has issued tips on how to avoid a shark attack. But tourists don't seem very afraid of the sharks so far. If anything, as this CBS News video shows, the presence of great white sharks appears to be fueling tourism at affected areas, instead of slowing it down.