Great White Shark Seen On North Carolina Coast
Friends who went out on a Thanksgiving weekend fishing trip have the ultimate shark story to tell.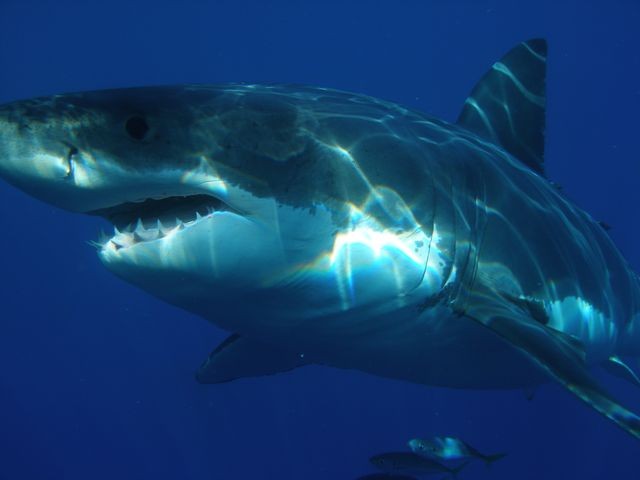 (A great white shark like this one from Isla Guadalupe, Mexico, was recently spotted off the coast of North Carolina. Image: sharkdiver.com)
Friends who went out on a Thanksgiving weekend fishing trip have the ultimate fish story to tell: They wound up just a few feet away from an 18-foot-long great white shark, according to WWAY in Wilmington, NC, and other media reports.
"After a while, when the shark started hitting the boat, it kind of makes you a little nervous," boat captain John Watson was quoted as saying. "All of sudden you start hearing all the dun-dun-dun-dun-dun's."
Captain Watson has fished for about 25 years off Wrightsville Beach, where the shark close encounter happened.
"The fish kept circling. He kept getting closer and closer and he swam under the bow of the boat and hit it then came around the boat a couple minutes later, did a turn, and slapped the side of the boat with the back of his tail," said Watson. "You could feel the whole boat shutter."
According to the men, they were about 25 miles southeast of Wrightsville Beach when they saw the shark, which they estimate was at least 18 feet long and more than 4 feet wide. That's nearly equal to the size of their boat.
It circled the boat for nearly 20 minutes
"I was probably 2 or 3 feet from the bow roller. His nose was at my feet," fisherman Don Smith was quoted as saying. "His tail was pretty much in line with the rod that we had in the back of the boat in a rod holder. That's a pretty good estimation of just how big the thing was."
North Carolina waters are home to many sharks, but great white sightings like this are pretty rare.
The story might be hard to believe, save for video footage, which captured the huge shark. You can view the video within this CNN report.
CNN affiliate WECT showed the video to Paul Barrington of the North Carolina Aquarium at Fort Fisher. Barrington confirmed that the shark is indeed a great white.
Barrington told WECT the shark was likely just being nosey, probably investigating all of the fishy smells wafting off Captain Watson's boat.
Watson concluded, "It was absolutely amazing to see a creature this large and made you feel so small."