Grave Concerns: Would You Choose a Green Burial?
A new documentary sheds light on green practices for the final Earth Day that awaits us all.
At this year's Full Frame Documentary Film Festival -- held earlier this month in Durham, N.C. -- the coveted Audience Award went to the documentary feature "A Will for the Woods". A microbudget project from a team of first-time filmmakers, the movie explores the issue of eco-friendly "green burial" practices by way of one man's quest to die a meaningful death.
The success of the low-profile documentary suggests that the film has hit a cultural nerve.
Green burial, sometimes called natural burial, is a method of interment which emphasizes ecologically friendly practices and a return to traditional burial customs. Specifically, green burial eschews the use of toxic embalming fluids and concrete or steel burial vaults. Proponents encourage the use of biodegradable coffins or shrouds, and sustainable land management techniques for cemeteries.
In a green burial, the funeral may be held at home, and the grave is typically dug by hand. The gravesite -- instead of a perfectly groomed plot -- is often a natural setting. And there is no vault -- a frequently used container for the coffin that can support the weight of heavy equipment and keeps the body from decaying and mixing into the soil.
Joe Sehee is founder of the Green Burial Council, a non-profit organization that issues green burial certifications for cemeteries and funeral providers. Sehee said that conventional burial practices can be wasteful, harmful and sometimes weirdly irrational.
"What most Americans don't understand is that embalming with toxic chemicals was never prevalent in the U.S. before the turn of the last century," Seehee said. "Or that embalming is rarely done outside of about a half dozen countries. Vaults are almost never used outside of North America and were never used here until the 1930s."
It's long been known that embalming fluids such as formaldehyde pose a risk to funeral home workers. An oft-cited 2009 study by the National Cancer Institute found a strong correlation between formaldehyde exposure and mortality from leukemia.
Sehee said that green burial practices can further other ecological imperatives as well, such as reducing carbon emissions, conserving natural resources and restoring natural habitats. Green burial areas are designed to minimize impact on the natural landscape.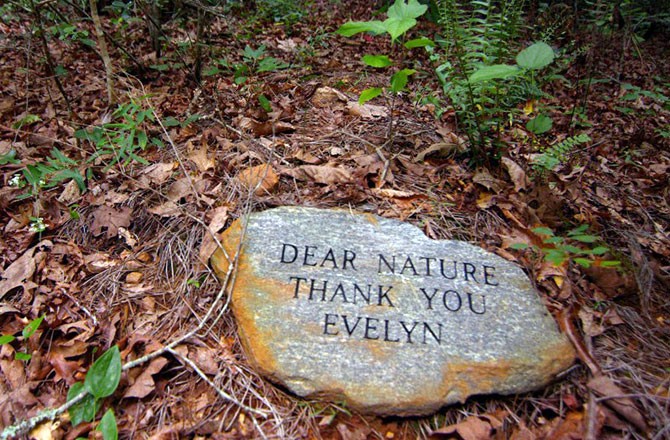 Proponents of green burials often seek out a private setting, as seen in the film 'A Will for the Woods'.'A Will for the Woods'
"Conventional cemeteries take up an enormous amount of space and it takes energy to maintain them," Sehee said. "There's a lot of grass to water and mow."
The Green Burial Council now has around 40 cemeteries in its network of certified burial sites, Sehee said. Some are dedicated conservation burial grounds and others are conventional cemeteries that offer green burial options. In addition, the GBC works with companies and manufacturers in 46 states to encourage use of eco-friendly materials like shrouds, caskets and non-toxic embalming oils.
Green burial issues are addressed throughout "A Will for the Woods", but the film isn't a traditional educational documentary. Instead, it follows the last year in the life of psychiatrist Clark Wang, a green burial advocate who passed away in 2011 from lymphoma. Wang worked closely with the filmmakers in the year before his death as he made arrangement for his own natural burial.
The movie contains scenes of surprising candor as Wang discusses his belief that green burial can give meaning to his death.
"Because of the nature of this type of cancer … burial is a very likely outcome," Wang says in the film. "I'd like to use whatever time I have left to help set a pattern in our community of really going back to traditional and natural ways."
Wang commissioned his own biodegradable coffin made from re-purposed materials -- he dances on it in the film -- and actively sought a funeral that would give his body back to the land.
Sehee said that his work promoting ecologically sustainable death and burial practices can be challenging. Aside from the often wonkish discussions of standards, certifications and public policy, "people just don't like to talk about this stuff," he said.
Brian Wilson, co-director of the film, said that the process of making the film was an eye-opening experience. "It's fascinating because burial traditions in other countries vary so much," he said. "Here we're stuck in this conventional thing of lots of embalming and big metal caskets.
"What we're hoping to show people is that you don't have to do it this way. These methods are really only 150 years old, as opposed to natural burial, which is millions of years old."