Gourmet Astronauts: Favorite Space Food
Although launching food in space is a necessity, it doesn't mean it has to be boring.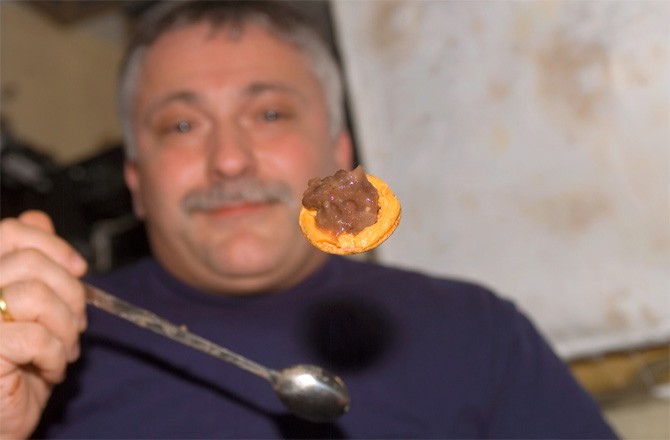 A spoon-sized item of food floats freely in front of cosmonaut Fyodor N. Yurchikhin, Expedition 15 commander in 2007.NASA
Although launching food in space is a necessity, it doesn't mean it has to be boring. The original space menu was bland, odorless and lacked texture, but times have changed and adding some flavor is essential for extended periods astronauts spend in orbit.
You can't expect an average meal on the International Space Station (ISS) to be like a night at the Ritz, but no one's complaining — the ambiance of orbital dining apparently more than compensates for lackluster meals. But astronauts have a few standby favorites as well as the occasional special treat.
Treat yourself to this sampling.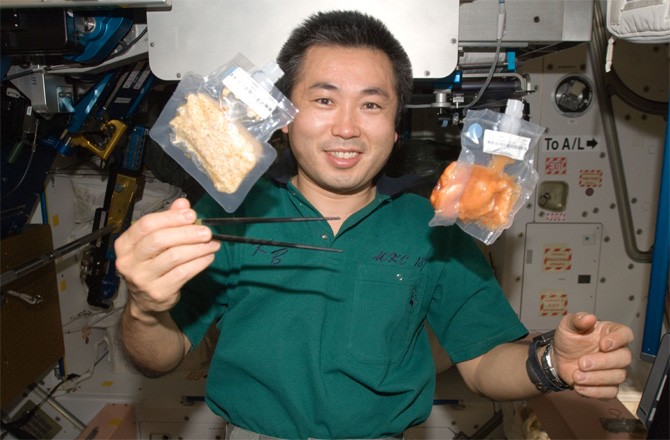 Japan Aerospace Exploration Agency (JAXA) astronaut Koichi Wakata, Expedition 20 flight engineer, holds chopsticks near two food containers containing Japanese dishes in the Unity node of the International Space Station in 2009.NASA
The addition of Japan's laboratory to the space station not only provided a huge new module for science experiments, it also opened the orbital outpost to Japanese culture — including a nice assortment of new beverages and foods. In 2008, the shuttle Endeavour astronauts were happy to serve as guinea pigs for a variety of new dishes, including negima (a Japanese beef and scallions dish), okonomi, tofu with hoisin sauce and udon noodles.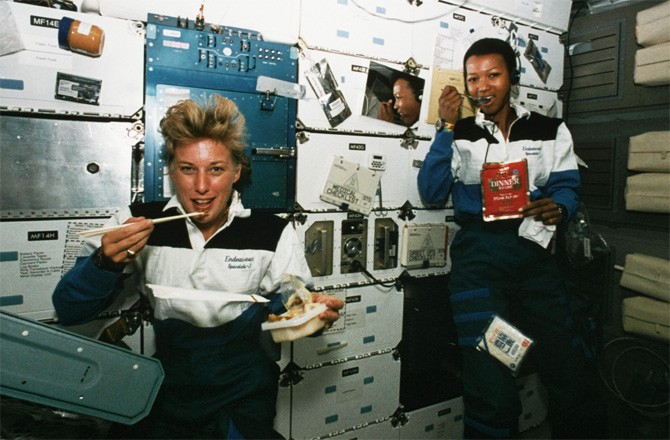 Astronauts Jan Davis and Mae Jemison eat aboard the shuttle Endeavor on Sept. 12, 1992.NASA
Celebrity chef Rachael Ray whipped up Swedish meatballs, a Thai chicken dish and vegetable curry for the crew of space shuttle Discovery in December 2006. It wasn't the first time a celebrity chef tried to perk up astronaut cuisine, though — Emeril Lagasse's spicy green beans, which were among five dishes flown to the space station earlier that year, apparently held up well in zero-gravity.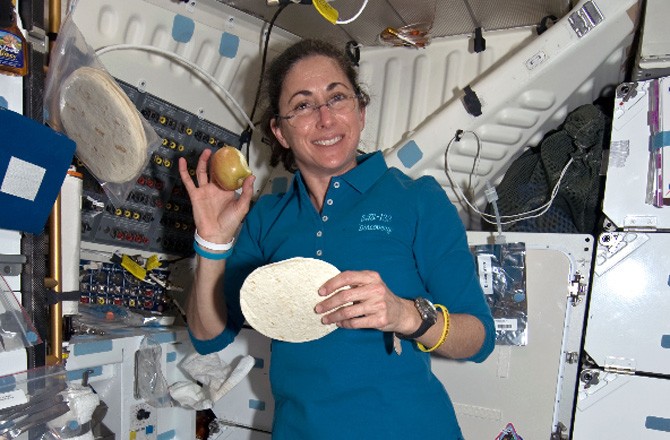 Astronaut Nicole Stott, STS-133 mission specialist, enjoys a flight day 2 snack. NASA
Bone loss is a problem during long-duration spaceflights, so a calcium-rich food like yogurt is a popular menu choice. Astronauts can choose from blueberry-raspberry, peach and strawberry. The Russians go one better with garlic- and herb-studded cheeses. For the picky eater, there's always yogurt-covered granola bars.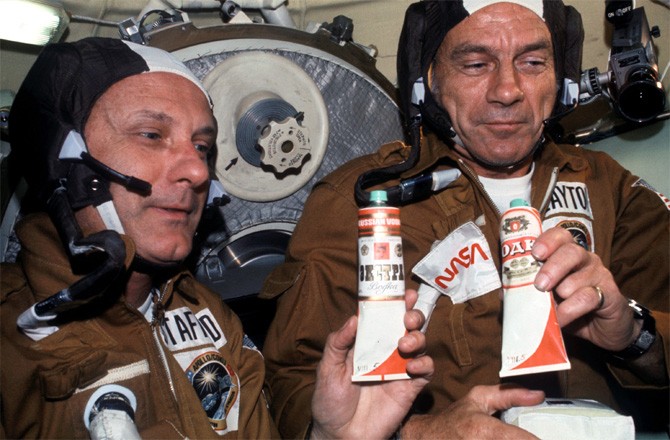 Astronauts Thomas Stafford (left) and Donald Slayton hold containers of Soviet space food in the Soyuz Orbital Module during the joint U.S.-USSR Apollo-Soyuz Test Project in 1975. The containers hold borsch (with a vodka labels stuck over the top).NASA
Feeling a bit under the weather? There's no one to make chicken soup for rundown astronauts. The next best thing might be chicken consomme. Just add hot water and don't worry about using a spoon.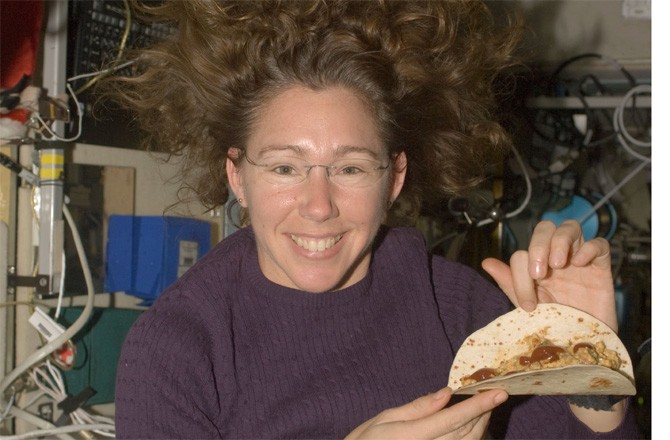 Astronaut Sandra Magnus, Expedition 18 flight engineer, poses for a photo with a tortilla that she prepared at the galley in the Zvezda Service Module of the International Space Station. NASA
With a relatively long shelf life and few crumbs, tortillas are the bread of the space program. One of the favored fillings: good old peanut butter and jelly. On special occasions, astronauts have managed to bring up other yeasty specialties, including bagels (imported from the family bakery of Canadian-born astronaut Greg Chamitoff) and German pumpernickel bread.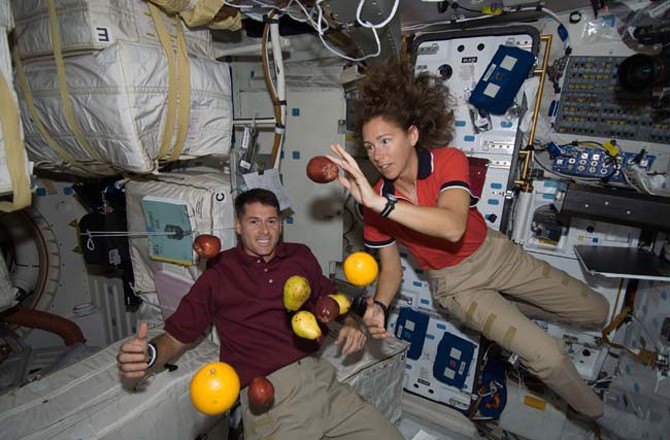 STS-126 mission specialists Shane Kimbrough and Sandra Magnus play with fruit on the middeck of Space Shuttle Endeavour on Nov. 16, 2008.NASA
Among the lessons six-time flier Story Musgrave passed along to rookie astronauts: Eat shrimp cocktail. The dehydrated crustaceans, coated in a spicy sauce, are the most requested food item in NASA's space pantry. Musgrave ate them at every meal — including breakfast.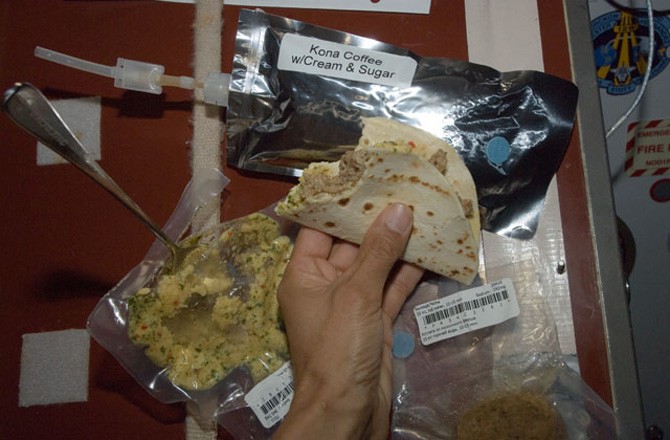 Various food and beverage items are featured in this image photographed by an Expedition 32 crew member on the International Space Station in 2012. NASA
A squirt of hot sauce can do wonders to wake up taste buds deadened by weightlessness, a phenomenon currently blamed on the redistribution of body fluids in microgravity. There are, however, plenty of easy solutions to the problem: salsa, barbecue sauce, sweet and sour sauce, garlic paste, Thai hot sauce, Tabasco...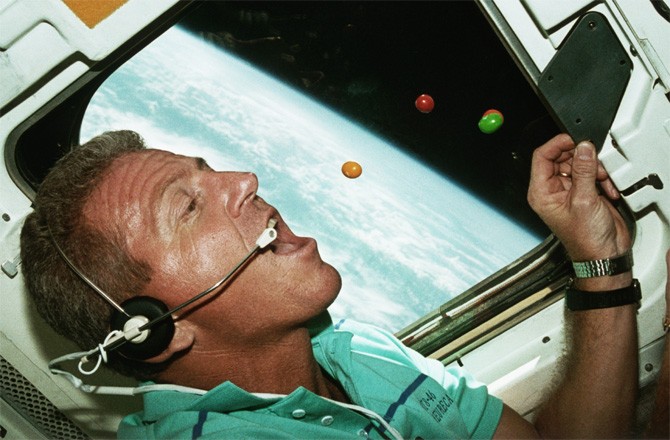 Weightless M&Ms float into the mouth of NASA astronaut and commander Loren J. Shriver aboard the Space Shuttle Atlantis during the STS-46.NASA
They're "candy-coated chocolates" candies or "chocolate-covered peanuts" in NASA parlance, but you and I would call them M&Ms. It'd be a tough call whether astronauts like eating them or playing with them best. What we do know is that the colorful orbs show well on TV.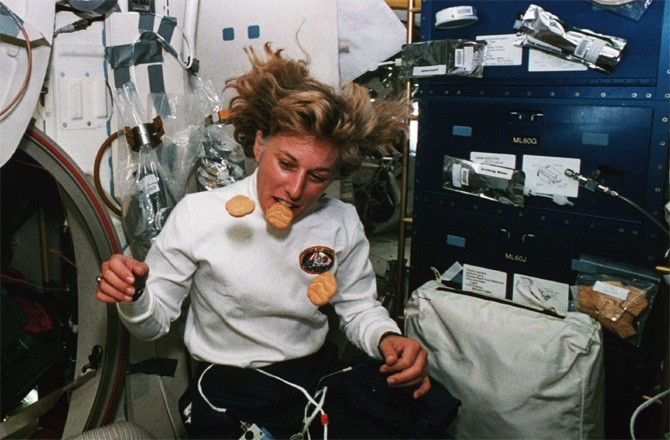 Jan Davis eating Girl Scout cookies on shuttle Endeavour on Sept. 12, 1992.NASA
Fresh fruits and vegetables are a rarity in space, so astronauts make do with a variety of canned and dried offerings. Russian cuisine presents another option: raw onions and garlic. It may sound a little intense for American palates, but after a few months in orbit, apparently folks will try anything to break up the monotony.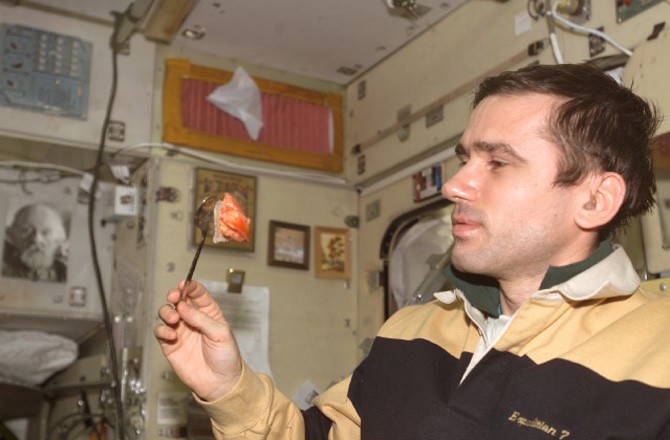 Cosmonaut Yuri I. Malenchenko, Expedition 7 mission commander, uses a spoon to catch a piece of food floating freely in the Zvezda Service Module on the International Space Station (ISS) in 2003.NASA
Space station flight engineer Garrett Reisman kept the cameras rolling while he sat down to dinner with his Russian crewmates and visiting shuttle astronauts in June 2008. Among the offerings: a can labeled "Appetizing Appetizer." Nothing like a little mystery to spice up your life.
Adapted from an article posted on Discovery Space in 2008. Compiled with the help of Joshua Brown.